Welcome back to Air Fryer Bro, and today we are making an article about the key benefits of owning and using an air fryer. Not only does an air fryer give you benefits when it comes to cooking, there are also many other perks that come from using this new kitchen appliance. If you want to know all about the benefits of 'hot air fryers' then stick around! All will be revealed!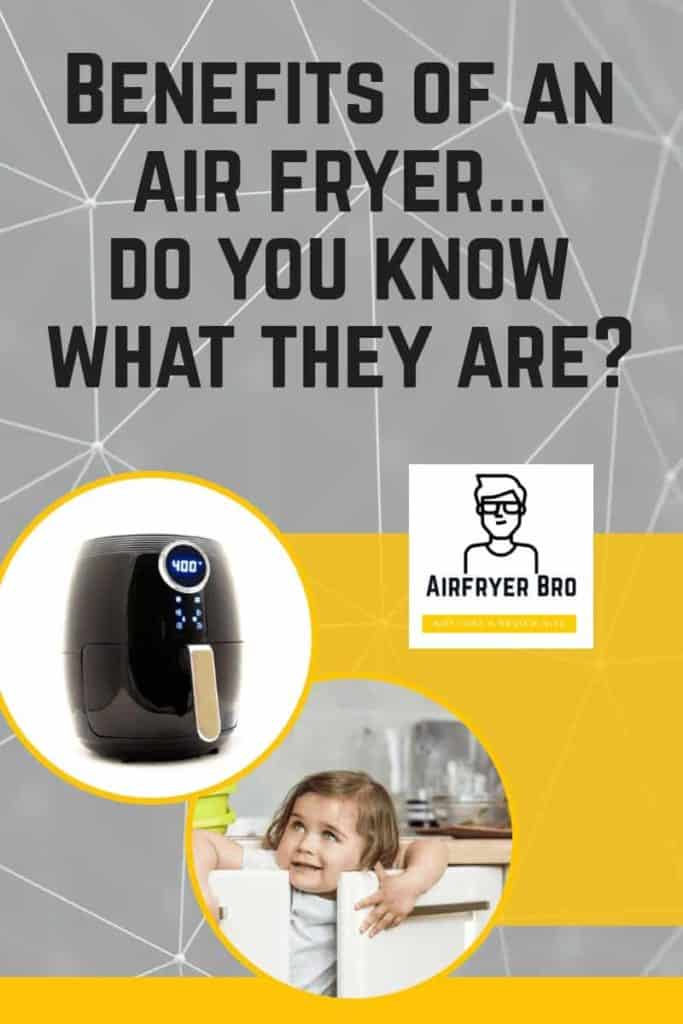 What is an air fryer?
An air fryer is a new take on a traditional oven or convention oven, something that was designed to give a more intense cooking heat. This was done to allow it to compete with oil frying.
Inside an air fryer, there is a powerful heating element coupled with a fan. The fan will help push the hot air from the element around the cooking compartment of the air fryer. This hot air flow is what helps to achieve an all over 'frying' effect.
The first style of air fryers on the market mimicked the design of the deep fat fryers they were trying to replace. I refer to these air fryers as the 'bucket style' air fryers.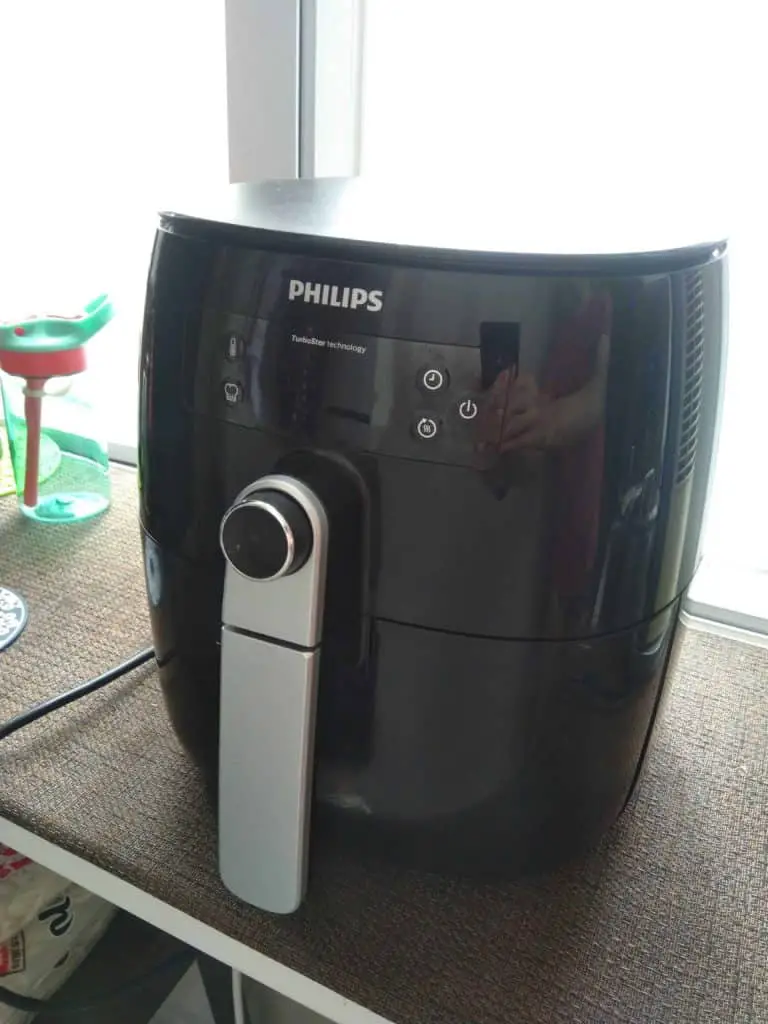 However, more recently we have seen the invention of the oven style air fryer. You might call this a fan assisted oven on steroids! It couples the power of the air fryer, with the convenience and rack space of a traditional oven. I have a whole article over here talking about these two main air fryer types!
When did air fryers start becoming popular?
Although Philips first introduced the air fryer in 2010, in took a few years to really catch on. A quick look at Google trends (see below) shows us that the first real spike in public interest came in 2017. This is when air fryers really started hitting the big time. They were helped by TV shopping channels such as QVC heavily pushing this new technology. These days, air fryers are really a part of the mainstream.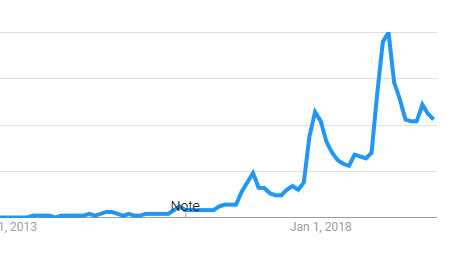 What are the main benefits of using an air fryer?
Now that we have introduced you to the basics of air fryers, lets dive into the real benefits of hot air cooking or 'frying'. I have nicknamed them 'the secret seven', because there are seven of them 🙂
1. The Health Benefits of Air Fryers
This is what I would call a 'no brainer' benefit of air fryers. What's the alternative? To dip your food in a vat of hot oil! The problem with this, is the fact that your fried food will inevitably soak up some of this oil.
Ask any cardio doctor (is that even a thing?), and they will tell you that fried food is incredibly unhealthy. Yes, a little oil is needed to get good results in an air fryer, but it's a tiny amount when compared with deep fat fryers. This is the whole reason that air fryers were brought to the market!
2. The Speed Benefits of Air Fryers
An air fryer is able to offer an intense form of cooking heat, which means that it will often cook things faster. OK, maybe not as fast as a deep fat fryer, but certainly faster than any kind of regular oven I have ever used. Also, there is no heating up required. Even an oil fryer needs time to heat up the oil inside. An air fryer, on the other hand, can give you instant heat. 
I find this really convenient to cook up meals literally in minutes.
3. The Cleaning Benefits of Air Fryers
Most air fryers are much easier to clean than the alternatives. Think about a traditional oven, these take time to clean properly. As well as making the walls of your kitchen all oily, a deep fat fryer is a pain to clean too. What to do with all that old oil?
On the other hand, my air fryer usually just needs a quick wipe out with a damp cloth. After a particularly messy cooking session, the most it would need is a quick soaking in soapy water. It never feels like a chore to clean up my air fryer, which is a huge benefit to me.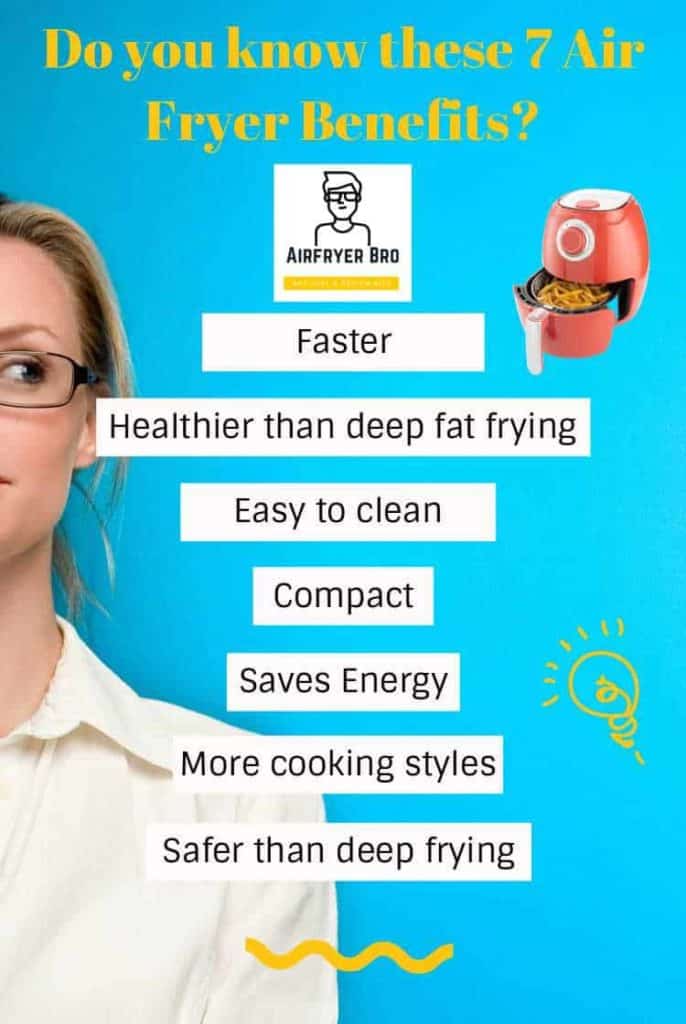 4. The Space Saving Benefits of Air Fryers
Even the largest air fryers are space saving when compared to the alternatives. Even a counter top oven would be bigger than most normal air fryers. Although deep fat fryers are a similar size, they are tricky to move around (without spilling oil everywhere!). An air fryer can be quickly popped into a cupboard when not in use. The ultimate appliance for convenience and space saving!
5. The Energy Saving Benefits of Air Fryers
Yes, an air fryer is a powerful machine that uses a fair amount of power when in use. However, there are many use cases where it can save you energy. How many times have you heated up a massive oven, just to cook a few chicken nuggets (or something similar). When you have an air fryer you can use it instead, giving you the perfect solution for your small batch cooking.
6. The Flexibility Benefits of Air fryers
Although air fryers were invented to give a healthier alternative to fried food, they can do so much more than this. I use my air fryer for cooking soft boiled eggs and even baking the odd small cake!
People have also been known to use their air fryer as a dehydrator, which is especially easy if  you have an air fryer oven. It's great to have so many cooking options available in such a small package. As I probably have one of smallest kitchens in the world, this is especially helpful for me!
7. The Safety Benefits of Air Fryers
I have done a whole article on "will my air fryer catch on fire" after hearing some horror stories about air fryers. But the truth is, air fryers are usually very safe and reliable kitchen appliances. As long as you use your air fryer in the way the manufacturer intended, you shouldn't have anything to worry about.
You can't say this for the kitchen appliance the air fryer replaced. A vat of boiling oil is much more prone to accidents than an air fryer, that's for sure. I have experienced a 'chip pan fire' (as we know them in England) when I was a child, and let me tell you it's no fun. Not to mention what could happen if a child accidentally pulled a deep fat fryer onto them (tuck those electrical cables away people!). With all things said and done, I know which kitchen appliance I think is safer!
Some common misconceptions about air fryers
Are air fryers toxic?
Some people may think that air fryers are toxic. Usually, this relates to food over browning and even burning, producing food that could cause cancer. Air fryers have not been shown to have this problem more than any other cooking appliance, so it is not something I worry about. If you want a more in depth and technical explanation of this, you should head over to our full article on this HERE.
Some users have also reported their air fryers having a very 'plastic' smell, and relating this to it being toxic. This is more a problem with a low quality air fryer, and shouldn't be an issue when any quality brand of air fryer. Do your research and you should be fine. We have an article going over the main air fryer brands on this very website.
Do air fryers cause radiation?
The short answer is no! The type of radiation found in air fryers is not the ionizing type that will cause health problems.
The food tastes the same as traditional fried food!
Over here at Air Fryer Bro we are all about giving an honest and real impression of air fryer cooking. Even though I am a massive fanboy of air fryers, and have used them for many years, even I won't say that the food cooked in an air fryer is exactly the same as that cooked in a traditional oil fryer.
What I would say is you can get something pretty close (if you use the right techniques), and I have personally grown to love the air fryer's style of 'frying'. Not having that 'oily mouth' after eating your food is a big reason I choose to use an air fryer too.
The End is Here!!
Well, there you have it. The main benefits of an air fryer in a nutshell! These are the main reasons that my air fryer has become a staple of my kitchen, and that is unlikely to change for some time. We would also love to hear all about why you love your air fryer, in the comments section below.
If this article has convinced you to take the plunge, why not head over to our recommended products page to find out about what is hot right now in the air fryer world!