Welcome back to Air Fryer Bro, and yet another informative article around the subject of air fryers! I have been using air fryers for quite a while now and have found some interesting things about them along the way. This blog is designed to share these findings with you so that you can have a smooth air fryer ownership experience 🙂 today's question (that I hear a lot from air fryer newbies) is 'can you put plates into an air fryer?' It's a valid question, and if you have ever wondered this please read on…
The short answer for me is NO, do not put any plate in your air fryer. Air fryers have an intense heat which is different from any other kitchen appliance. You don't want to risk the plating cracking or (even worse) leeching harmful chemicals into your food. Simple plates which are marked as oven safe are probably OK in an air fryer, but for me are still not worth the risk!
For the long and detailed answer, please continue 🙂
Typical Plates You May Want to Use in an Air Fryer
I took a look around my house and below are some examples of the plates I found. These will be my sample set for this particular article. What I find out about these plates will hopefully help you decide what to do with yours when it comes to air frying 🙂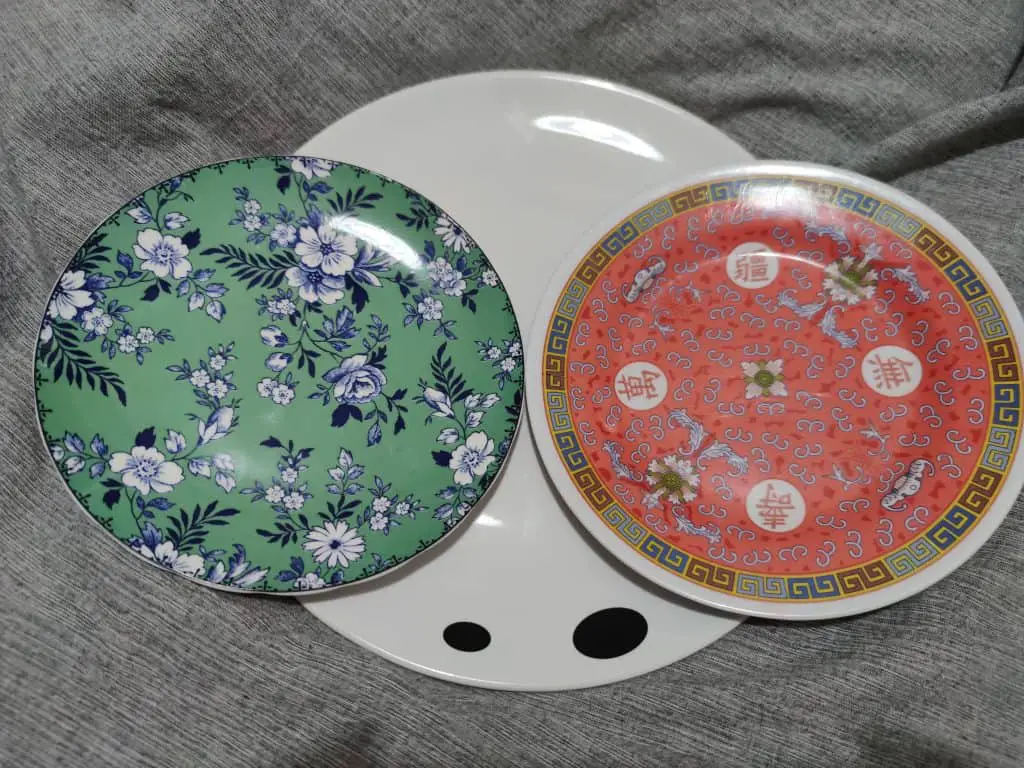 The green plate says on the back it is made by Rocks Century and is dishwasher, freezer and microwave safe. The white plate is an Ikea plate (I am sure we all have at least one in our households!) and it doesn't say anything about it being microwave or oven safe. And finally, the red plate is a plastic plate that calls itself 'melamine ware', and again it doesn't say anything about whether it is oven or microwave safe.
Would I Use Any of these Plates in my Air Fryer?
The quick answer is no. The melamine plate is clearly a plastic plate and with a little research online it is quickly apparent that you are not supposed to even put hot oil on melamine plates, never mind putting inside a hot kitchen appliance such as an air fryer 🙂 That one was pretty obvious! The Ikea plate does not say anything about being microwave or oven safe, so I wouldn't risk it inside the hot environment of an air fryer either. And the green plate, with its lovely painted design, is also a no go. Even though it does say it is microwave safe, the type of heat from a microwave is totally different from an air fryer. Just because a plate can withstand some microwaving doesn't mean it can take a blasting from an air fryer!
Would I Put ANY Plate in an Air Fryer?
For me personally, I wouldn't put any plate in an air fryer. Think about what plates are used for, they are used for serving food on. They are not manufactured with the intention of placing inside a hot kitchen appliance. When I was a child my parents would sometimes place plates into the oven for a short time just to heat them up, as there is nothing worse than eating hot food on a stone cold plate. Other than this, plates are not intended to go into ovens, in my opinion.
And even if a plate says it is oven safe, I would still be cautious of putting it in an air fryer for any extended period of time. Yes, oven safe should mean it can withstand heat, but again, an oven's heat is not quite as fast and intense as that of an air fryer. If the plate is simple and oven safe, then go for it (at your own risk). If it says oven safe and it comes with a fancy lacquered or painted decoration (like my green plate) I would not bother!
This is a rule I would apply to any plate, so matter what the material. I know people might be wondering about glass or metal plates too.
What Can Go Wrong with Plates and Air Fryers?
If you put a plate in an air fryer that is not suitable, it could at best crack and break. You could have to throw away any food in contact with this plate as there might be shards of plate in it after the cracking.
The more worrying thing for me is the chemical breakdown. A lot of plates have lacquers or are painted in some way. When you put these under the intense heat of an air fryer, they could start to break down and release toxic chemicals that may get into your food. This is the main reason I don't like using plates in an air fryer, even if it says it is oven safe.
Why Would You Use a Plate in an Air Fryer?
Frankly, if you are thinking of using a plate in your air fryer, you are just being lazy. Take that extra effort and use the air fryer accessories (such as cooking baskets and baking racks) that came with your air fryer. You know that they are 100% air fryer safe. Trust me, your health is more important than convenience 🙂
Frequently Asked Questions
Can You Put a Paper Plate in an Air Fryer?
Although I don't personally think of paper plates in the same category as the other household plates above, I still need to talk about them. Simply because this question does come up where people wonder about putting paper plates into their air fryer or air fryer oven. So is this a good idea?
I would say no. The temperature at which paper will combust is commonly known as 233 degrees Celsius or 451 in Fahrenheit, which is way too close to the operating temperature of the typical air fryer (for my liking anyway!). Add to this the fact that an air fryer works by aggressively circulating hot air around its cooking compartment, and a light paper plate wouldn't stand a chance. It is very likely to fly around the cooking compartment and could get stuck in the heating element of the air fryer. This would be a major fire hazard.
So no, NEVER put a paper plate inside an air fryer. It's not worth the convenience versus a potential fire hazard!