Welcome back to Air Fryer Bro, where we are continuing our epic quest to review some cool air fryer cookbooks. In fact, all the cookbooks we review are high quality in some way. If I find a dud, I simply get a refund and you never hear anything about it! Today we have a unique air fryer cookbook to to say the least. It is another one of those underrated picks, that is not getting much attention. It's a shame because, for me, this is the ultimate dessert or baking related air fryer cookbook out there! Here is our Air Fryer Delights full review 🙂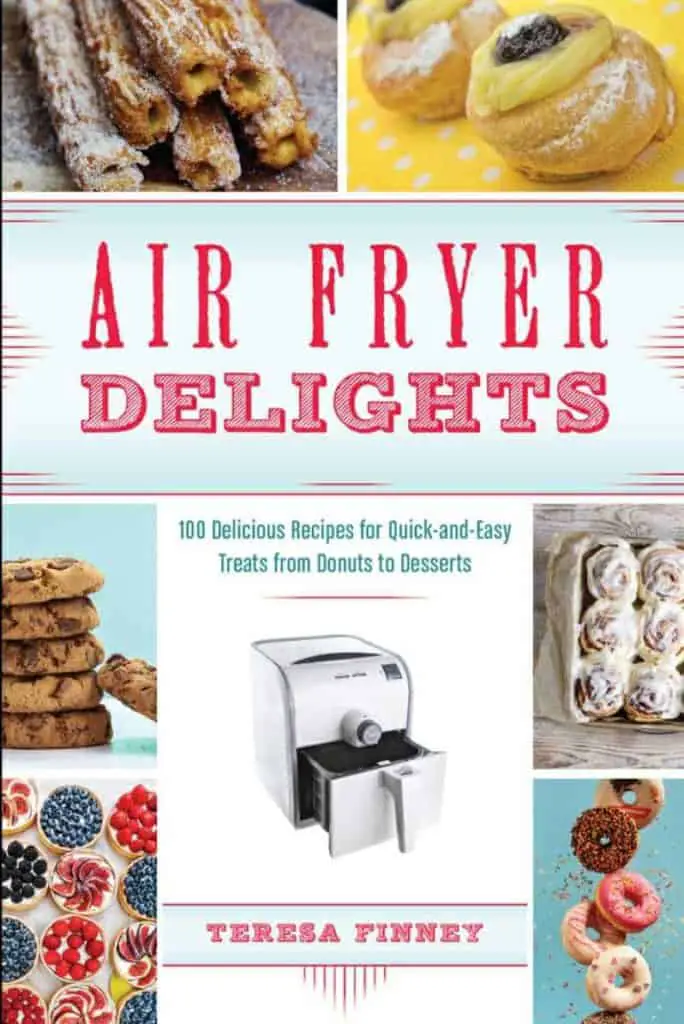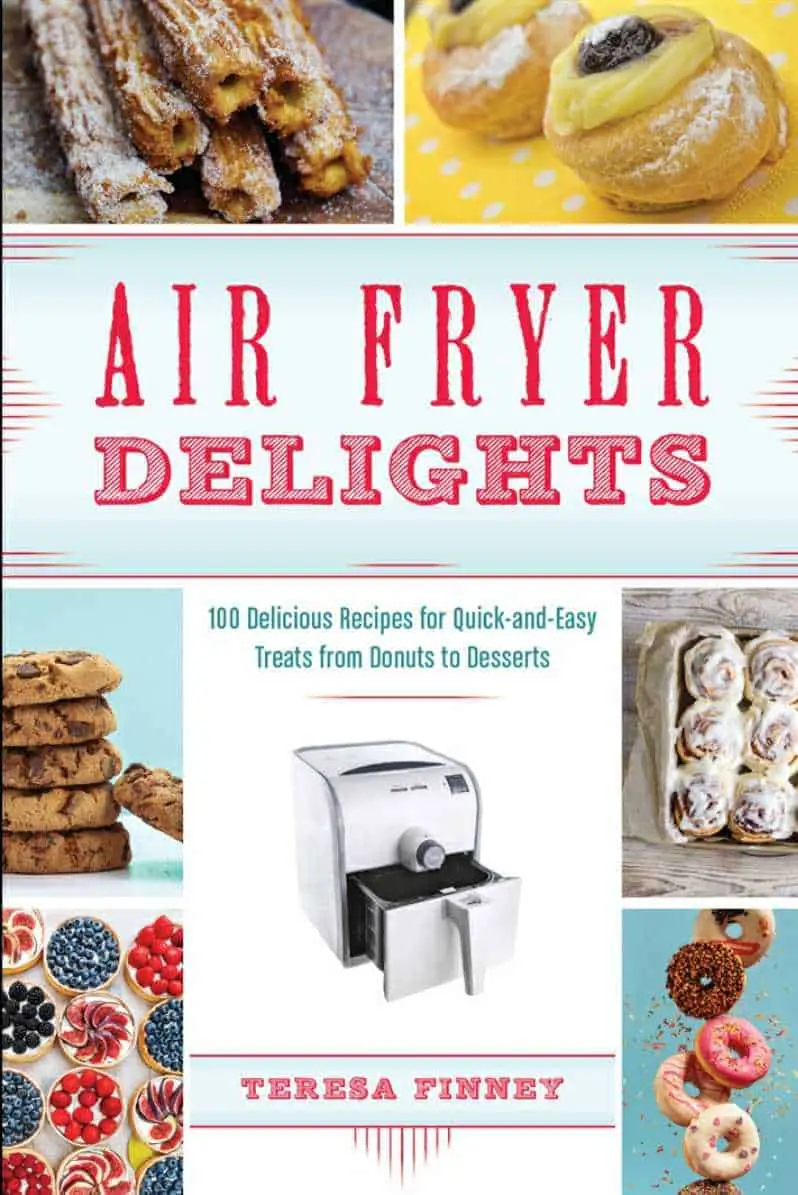 I want to start by saying first that this is a real review. I actually own this particular cookbook and have had hands on experience with it! I don't believe in throwing up quick reviews amalgamated from what I find online! I believe in real and honest reviews!
Who is the author?
This is not a high profile cookbook from a celebrity chef or Instagram influencer! This is a hype-less air fryer cookbook from Teresa Finney. Teresa Finney is in fact a food writer hailing from America (the bay area of California to be exact).
The only other cookbook she has written is a rather interesting one. It is a Friends inspired cookbook. You remember Friends, right? That famous American sitcom based around a group of friends in New York. It is actually genius to make a cookbook based around this once highly popular TV show, but it is probably about a decade late (at least). 
Well, we have found out about the author, so let's get on with critiquing her air fryer cookbook!
The Lowdown
Presentation
Lets get this started by looking at the presentation. Please bare in mind that I am reviewing the Kindle version of this cookbook.
In terms of formating, this Kindle version is good. There are no funny quirks and it pretty much works as you would expect (which is still not always the case with Kindle conversions!).
Unfortunately, the presentation is one area that lets down this cookbook. The typeface and layout of the text is excellent. All the recipes look great in terms of the text. The problem is with the photos. Ummm…there aren't any! This was actually something that shocked me, especially when you see the good looking front cover of the cookbook. If only the author had taken the time to take photos of her work (which she seems to have done with her Friends inspired cookbook), I think she would have found more success. 
To me, a cookbook without pictures, is like going to the movie theater without popcorn! OK, not the best analogy, but you see where I am coming from!! People want to feel enticed to cook the recipes by the amazing photography in a cookbook (or at least I do).
Don't worry, things do get better after this!
Content
Here's a quick look at the table of contents, to give you an idea of this cookbooks content.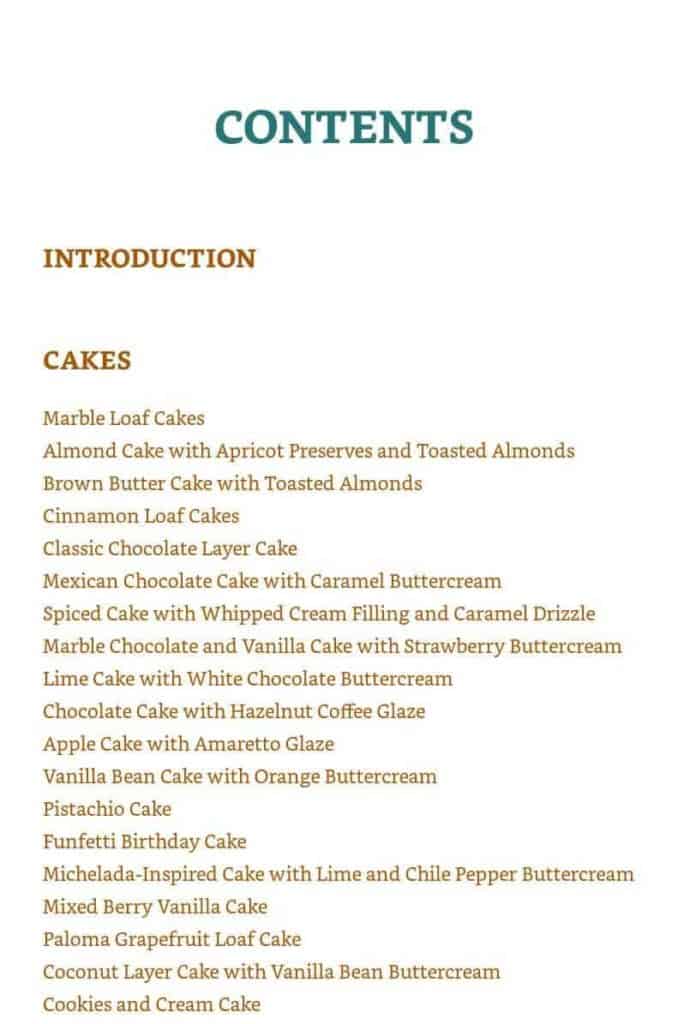 Straight out of the gate, one of the things I liked with the content in this air fryer cookbook, was the conversion tables at the back. These are pretty simple features to have in a cookbook, but these days less and less authors are including them. I suppose they assume that most people can just ask Alexa or Siri "What's 400 Fahrenheit in Celsius?".
There is no attempt in this cookbook to explain the ins and outs of air fryers for newbies, something that I thought was a mistake. Air fryers are so new to a lot of people, that I feel that it is essential to give some general tips and techniques at the start of the cookbook.
There is a kind of rambling introduction to the cookbook, where the author talks about her air fryer journey and some adjustments she has made to convert her regular baking techniques to an air fryer. She also gives a basic list of the accessories that she uses when baking with an air fryer.
What I do like here is that there is a nice one page written introduction to each different section of recipes, such as cakes and pastries. This gives a personal feel to the cookbook, and gives a nice introduction to this style of baking in an air fryer.
In terms of recipe selection, there seems to be a pretty good selection of desserts. However, I did find it a little weird that pretty much all the cakes followed the same formula of a cake and some kind of butter-cream and/or icing. It would have been nice to see some plain jane cakes, something that would have added a quick option for people wanting their cake fix. There were a few, but literally one or two in a sea of "butter-creamed" cakes!
Recipes
So, you may be wondering how this cookbook made it onto my website, as I have been quite critical of some aspects of the cookbook so far. Well, put simply, it's all in the recipes!!
The author does point out that she used a 3 quart size (rather small) air fryer when making this cookbook. Therefore, you could equate the recipes here as small batch baking. Great for a small family or a intimate gathering of friends. Actually, I think this is a good thing, as most people would simply use a regular oven for big batches of baking. Doing it this way means you are giving air fryer owners a great option for baking on a smaller scale.
Before we start taking a look at actual recipes, I have to say that I am no baking expert. In fact, I don't own a regular oven at home and have rarely baked in recent years. So think of this as the regular "man in the street's" view of the results.
When choosing my first recipe to try out, it was easy to go for the ginger cookie recipe featured below.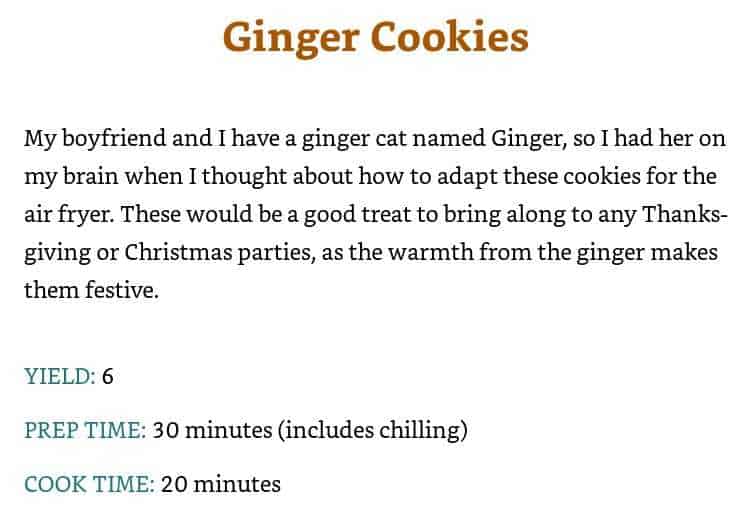 I have to say I am a big fan of all things ginger, so was intrigued to see how this recipe panned out. This would also be the first time I had cooked cookies in my air fryer, so it was pretty nerve racking for an air fryer nerd like me!
The recipe called for a "stand mixer" to fluff up the butter and sugar. As I have a tiny kitchen, I can't afford such luxuries. So, I had to rely on a spatula and arm power instead!
Actually, the results were pretty good. Although the edges of my cookies were a little bit over cooked. Nothing too bad, but something I will have to adjust next time I try this recipe (and is probably unique to my particular air fryer). My spooning of the cookie mixture onto my parchment ready air fryer also left a lot to be desired. Will certainly need to cook more cookies in the future to get this technique down. We can't be presenting lumpy and uneven looking cookies to people!
In terms of the flavour I liked it a lot. As I am a ginger fanatic the flavour was a little weak for me. So, I would definitely up the amount of ginger next time. I also wondered what would happen if I tried using grated real ginger instead of the powdered kind called for in the recipe. All experiments for another day!
Recipe one was a success, especially for a baking novice! Now, onto the next one!
I am originally from England, and I have fond memories of eating bread pudding as a child. My parents would often make this with left over or slightly stale bread. So, when I saw a classic bread pudding recipe included, I jumped at the chance!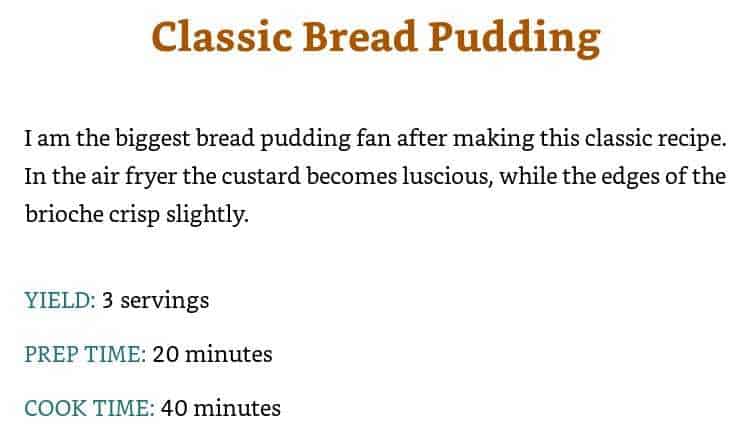 I went for this rather simple version of bread pudding (to help me reminisce about my childhood!), but don't worry if you think this is rather dull! They have quite a few more exciting bread pudding recipes included in the cookbook.
The whole process is pretty much the same as the one I remember with the traditional oven method. You are basically making a custard on the stove, pouring it over brioche bread (I want to try again with normal bread at some point, just like the old days!) and baking in the air fryer.
I haven't made a fresh custard for quite a while, but managed to get through this OK (with minor battle scars). Maybe my custard was not perfect, but I am not exactly the Jamie Oliver of cooking or anything!
After cooking for the time detailed in the recipe, I realised my air fryer must be more powerful than the one used by the author. The edges of my brioche were a little too "toasty", whilst I found deep inside my pudding was not perfectly cooked. It seemed to cook slightly too fast in my air fryer. 
Looking at both this and the cookie recipe I tried, it is clear I need to slightly adjust the times in this book for my air fryer. This is perfectly fine to me, as there are so many different air fryers out there it is impossible to suit everyone.
More importantly, the taste was spot on! Pretty much like the bread pudding I remember as a child. Just a slightly posh brioche version! So, the recipes themselves are definitely on point.
So, is Air Fryer Delights any good?
This air fryer cookbook must be pretty good, as it made it onto my site in the first place. You might be wondering how after the first half of the review!
Well, this cookbook is all about the amazing recipes and it's uniqueness in the air fryer cookbook world. I challenge you to find a more complete cookbook on baking for air fryers. Trust me, you won't find one!
Yes, this cookbook has it issues. I am particularly put off by the complete lack of pictures. However, having so many yummy baking recipes in one place offsets all of this for me.
The problem is, at some point someone will come along with a similarly complete baking cookbook, and will include pictures and other features I have bemoaned in this review.
But, until then, this is the go to air fryer cookbook for all bakers out there!
If you have any of your own experiences with this cookbook, we would love to hear all about them in the comments section below.