Welcome back to Air Fryer Bro. Today we will be looking into the different types of air fryers on the market now. When we first saw domestic air fryers, there was only one type available. Now we have all kinds of weird and wonderful models to choose from. You may be surprised.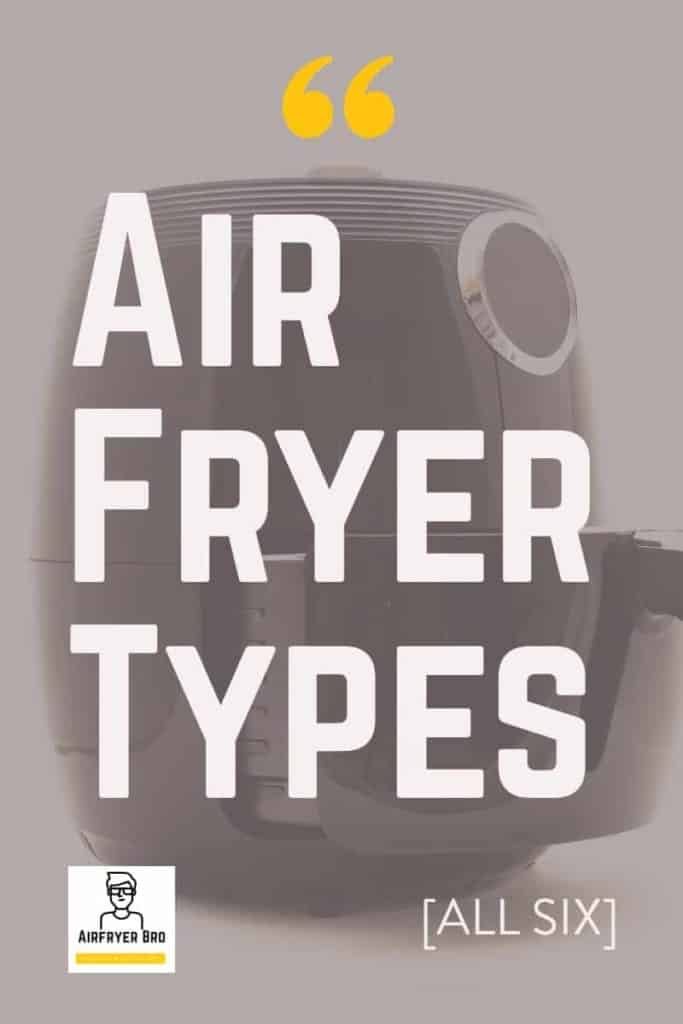 Traditional 'Bucket' Air Fryer
When Philips first came out with domestic air fryers many years ago, they wanted them to compete with the deep fat fryers popular at the time. These air fryers would provide a much healthier alternative. Because of this, the styling of the first air fryers were made to look like deep fat fryers.
I call these original air fryers bucket air fryers as they have a bucket style cooking compartment that you lift your cooking basket in and out of. My current Philips air fryer is a bucket style air fryer, which you can see below.
What do I like about bucket air fryers?
The main advantage of the bucket air fryer is the fact they are so compact. They take up very little space on your kitchen counter and can easily be packed away in a cupboard when not in use.
Also, they have a removable cooking compartment that is very quick and easy to clean.
What don't I like about bucket air fryers?
Bucket air fryers have a small capacity and even the biggest ones can only be used to cook for a small family.
They are also prone to peeling non-stick coatings and the use of Teflon in those coatings. You have to be very careful to research a top quality air fryer to avoid such issues.
Air Fryer Ovens
Several years ago air fryer ovens burst on the scene, combining the convenience of air frying with the capacity of traditional ovens. In their early life, air fryer ovens could be seen all over TV shopping channels such as QVC. Often the models they were promoting were far from the best ones, but it helped the idea of air fryer ovens get out there at least.
Below is a typical air fryer oven, the Ninja Foodi oven, click the image to take a look at it over at Amazon.
What do I like about Air Fryer Ovens?
Air fryer ovens offer a much larger capacity for air frying. The horizontal nature of air fryer ovens also makes them much easier to access. You can now air fry pizzas and bake cakes with ease. Something I struggle to do in my traditional bucket style air fryer.
If you want to use your air fryer for dehydrating, this is by far the best type of air fryer to use. The racks mean you can lay out much more food for dehydration.
Finally, air fryer ovens are great for people that worry about Teflon and other chemical coatings. As an air fryer oven wants to come across like a regular oven, you find much more stainless steel or metal components. Often, the only non stick coatings you might find are on baking trays, which are easily replaced. This is also good for people worried about peeling non-stick coatings on air fryers.
What don't I like about Air Fryer Ovens?
Air fryer ovens are slightly harder to clean than traditional bucket style air fryers. Fewer components can come out, leaving you the only option of wiping the inside with a damp cloth.
Also, they are not as compact and easy to store away in a cupboard as a bucket style air fryer.
Other than these minor points, I feel that air fryer ovens have been a great innovation in the air fryer market.
The Air Fryer Instant Pot Lid
Instant Pots have been very popular for many years now, and the company that make them has also branched into making their own air fryers too. However, the most interesting thing they brought to the air fryer market was the air fryer Instant Pot lid. This is a lid that will turn your Instant Pot into a fully fledged air fryer. What a great idea! Simply change out your lid and you've got air fryer functionality.
You can view the Instant Pot air fryer lid on Amazon by clicking the image below.
What do I like about the Instant Pot Air Fryer Lid?
If you already own an Instant Pot and want to do some light air frying, this is a great solution. It saves you having to clutter up your kitchen with another appliance. It's so easy and simple to fit this new lid and start air frying.
What don't I like about the Instant Pot Air Fryer Lid?
This lid only works on Instant Pots 6 Quart in size, which is not very big for air frying. This problem is made worse by the fact that the cooking compartment in an Instant Pot is quite thin and doesn't provide the best space for air frying.
In my view, this Instant Pot lid is expensive for what it is too. You could almost buy a whole air fryer for the cost of this lid, which seems a little steep.
Anyone that wants to be a heavy air fryer user, should just buy a separate air fryer. If you intend to only air fry from time to time, you might find this Instant Pot lid enough.
The Air Fryer/ Pressure Cooker Hybrid
Ninja Foodi surprised everyone a few years back when they released a kitchen appliance that combines the functions of an air fryer and a pressure cooker in one single unit. Since then, this new type of air fryer has become incredibly popular. The Instant Pot had brought the idea of pressure cooking into the modern era, and this Ninja Foodi simply enhanced this by adding the ability to air fry too.
You can check out the Ninja Foodi Air fryer & Pressure Cooker Combo over at Amazon by clicking the image below:
What do I like about the Ninja Foodi Air Fryer & Pressure cooker?
Not only have they come up with a brilliant idea for an air fryer, Ninja have also made a high quality product here. Something backed up by the many positive reviews you find online. It would have been so easy for them to rush out something sub-standard, but instead they have brought out a true air frying classic. I can see this being popular for many years to come.
If you like to both air fry and pressure cook your food, this is the ultimate in convenience. I find it amazing that Ninja could offer both of these cooking methods in one unit without compromise. And this unit is much more compact than owning two separate kitchen appliances.
What don't I like about the Ninja Foodi Air Fryer & Pressure cooker?
To be honest, I don't have many complaints about this air fryer. The only one being the cooking compartment is slightly small for air frying. It would be enough for a small family, but not much else. This air fryer could also be seen as a little expensive, but this is offset by the fact that you can often find it discounted.
The Air Fryer Griddle Combo [YES, IT EXISTS]
The most recent innovation for air fryers has been this Blackstone Air fryer Griddle Combo. To be honest, when I first saw this product it took me a while to get my head around it and why someone might need such a thing. But Americans love to BBQ or griddle outside on their patios, and the response to this shows me it seems to have a good-sized market!
Youtuber 'The Crazy Pop' did a great overview of this air fryer griddle below….
What do I like about the Air Fryer Griddle Combo?
This air fryer has a real industrial feel to it. The air fryer baskets are made from stainless steel and can be dismantled to put in the dishwasher. This seems like an air fryer that will last a long time.
This combo air fryer gives you two air fryer draws, with each draw being the capacity of one typical bucket style air fryer. This gives you a lot of cooking capacity for air frying.
What don't I like about the Air Fryer Griddle Combo?
Usually when you have an outdoor griddle, the only thing you need to do is hook up a gas bottle. With the air fryer added, you then have an electric plug to worry about. This might be annoying for you if you don't have plugs easily accessible on your patio.
If you already own an air fryer, it would seem pretty pointless to buy this griddle. And if you already have this griddle, you would probably not want to buy an extra air fryer. Meaning you would need to go outside every time you want to air fry! I suppose the reason they did this was to allow you to easily cook up some fries to go with your griddle cooked meat, but I am still finding it hard to justify 🙂
The Air Fryer Microwave Combo
When I thought I had seen it all, Amazon came along and made their Smart Oven. This oven includes both microwave and air fryer functionalities, which I believe is a first! If Amazon pull this off, their Smart Oven could be very popular. Almost everyone already has a microwave and adding air fryer capabilities within the same footprint would be attractive to many!
The reason it is called smart is because it can be controlled through a smartphone app and/or your Amazon Alexa.
You can view the Amazon Smart Oven by clicking the image below.
What do I like about the Air Fryer Microwave Combo?
I really like the idea of including an all in one microwave and air fryer unit, giving you two popular cooking methods in one appliance.
I also really like the smart features of this appliance. The idea that you can scan frozen food into the Alexa app on your phone and your Smart Oven already knows how to cook it is great 🙂 (for example).
What don't I like about the Air Fryer Microwave Combo?
Unfortunately, it seems that Amazon had to compromise the air frying capabilities of this unit. They even state on their product listing that air frying may take longer in this unit than a standalone air fryer. I am all for innovation and combining different types of kitchen appliances, although I only want this if no compromises have to be made. Noone wants a half ass air fryer, after all!
Also, the smart features on this product have not been set up in a user friendly way. A lot of customers have been complaining that they are not able to get their unit working as advertised, and a lot of this seems to be down to not knowing how to use the smart features well.
It was a good idea Amazon, but I think you failed us here!
What do you think?
What air fryer type do you like? There are a lot more options to choose from these days to suit every possible need! It also makes me wonder what new air fryer innovations we will see in the future 🙂
Were there any air fryer types we forgot? If so, you can let us know in the comments section below!!