Welcome back to Air Fryer Bro. Today we are looking at the best air fryers on the market that have ceramic baskets. As air fryer users are becoming more conscious of the materials in their kitchen appliances, there has been a growing demand for air fryers that use ceramic materials. We intend to show you some of the options available at the time of writing!
What do you mean by a ceramic air fryer basket?
It can be misleading when people talk about ceramic air fryer baskets. Although this term is popular, it may make some people assume the whole basket is made out of a ceramic material. Actually, it is only referring to the coating applied to the air fryer basket. This is a non-stick coating similar to what you might find on a non-stick frying pan (for example).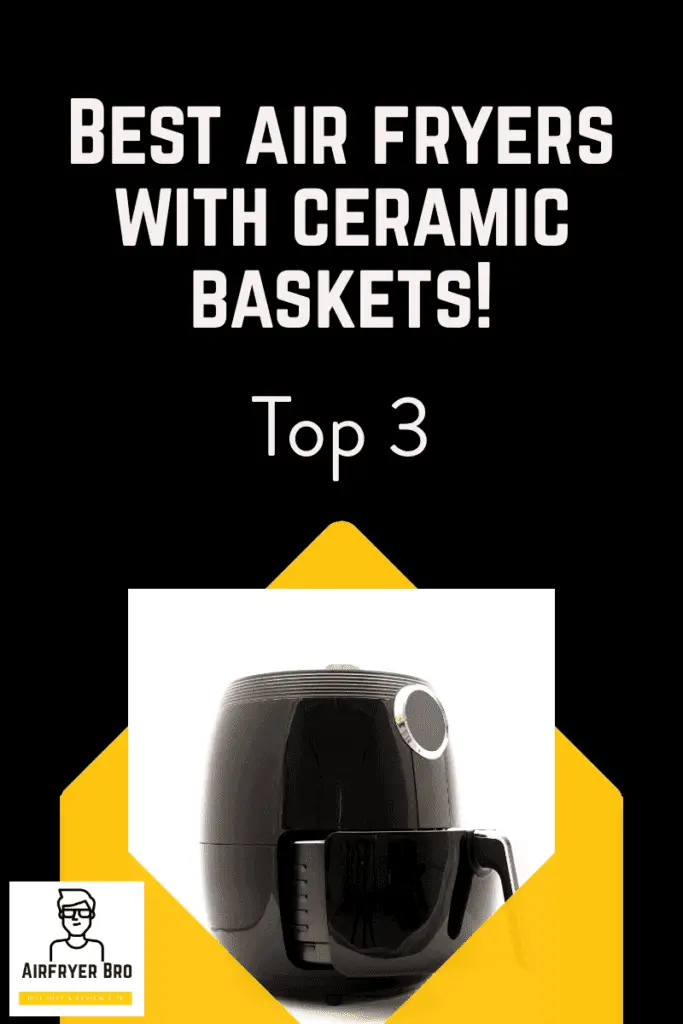 Why would I want a ceramic air fryer basket?
When talking about traditional bucket style air fryers, the material often used to coat the air fryer basket is Teflon (or similar PTFE based coatings). The problem with these is that some scientists have proven that such materials can 'off gas' or release toxic gas when over-heated. Whether air fryers get hot enough to cause this is up for debate right now, but some people prefer to be cautious and avoid Teflon or PTFE coatings altogether.
Another interesting point I recently discovered was that Teflon can kill birds! If you want to find out more about this, I have a whole article talking about the reported problem on this website.
These are the two main reasons people might want to choose an air fryer with a ceramic-coated basket. If we missed any, please let us know 🙂
What are the best air fryers with ceramic baskets?
1. Ninja Foodi Air Fryers
Ninja make some excellent air fryers in my humble opinion. As I found out in my recent 'top 5 air fryers according to Reddit' article, most Ninja air fryer users love and rave about their products. They must have one of the highest approval ratings amongst air fryers on the market!!
I can see why. Apart from their base air fryer model, the others have innovation running all the way through them! They came up with a cool flip up design for their air fryer oven, to save space. They were the first people to marry an appliance with both air fryer and pressure cookers functions in them too! These are not people churning out bog standard air fryers here!!
The only thing to say is that they haven't been around long enough to truly test the long-term quality of their products. Although the early signs do seem to be good.
All the Ninja air fryers have ceramic coatings on their baskets, so which one should you buy? Most people could make their lives easier by also having access to pressure cooker functions, so I would definitely go for one of their hybrid models. Expensive but worth every penny for sheer convenience, especially if you are trying to save space in your kitchen.
You can see an example of one of these by clicking on the image below and viewing on Amazon.
But why just believe the Air Fryer Bro! Below are some recent reviews of this appliance over at Amazon.
2. Paula Deen Air Fryer
Not only is this a huge 9.5 quart size air fryer, but it also comes with a ceramic-coated basket inside. It's also quite a simple air fryer, still using rotary knobs to control the different functions. This means there is far less that can go wrong with this particular model.
Having been hanging around air fryer forums and such like for quite some time, the Paula Deen does often get singled out for praise. It isn't as popular as the Ninja appliances, but it still gets a lot of love for those that buy it.
This air fryer is also a favourite to get heavily discounted, so make sure to check around for a good offer! I just wish the design was a bit more exciting. It comes across rather bland and boring to me right now!
You can take a look at this air fryer on Amazon by clicking on the image below.
Again, the best thing to do before buying any air fryer is to look at a lot of reviews and find out how satisfied users of this model are!! I have made this easy for you by importing some of these directly from Amazon and placing them below 🙂
3. Oster Copper Infused Air Fryer
Oster really do make a lot of things, you should go check out their Amazon store to see for yourself 🙂 Anything from toasters to dog shampoo! No really!! Luckily, among all those other products, they do have an air fryer with a ceramic coated air fryer basket. I say luckily, as the choice is not exactly massive right now.
They call their ceramic coating Duraceramic, a natural ceramic non- stick coating infused with copper. They add copper into the mix as they believe it conducts heat well and is easy to clean.
As this air fryer often goes for under the $100 mark, this is a good option for those of us on a budget. Its users do generally seem very happy with this product though, so it's not as if you are getting an inferior product for this lower price. Just be aware that it isn't that big or come with bells or whistles, but it does the job.
As a bonus, it has a quite space age design, which I like 🙂
You can check out some actual reviews of this air fryer from Amazon below, to see what people are saying for yourself:
As always, you can click the image below to go view this air fryer over at Amazon.
Are there other options?
I have only mentioned traditional bucket style air fryers here because they are the ones that have baskets. However, if you are worried about teflon, you might want to consider an air fryer oven. These are fairly new on the air fryer scene and offer the benefits of an air fryer in the packaging of an oven. As they use metal racks most of the time, you will find that Teflon is much less prevalent.
That's a Wrap!
Finding a good ceramic coated air fryer is not easy unfortunately, as there are very few available on the market right now. It is great that brands such as Ninja decided to go this route though, giving us a few decent options right off the bat. Hopefully, other air fryer makers will start seeing the benefits of using ceramic and we might start getting more models on the market.
During the making of this article, I did come across one annoying thing though! Air fryer manufacturers that are vague about the materials used in their air fryer coatings. A prime example of this would be Instant Pot (yes, they make air fryers too!). No attempts were made to describe the materials used in their non-stick coating at all, leaving people to speculate that it probably has Teflon in it!
If you found any other good air fryers with ceramic coatings, we would love to find out all about them in the comments section below. We are always happy to get contributions from the air fryer community!!