Welcome back to Air Fryer Bro. Today we are asking the million dollar question for many Americans….what air fryers are made in America? When you live in a country, you often like the idea of supporting your local workforce. This is where the interest comes from for American-made air fryers. It's exactly the same in Britain. Anything made there is plastered with a 'Made in the UK' sticker 🙂 You will see a line of proud Brits shortly after. Are there any air fryers made in the USA? Let's find out together!
What Does Google Say?
Google is always right, isn't it? So let's ask Google what air fryers are made in America?
Interestingly, three relevant results show up. There is an Amazon page labelled 'air fryer made in USA' and a video titled '5 Best Air Fryers Made in USA 2020' and a product page from Bed, Bath and Beyond (yes, it's not just a famous meme stock!).


I almost started jumping with joy! Yes, there are actually air fryers (seemingly from the pictures, both analogue and digital units) manufactured in America. But hang on, this is Google. Can we trust everything Google says blindly? Why don't I just look into it myself just to make sure? Good idea, right? I mean, I am the Air Fryer Bro. I can't just take everything at face value!!
Let's Do Some Research!
Looking closer at the Amazon page, the first air fryers on this page were both by GoWise USA. They even have USA in the name, so they must be made there, surely! Let's find out for ourselves.
My first port of call would be the GoWise USA website. Surely this is the best place for reliable information on the brand. After a bit of searching, I came across the 'FAQ' or frequently asked questions section of the website. Great!
The third question down hit the nail right on the head….
"Where are your products made? Our products are designed in the US and manufactured in China."
Dang! made in China. Back to the drawing board then…or more likely that Amazon page 🙂
The second brand on that article was Cosori, one I have covered before in my air fryer brands article. Are Cosori air fryers made in the USA? Let's do the same research as before. But after extensive searching, I couldn't find the info I wanted. After searching the questions on a Cosori air fryer's Amazon product listing, I did find that someone posted that the box says 'Made in China' on it! Another air fryer brand struck off the Made in America list!
OK, I am losing faith with this Amazon page, so let's just look at one more air fryer on this list. It turned out to be the Instant Vortex air fryer oven made by Instant Pot. To the Instant Pot website we go. Maybe I am blind, but I couldn't see anything on there about where the air fryers are made. Good on GoWise USA to be the only ones so far that are clear about this on their website……..I suppose they do have USA in their name though 🙂
So yet again I had to scour the question section of the Instant Pot Vortex's Amazon listing. Is the Instant Pot Vortex made in America then? In a word….NO!
Next on the hit list is that high-ranking page from Bed, Bath and Beyond. Interestingly, they start with a brand Crux, which I have never even heard of in the air fryer world. My interest in piqued until I read in the frequently asked questions section of their product page… Is this air fryer made in the USA or China? Answer: China 🙁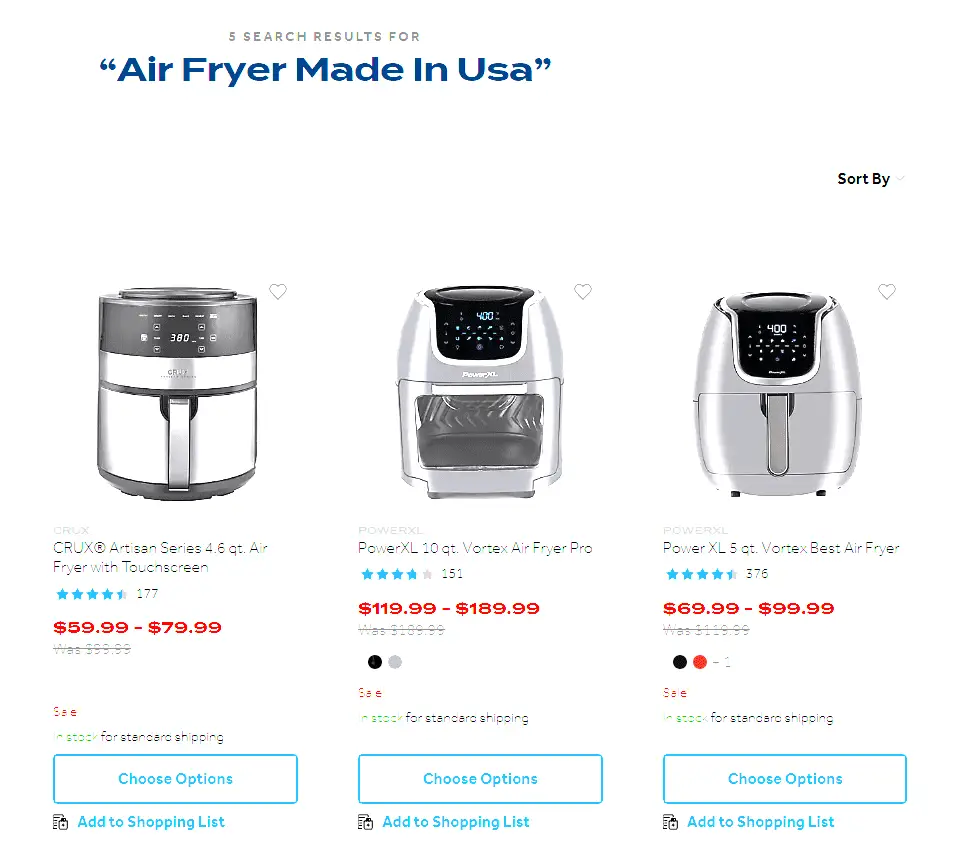 And as someone who has been around the air fryer a long time, I can tell you straight out that there is as much chance of pig flying than PowerXL air fryers being made in America!! 🙂 So thanks but no thanks Bed, Bath and Beyond!
OK, Let's move onto the YouTube video then…..maybe we will have better luck!
After perusing this video, I saw already that their top 5 list has a GoWise USA and a Cosori model in there! I already know that they are made in China! Not a great start!
Moving on, we do have some other brands on there, namely Ninja, Innsky and Yedi.
Starting with Ninja. Again, their website didn't bring up any useful information, so I found myself on the Amazon listings page, and the question-and-answer section (again!!). And yes, several customers confirmed that their Ninja was made in China.
I am starting to lose all hope….. are you?
On to Innsky, a rather obscure air fryer brand. This will be fun 🙂 Their website was the worst yet, with very little useful information and a guy fixing a washing machine on the warranty page….even though they only sell air fryers….call me confused. You know the drill now though….Amazon….listing…..what do you reckon? Yes, made in China. The nice person from Innsky even gave a province of China, Zhejiang. If you are wondering where that is…..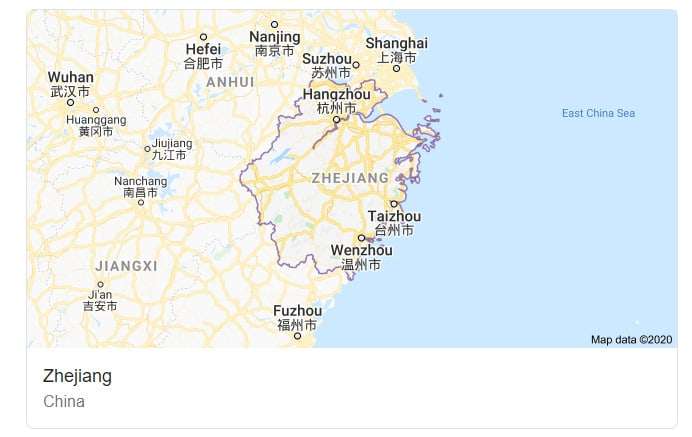 See, Google does get some things right 🙂
Finally, Yedi….I thought that was a monster with big feet in the snow? Maybe I am wrong 🙂 Well, this time both the official website and the question-and-answer section of Amazon didn't have much information, just one guy saying he thought it would be made in China because of the price.
More research is needed then! Actually, all I can find out is that they have their headquarters in Los Angeles and the President is Bobby Djavaheri. Others may assume things here, but not the Air Fryer Bro 🙂
More recently, I have seen posts pop up on the list saying that the brand 'Aria' is made in America. But, to be honest, I knew straight away when I read their marketing slogan that they weren't! It reads 'America's fastest growing brand in air fryers'. Yes, they might be growing fast in America, but this doesn't mean they are made in America! And, yes, looking at one of their Amazon listings proves this!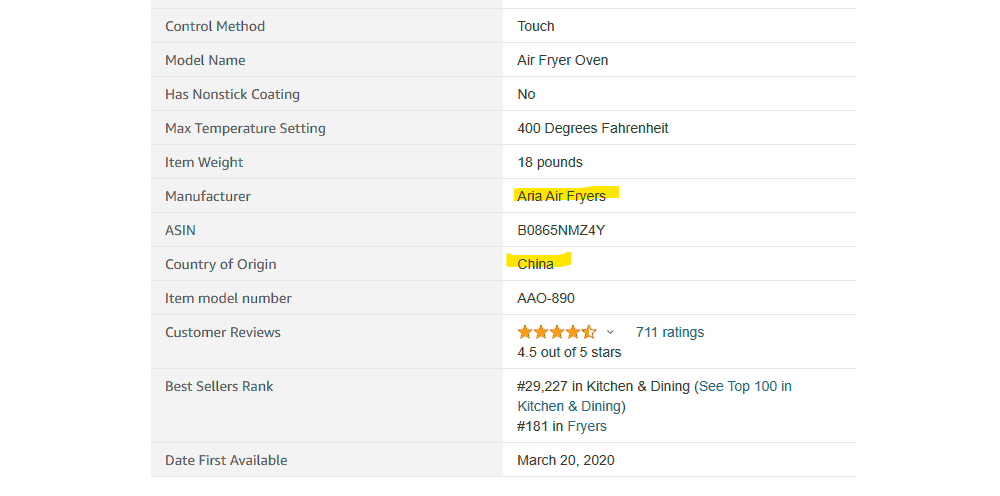 Are Any Air Fryers Made in America?
Out of all the air fryer brands that we could find out about, none of them were made in America. All those on both the Amazon page and the YouTube video were made in China. So, I think it is pretty safe to say that most air fryers are made in China.
Actually, I scoured around a lot of air fryers on Amazon, to find one that might be made somewhere other than China, and I couldn't find any! Go look at the popular brands -Nuwave, GoWise, Dreo, Philips, Ninja, Cosori… I could go on! All made in China. Go look at air fryer types, large capacity, small capacity, smart air fryer, digital air fryer, analogue air fryer, air fryer oven,, stainless steel air fryer! All made in China. To air fry is to buy a product from China 🙂
And my research does show that this is a big issue for many American consumers. Just simply because it is pretty much always a question asked in the FAQ section of air fryer product pages.
Why Aren't Air Fryers Made in America?
It seems that most commonly used domestic appliances aren't made anywhere other than China these days, especially when it comes to the smaller domestic appliances. You might find some premium coffee makers and the like made in America, but air fryers are not really in the same league. No one is buying a premium air fryer anytime soon, so I don't see much hope for the American-made air fryer. This is just my humble opinion, though 🙂
The reality is, at the time of writing, making an air fryer in China is a lot cheaper than making one in America. Unless air fryer manufacturers come up with a good reason to take on that extra cost, they are always going to use the cheaper option. Welcome to our modern business culture 🙂
Would you like to see an American-made air fryer? Would you pay a premium for this? Let us know in the comments section below.
Buying an Air fryer= Made in China!
With all the greatest will in the world, I am afraid that for an American buying an air fryer in 2023, your only real option is to buy one manufactured in China. Even Taiwanese brands such as Tatung are manufacturing most of their air fryers in China (as I confirmed in an Amazon product listing Q+A). At times, Philips have manufactured some of their air fryers (with that rapid air technology!) in Europe (Turkey to be exact). But this was only in the European market and has been phased out now!
And I am disappointed that Google continues to spread misinformation by promoting many posts at the top of their search that say otherwise and claim that Chinese made air fryers are in fact from the USA!