Welcome back to Air Fryer Bro, today we have another air fryer frozen food related challenge! We have tried to cook a lot of frozen food in our air fryer, from frozen dumplings (yum) to chicken wings. Now it is the turn of the spring roll. It is important to find out if we can cook this frozen food in an air fryer, as often they don't come with air fryer cooking instructions out of the box. We also want to see if there are any special considerations when cooking frozen spring rolls specifically in an air fryer! Let's get cooking!!
Disclaimer: I used my Philips Turbostar air fryer during this article, so just be aware that your mileage may vary depending on the air fryer model you have 🙂
The Frozen Spring Rolls
So lets see what we managed to get in terms of frozen spring rolls. I have an interesting living situation right now, as I live in Asia. And frozen spring rolls aren't much of a thing over here. Luckily, we do have a supermarket here that stocks products from the British supermarket Tesco (as you may have seen from some of my other frozen food challenges).
This is how we ended up at this pack of 12 mini vegetable spring rolls. I hear you saying 'mini', they're so small! What can I do with my massive ones?? Well, the main purpose of these articles is to take the regular cooking instructions on the packet and see how they translate to an air fryer. The findings from this experiment can be applied to any similar cooking instructions you find on whatever frozen spring rolls you buy.
You see that tea stain in front of the box of frozen spring rolls? That's how you know it's authentic 🙂 But seriously, I am not a cooking guru; I am simply an air fryer enthusiast. Please forgive my low rent and often blurry pictures.
Tesco say these are 'food worth celebrating', let's see if they are also worth celebrating in the air fryer!
The Approach
As I have done quite a lot of these frozen food challenges, it was pretty easy for me to come up with an approach. As usual, I simply halved the cooking time that the cooking instructions gave for a fan-assisted oven. As you can see below, the temperature suggested for this was 170 degrees celsius (or 338 Fahrenheit),and the time was 14-16 minutes.
So I opted for 170c on my air fryer and a time of 8 minutes (basically just halving the highest time given).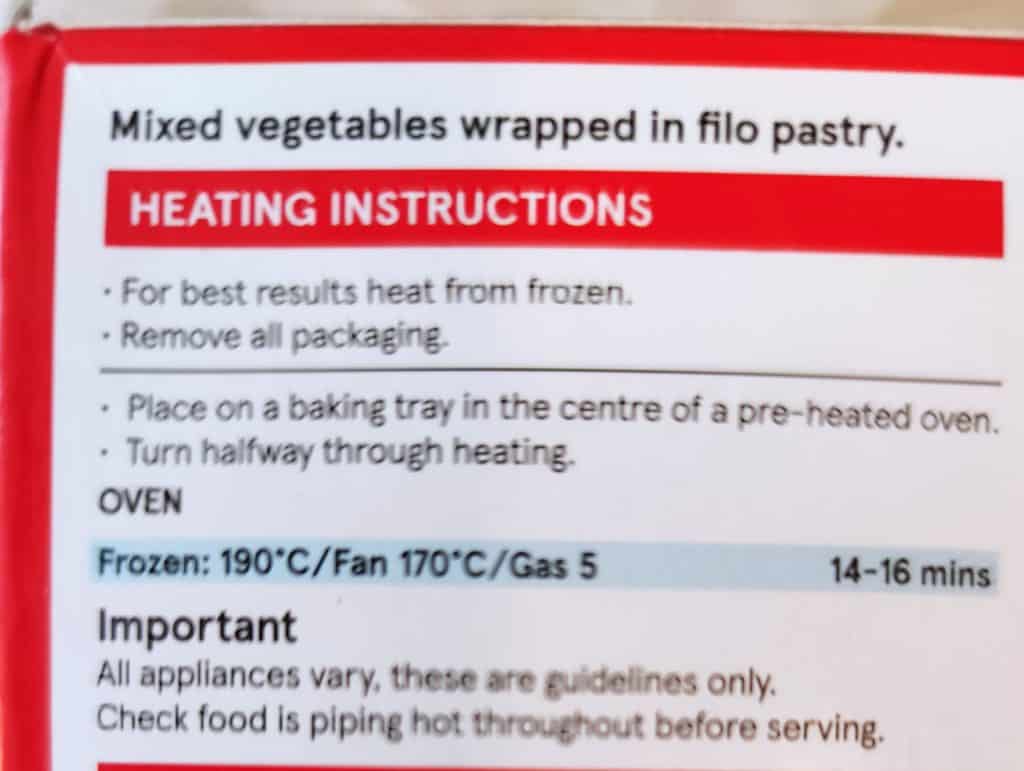 Here are the frozen spring rolls waiting for their 'blasting' in my air fryer!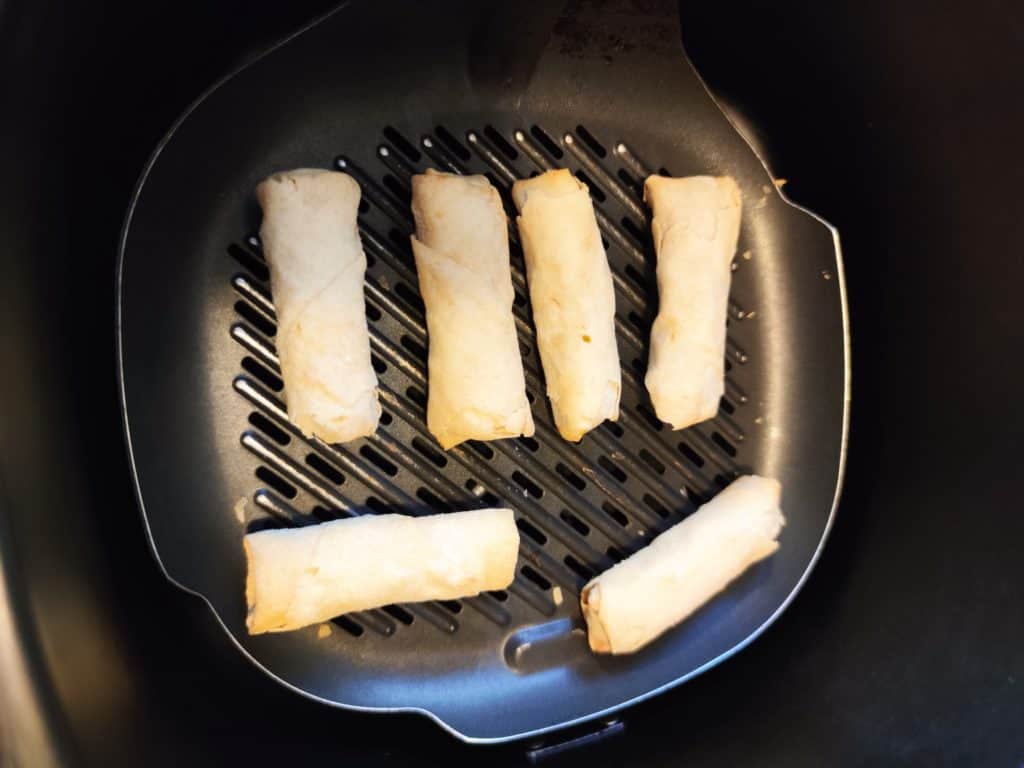 How Did My Frozen Spring Rolls Turn out?
I must be getting 'expert' and converting oven cooking times into air frying times, as the first batch out were pretty awesome. As you will hopefully see below, the outer coating was perfectly browned and crispy. When I bit into them, the insides were also piping hot. This is why we love air fryers, right! Fully cooked frozen spring rolls in half the time it would have taken in even a fan assisted regular oven! Perfect!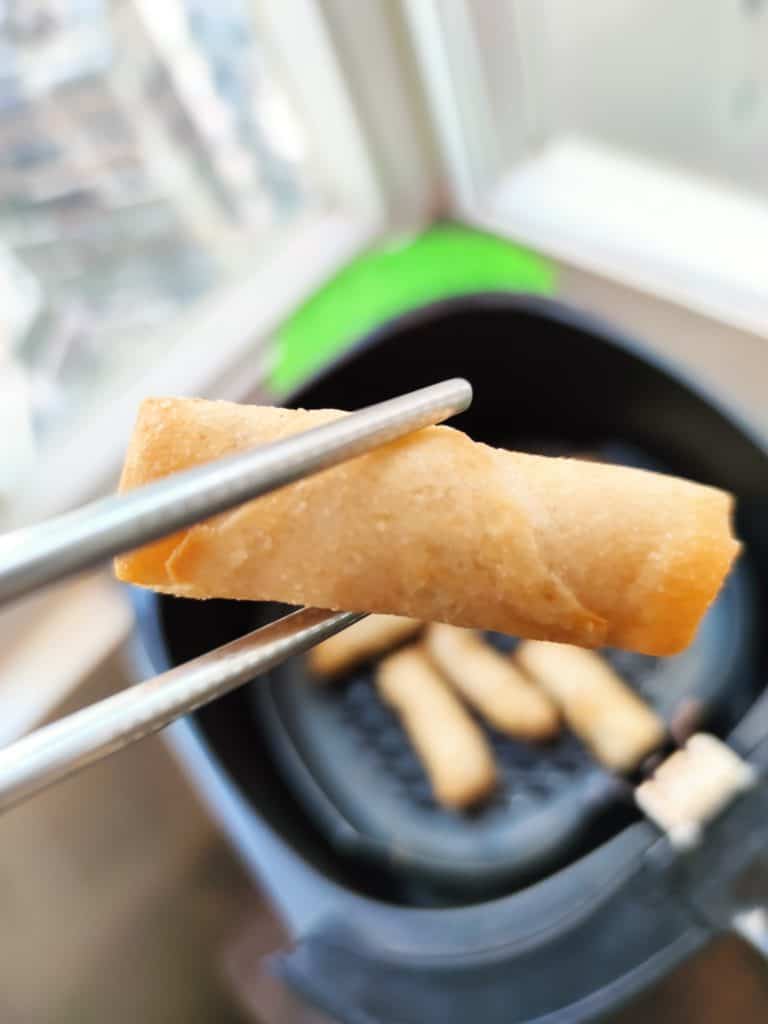 I did try the second batch with a slightly longer cook time just to see what difference it might make, but they came out exactly the same. So half of the fan-assisted oven time is perfect for me!
Anything Else to Consider?
So do we have anything else to consider when cooking frozen spring rolls in an air fryer? Not much, actually. The spring rolls are already heavy enough (even my mini ones) to not fly around in my air fryer's cooking compartment. This is a problem we can have with some lighter foods, but these spring rolls were fine. The air fryer's air is blown around pretty aggressively, you know!!
As these frozen spring rolls already have something in their coating to make them crisp up in a regular oven, there is no need to add any additional oil sprays to the surface of these spring rolls. At that point, you are just unnecessarily adding extra calories!
Finally, as with anything cooked in an air fryer, make sure to not overstack your spring rolls. Make sure that the hot air that is cooking your food has enough room to flow around.
There you have it, simple as that! Yes, frozen spring rolls can be cooked to perfection in an air fryer! Good to know. My next target is going to be frozen egg rolls, so expect that article up in the (hopefully) not too distant future. Happy airfrying! See the official recipe card below.
How to Cook Frozen Spring Rolls in an Air Fryer
This should help you get the timings right when air frying your frozen spring rolls 🙂
Ingredients
One Pack of Frozen Spring Rolls
Directions
Take Frozen Spring Rolls from the box and any wrapping.
Place in your air fryer's cooking basket or tray, well spaced out.
Find the cooking instructions on the box for a fan-assisted oven.
Cook in the air fryer at the temperature in the cooking instructions, but use half of the time recommended.
Enjoy perfectly cooked frozen spring rolls in half the time of a regular oven!
Notes
Don't spray any extra oil on your frozen spring rolls. And make sure the spring rolls are well spaced out in your air fryer's cooking compartment.