As an air fryer enthusiast (I mean I started a whole website about them!), I often feel amazed at the stigma cooking with an air fryer sometimes gets from my friends and family. For example, when you ask most of them whether they would put a rack of lamb into an air fryer they would reply something like 'are you crazy?' The fact of the matter is you CAN put expensive cuts of meat into an air fryer and get excellent results. A rack of lamb is no different. Watch me do this very thing in this article 🙂
The Preparation
For me, when I air fry my racks of lamb, I like to keep it simple to really let the true flavor of the lamb shine through. I would make a simple rub to put all over the outside of my rack of lamb to give it just a subtle background flavor to compliment the lamb.
The base of any rub is olive oil, in this case extra virgin olive oil. I then add to that whatever flavorings I would like. On this occasion, I plumped for some curry powder to give my lamb a slight hint of curry. The only other thing I added is some salt to taste.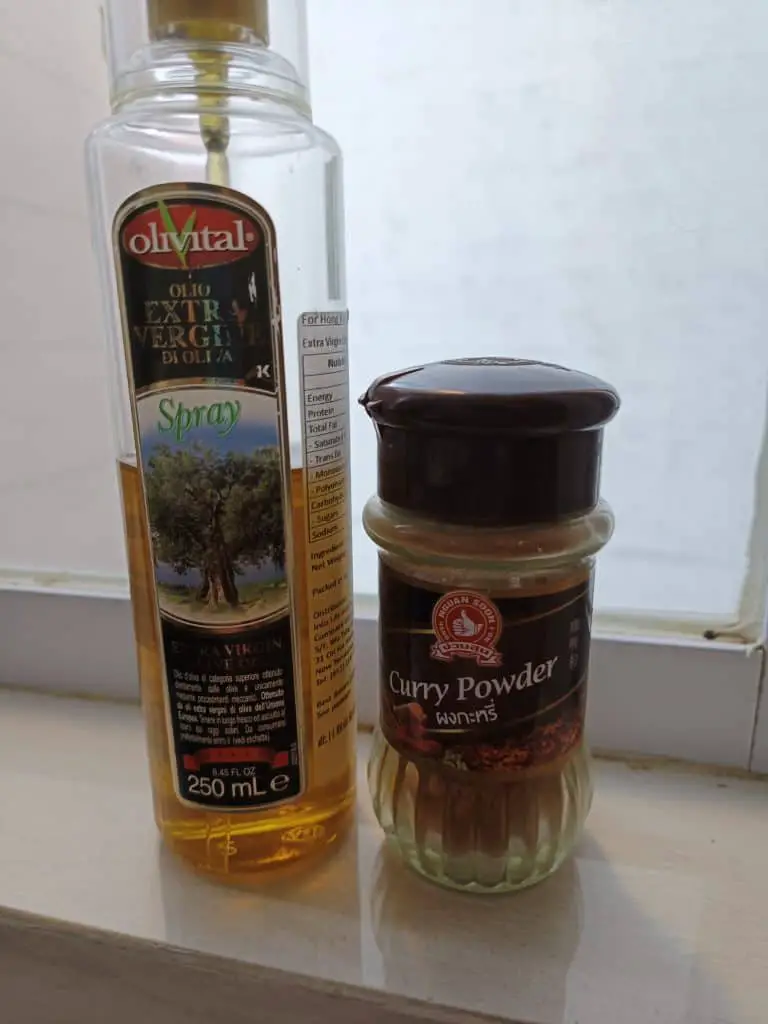 This rub is then applied to the outside of my lamb, making sure to cover every last part of the meat.
If you don't fancy curry, you can flavor in whatever way you would like, using olive oil as the base. You could go for a simple salt and black pepper combo, for example. Or put some Italian herbs to give it that continental flair!
I don't personally like to marinate my rack of lamb overnight, just apply my rub to the outside. I don't want the rub to take away too much from the natural flavor of the lamb. I would only marinate if the quality of the lamb was low, which in this case, it wasn't.
The Cooking Process
I would recommend cooking your rack of lamb in your air fryer for around 13-14 minutes for rare and 15+ for medium to well done.
The best way to do this is to first cook your lamb rack for 12 minutes in bursts of 4 minutes at a time. In between each blast, be sure to flip over the lamb to ensure even cooking.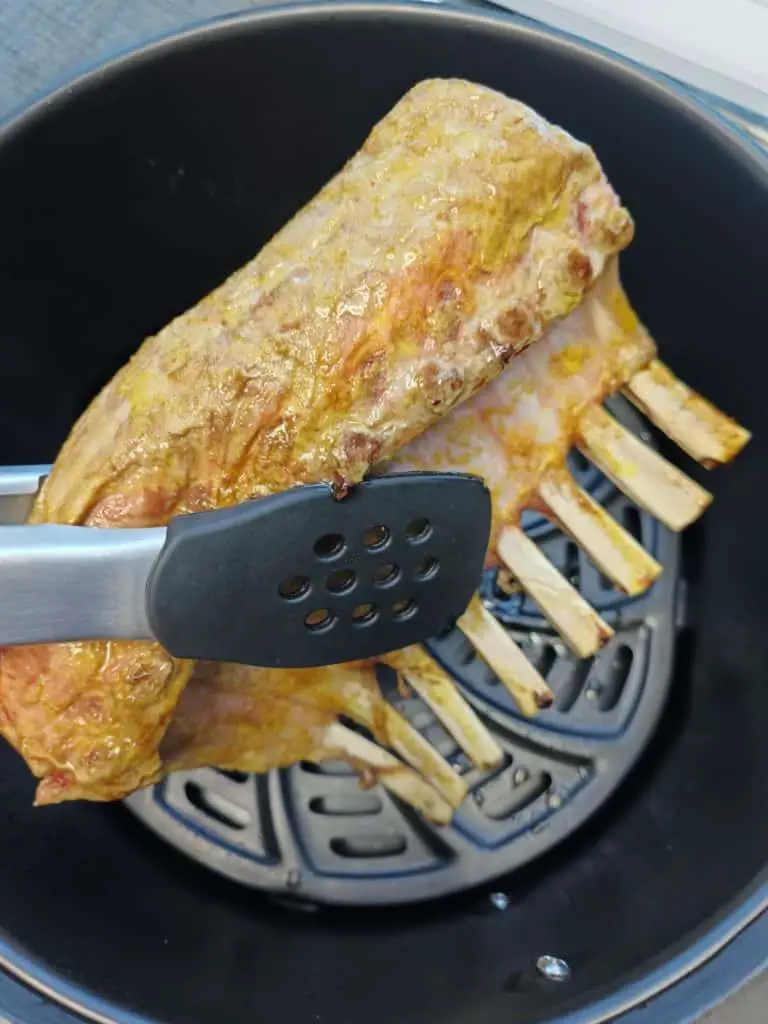 I use a temperature of 180 degrees Celsius or 356 Fahrenheit.
This 12 minute cook time acts as your base. You then add to this in two minute increments until you get the desired level of doneness. I always use a meat thermometer for this. If you don't have one, I highly recommend the one below from Amazon at the time of writing (excellent quality for a good price). Click the image to view it over at Amazon.
I would use the meat thermometer to take the temperature of my lamb after each cooking cycle until I get the desired level of doneness (is that even a word??). I used the Australian Lamb website to get these temperatures;
Rare 60°C/ 140°F
Medium rare 60–65°C/ 140-149°F
Medium 65–70°C / 149-158°F
Medium well done 70°C / 158°F
Well done 75°C/ 167°F
I wanted medium well done, which I found took 2 more cycles totalling 4 minutes. The more you air fryer your lamb racks, the more you will get a feel for this.
The End Result
I have to say that I love my lamb racks air fried. They taste just as good if not better than other methods of cooking. So tell those foodie snobs that air frying lamb is a good choice and not a poor mans alternative 🙂 This is my default method for cooking racks of lamb in my household and has been for quite some time!! Just look at the results I got below from this particular cook session 🙂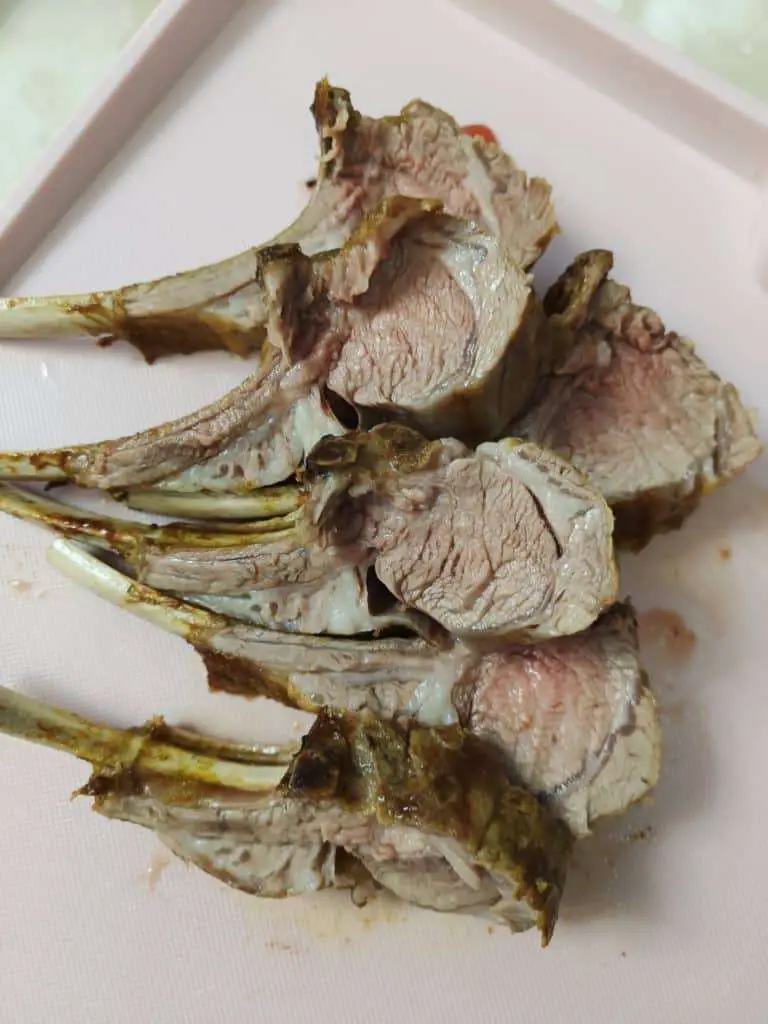 Air Fried Rack of Lamb Recipe
Difficulty: Easy
This is the best way to air fry a rack of lamb. In a simple way to really honor the quality and true flavor of the lamb.
Ingredients
Rack of Lamb

Extra Virgin Olive Oil

Salt

Curry Powder
Directions
Mix your rub: Olive oil, salt and curry powder.
Rub this all over the skin of your lamb.
Air fry at 180C/ 356F for 12 minutes (flip every 4 minutes).
Cook in increments of 2 minutes until you get the desired result.