Welcome back to Air Fryer Bro! Today I have gotten my hands on yet another air fryer to review. This is, in fact, the first time I have got my greasy palms on a Gourmia air fryer to review, so let's see if it is a keeper! If you are also thinking of buying this air fryer, please read on for my full and honest review!
Disclaimer: I like to start my reviews with a disclaimer. So you know that this is a full and honest review! Not only do I have this air fryer in my hands (rather than just aggregating what people say on Amazon reviews), but I bought this Gourmia unit with my own money and don't owe anyone a positive review! But I do owe you an honest review….as I want you to trust me 🙂
Throughout this article, simply click on the product images to view the air fryer over at Amazon to see all the details for yourself.
Before I launch into my full detailed review, here is a quick breakdown for those in a hurry;
Unboxing & First Impressions of the Air Fryer
To be honest, this unboxing experience was pretty bog standard. Gourmia isn't taking the route of some more 'trendy' brands, who think up some premium Apple-esque unboxing experience with cute messages and the like. Gourmia has gone for the straight up 'meat and two veg' approach of putting their air fryer in a simple box with the usual suspects of a recipe book, manual and warranty cards.
In fact, the only special thing is the impressive color manual, something I haven't seen often in the air fryer world. As well as being in color, the manual is one of the best designed and laid out I have seen.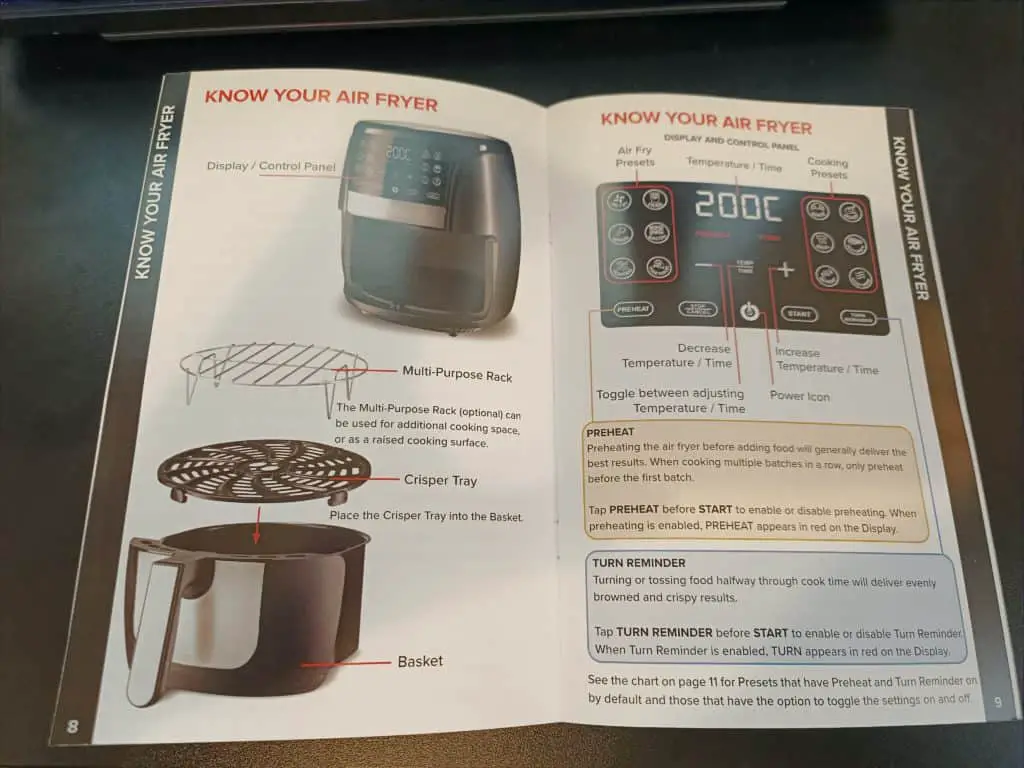 If you want to be positive about this approach, you could say that they are saving money on the unboxing experience in order to invest more in the quality of the final product. I am going to, however, opt for the latter opinion that they are just lazy and/or stuck in their ways 🙂
Who are Gourmia?
If you Google Gourmia, you will see they are 'America's number 1 Air Fryer Brand' and that they were started in New York. But, for me, Gourmia is one of the founding fathers (or mothers) of the air fryer. As someone who has been around air fryers for a long time, they were one of the original OG brands that I saw selling air fryers back in the day.
These days, they sell all kinds of kitchen appliances under the brand and, as a company with a longstanding reputation, you can buy from them with confidence.
Specs of the Gourmia 6 Quart Digital Air Fryer
What I Like About this Gourmia 6 Quart Air Fryer?
Excellent Manual
As stated above, I do give Gourmia props for the high quality manual. It is in full color and very well laid out. In fact, I would go as far as to say it is one of the best and most comprehensive manuals I have ever seen on an air fryer. Manuals usually feel like an afterthought, but not this time!
Established Brand
You are buying from a longstanding and established air fryer brand, not some generic Chinese knockoff brand that you have never heard of. What this means in more practical terms, is you get a one-year warranty from the date of purchase.
Value
For a 6 quart air fryer from a reputable brand, you will struggle to find another appliance priced so competitively. And this is the regular MSRP retail price. If you find this air fryer on sale, you have a win-win situation right there 🙂
Size
This is one of the bigger size air fryers when it comes to the traditional bucket style design. This will mean you can cook for several people at a time without the need to batch cooking or excessive stacking of food.
Digital Panel
I do find the digital control panel a little garish and bright to look at, but it does have one redeeming feature. It is very clearly laid out, making this air fryer very clear and simple to use. The presets give you a whole host of commonly air fried foods at your fingertips. This could be great for older folks or people that just want to live a simple life 🙂
What I Don't Like About this Gourmia 6 Quart Air Fryer?
Laziness
What I see here is a long-standing brand that is treading water. They are not offering anything innovative here, just bog standard in every way. Did they save money on the packaging in order to give you more in product design or features? I would say no, as pretty much every part of this air fryer package is average at best. To me, Gourmia just seems like a company doing the bare minimum to get your air fryer dollars.
Compare them to Cosori, a company that also started out selling bog standard air fryers. With the success they have had, they have re-invested it to make much better designed and more impressive air fryer products. You can see this in my last Cosori air fryer review. This is what Gourmia should be doing but are instead just standing still and taking our money! Of course, all of this is just my opinion and you are welcome to your own!
Quality
As soon as I took this air fryer out of the box, it felt light to me, something that gives me the impression of low quality. This is not helped by the overtly tacky and flimsy feeling plastic trim added to the air fryer. This is not the Mercedes Benz of air fryers, more like the Nissan Rogue at best 🙂
Design
The design of this air fryer reminds me of air fryers from almost a decade ago. With its plastic faux stainless steel inserts to its overly garish digital panel, this is an air fryer design that seems stuck in the past. By the looks of this thing, I don't think Gourmia has paid a decent product designer for quite a while, instead opting for the traditional design playbook from many years ago.
Sticky Air Fryer Drawer
Pretty much one of the first things I like to test when I get a bucket style air fryer in my hands is how smooth the action is when withdrawing and replacing the air fryer drawer. Simply because this is the action you will do the most with this type of air fryer and if it sucks, your whole experience is probably going to suck. Unfortunately, I quickly realized that this Gourmia unit has a very annoying sticky drawer! Unless you slam it back in, you will often be left with the drawer wedged in an unusable place and needing an extra firm push to properly seat it! See the image below to see what I mean. The air fryer won't even turn on if you leave it like this!
I had this problem with the Proscenic T21 air fryer I reviewed a while back, but I don't expect some basic problems with a well-known brand such as Gourmia!
Would I Recommend the Gourmia 6 Quart Digital Air Fryer?
Frankly, on this occasion I would say no! The recently reviewed Cosori Pro LE air fryer is a much better option in my opinion. In my book, Gourmia is just 'phoning in' their air fryer design and execution these days and really needs to invest in stepping up their air fryer game.
I really don't see the point in buying such a middle of the road air fryer, with the only exception being if you manage to find it on discount, bringing it into the price range of those unheard of generic brand air fryers!
It is not often I find an air fryer this disappointing, but this Gourmia air fryer really did push my buttons in the wrong way. Yes, it does have a few redeeming features, but this is not enough to save it from wallowing in mediocrity. If you got in a time machine and went back a decade, this may be the perfect air fryer. But in 2023 it simply doesn't cut it!
Do yourself a favour and buy the Cosori air fryer below instead!