Welcome back to Air Fryer Bro and another air fryer review! As someone who grew up in the UK I am familiar with the brand Tefal, as back then it was rather popular as a kitchen appliance maker. They didn't fancy or expensive stuff, but what they did make was solid and well trusted. But how about when it comes to air fryers? Will they set the air fryer world on fire or limp in like an injured athlete? Let's find out together!
Before we start, FYI you can click on any images during my review in order to be taken directly to Amazon and view the product for yourself.
The Unboxing Experience of the Tefal Actifry Genius XL Air Fryer
First impressions are important in life, and this is why many kitchen appliance manufacturers are starting to take a more modern and trendy approach to the unboxing experience. Unfortunately, Tefal is still stuck in the past with their version. The box itself is a pretty standard kitchen appliance box that you have seen a lot over the past 30 years or so. The contents aren't much better. I was frankly amazed at the black and white only product manual that looked like it had come out of the 1970s. It was tiny too, so it was quite the struggle to read through! And the color cook book was flimsy and not premium, although a step up from the manual at least. It also had the typical plastic smell that a lot of people hate when unboxing new kitchen appliances, but it wasn't any better or worse than your typical air fryer.
Specs of the Tefal Actifry Genius XL 2 in 1 Air Fryer
As this is a UK centric product, it will have specifications that are imperial in nature 🙂
| | |
| --- | --- |
| Dimensions | 19.25 x 14.96 x 11.61 cm |
| Weight | 1.7 Kilograms |
| Size | 1.7 Litres? Beats me, this is what Tefal say….. |
| Wattage | 1400-1700 Watts |
| Price | Check at Amazon |
Special Functions of the Tefal Actifry Genius XL 2 in 1 Air Fryer.
This air fryer is unlike any other as it has a (probably patented) 2 in 1 system from Tefal. This means it has a bigger bottom tier and smaller upper tier, with the idea being you can cook two different things at once. Both of these cooking tiers also rotate whilst cooking to ensure even cooking. Watch the below video from Tefal is you still have no idea what I am talking about..
What I Like about the Tefal Actifry Genius XL Air Fryer
Made in France
As I found out from my article on air fryers made in America, most air fryers are made in China these days and there are a lot of people that dislike this. This particular model was made in France (and I will include a photo to prove it!). Just be aware that I bought this from Amazon in the UK and as far as I know Tefal models in the American market are now all made in China 🙁 Funnily enough, this Tefal air fryer still has a 'plasticky' and cheap feel and also had the typical factory plastic smell when unboxing. Contrary to popular belief, this is not something exclusive to China 🙂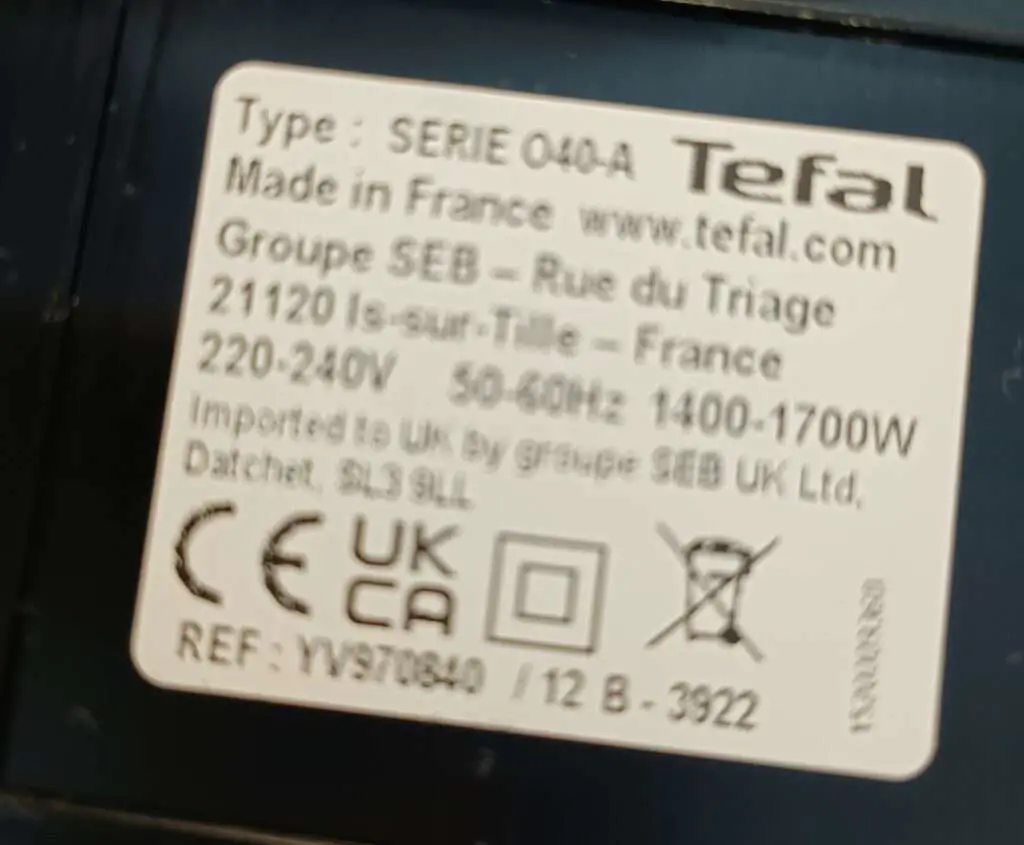 Tough Non-Stick Coating
At the time of writing, I have owned this air fryer for around 3-4 months, and in this time I have used it a lot. Although I am careful not to aggressively scrub it, other than this I haven't treated it particularly well 🙂 And the non-stick coating is showing no signs of wear so far. This is impressive and is much better than a lot of the air fryers I review.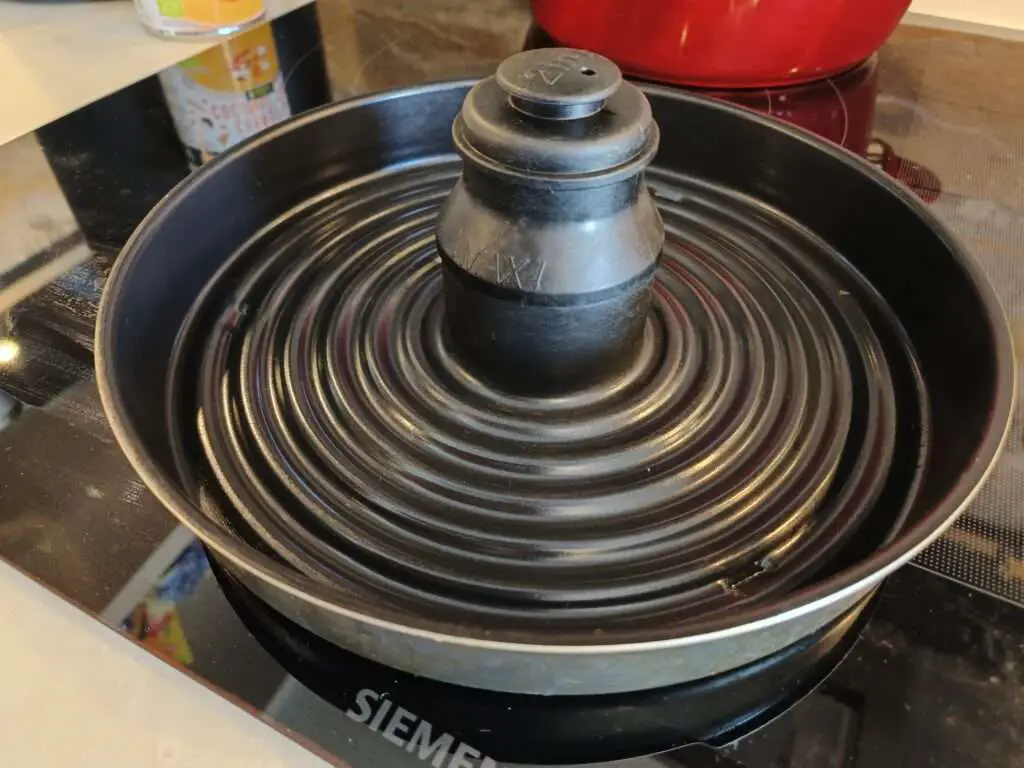 Cooking Performance
I can never fault the cooking performance of this Tefal air fryer. It always cooks everything well and exactly how I would expect from any other air fryer I have used in the past. The underside of any meat you cook on the top level of this air fryer will get a nice grilled sear on it, but you would have to flip halfway to get on both sides.
What I Don't Like about the Tefal Actifry Genius XL Air Fryer
Form Factor
This is literally the worst form factor for an air fryer I have ever used (and I have used a lot!!). I don't know what Tefal was thinking, frankly!! They decided to put a massive hole in the middle for the mechanism that rotates the cooking compartment. This hole gets in the way A LOT!!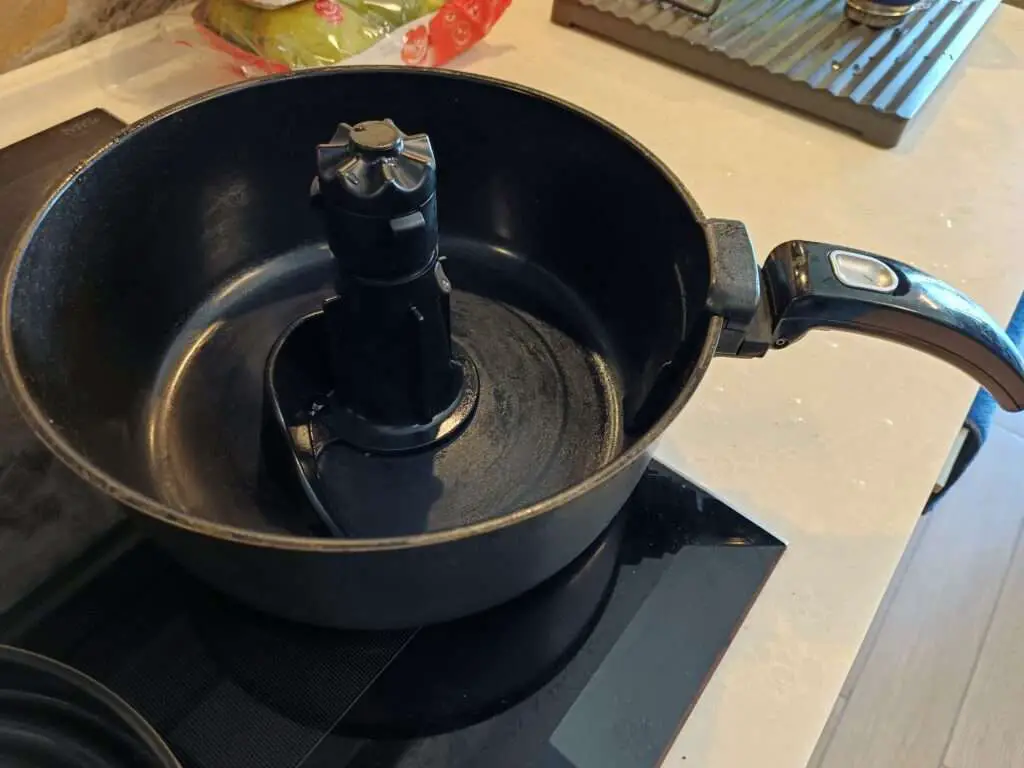 I am so used to putting whole chickens in my air fryers, both traditional bucket style models and air fryer ovens. Not with this Tefal though, as the massive hole gets in the way. Even placing a typical steak on the top tier is a squeeze. Frankly, I hate this form factor and would never buy a similar model again (unless someone forced me to review it!!).
The Tefal 2 in 1 System
For me personally, this is the most pointless system ever 🙂 The way it works is you need to program both the top and bottom tier separately. So if I want to cook french fries on the bottom and a steak on the top, I would input my cook time and temperatures for each of those (after some struggling with the tiny and out-of-date control panel that is). The thing is, the implementation doesn't work. The air fryer will cook the fries on the bottom first and then it will cook the steak and the bottom level won't get any more cooking. This means by the time the steak has cooked your fries are luke warm and don't feel fresh any more.
This system is a gimmick for me and serves no actual purpose. I can achieve similar by putting a wire rack into a regular traditional bucket air fryer. Yes, meat juices would drip on the fries, but the main thing for me is they both cook at the same time. If you really want multi level cooking, just buy an air fryer oven!
And yes, the rotating part might help a little with even cooking, but it makes an awful squealing sound when it rotates and for me the minute difference it may make is not worth this noise and the bad form factor that comes alongside the mechanisms needed to rotate an air fryer tray!
Quality
I was frankly shocked at the level of quality on show here. First of all, the feel of many of the plastics used in this air fryer are cheap and cheerful. Piano black cheapness abounds here!! The latch that holds the lid on the air fryer will occasionally decide to let go halfway through cooking, which is very disheartening. All in all, I expected much more from a 'big company' such as Tefal. I have had generic Chinese air fryers that feel this quality, not units from such household names like Tefal!!
Instruction Manual
The black and white instruction manual is so bad I am honestly in disbelief as to who made the decision to ship with such a thing. Not only does it look like it's from the 1970s, it is tiny and such a challenge to read. This left me struggling to even read it and having to struggle to learn some of the basic functions of the air fryer myself! Disgraceful Tefal! Shame on you!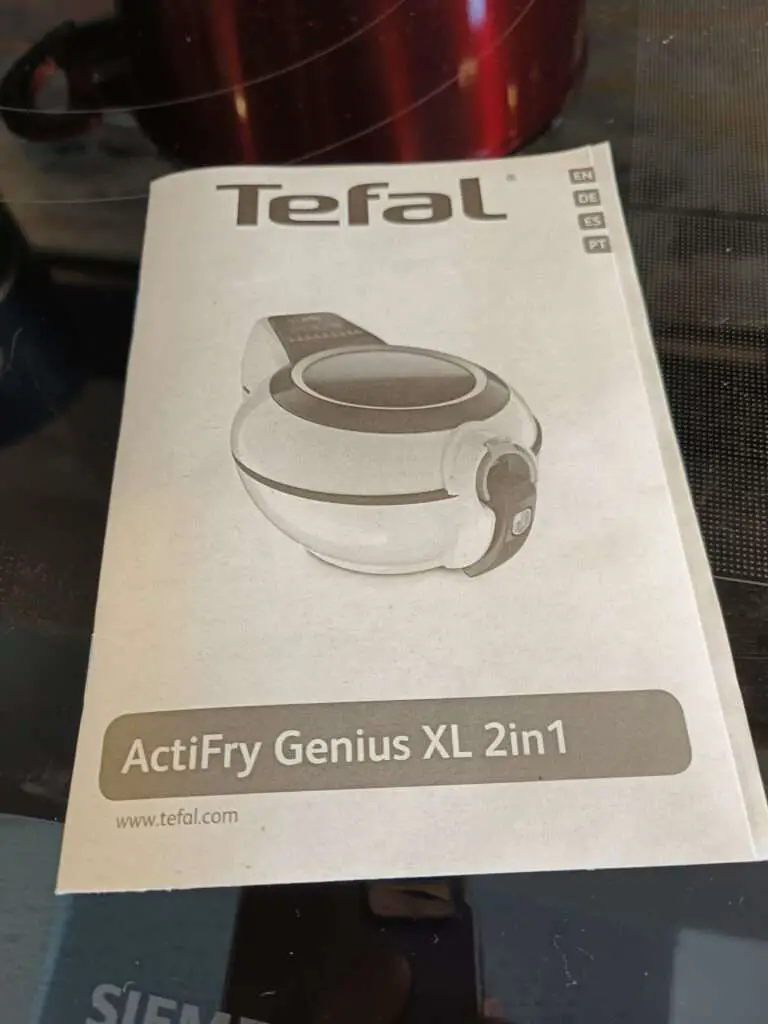 Confusing to Use
The display on this air fryer is tiny and so confusing to use at the start (not helped by the impossible to read instruction manual explained above!). I have used MANY air fryers as the Air Fryer Bro, but it took me a few tries to learn the basic functions. I picked it up in the end, but it was a struggle, let me tell you.
The problem is made worse by the two tiers. If you only want to use one tier, you have to turn off the other tier with a control panel that is not exactly clear and straightforward!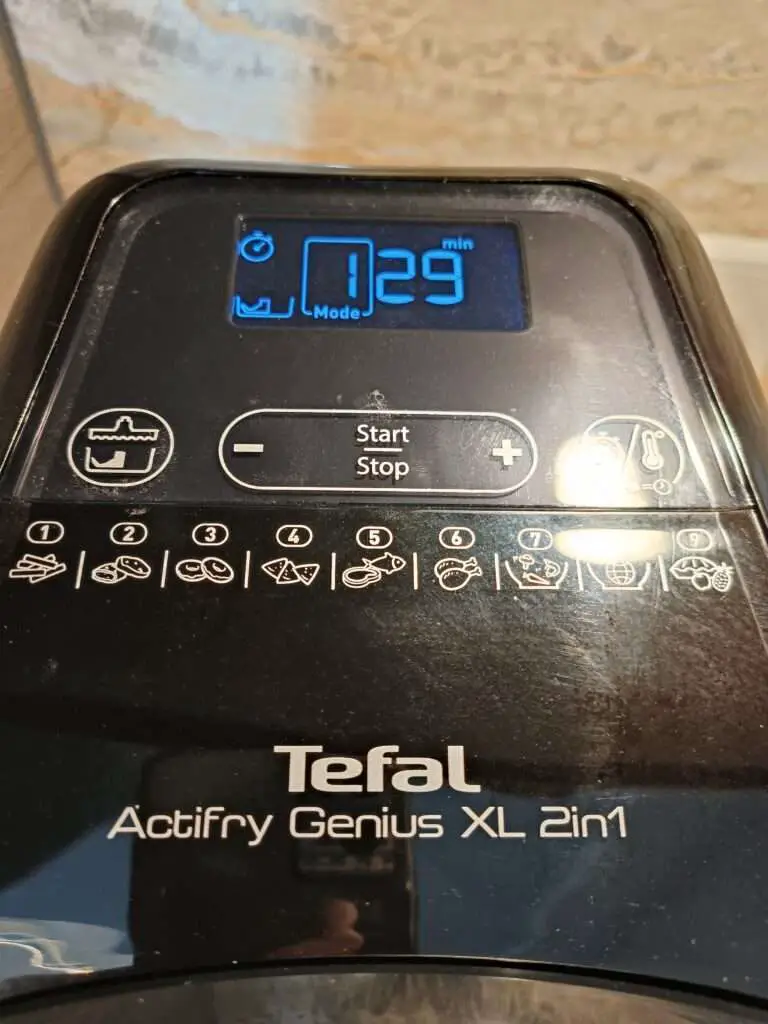 Would I Recommend the Tefal Actifry Genius XL 2 in 1 Air Fryer?
In short – NO! I am sure you have worked out from this review that I didn't like much about this air fryer at all. The form factor stinks! The 2 in 1 system is a gimmick and the quality of the unit is unacceptable to me (apart from the non-stick coating). There are way better air fryers out there that are worthy of your money, in my humble opinion. The funny thing is that Amazon in the UK has many glowing reviews on this very same air fryer, so as always, do your own research. But when I give this air fryer away to a friend, I will make sure they are willing to take on the many failings of this sub par air fryer. And I certainly won't miss it for a second!
It's a shame really, as I have just moved house and bought this air fryer to go alongside the excitement that comes with moving into a new home. But all of that was quickly dampened, sadly!