We all want to get our 5-a-day, right? I'm the same! But it can be annoying when you get home after a busy day at work and find out you don't have any vegetables in the house! What a bind!! This is where the air fryer and frozen vegetables come in. Today, we will show you the best way to cook frozen broccoli in your air fryer, so you too can have some tasty roasted vegetables at your fingertips whenever you need! Roasted broccoli makes such a great (and healthy) side dish!
What Broccoli would I use?
I would personally recommend the Sprouts Farmer's Market frozen broccoli florets for this air fryer recipe. But you can try the different brands you have available in your local area. You should look for good quality broccoli that has been frozen when it is still fresh. A lot of manufacturers like to boast they freeze it hours after it's been harvested. Just try some out and see which broccoli is the freshest and most tasty 🙂 Just make sure that the only item in the ingredients list is broccoli and not any chemicals or preservatives (although to be fair that is rare with frozen broccoli these days).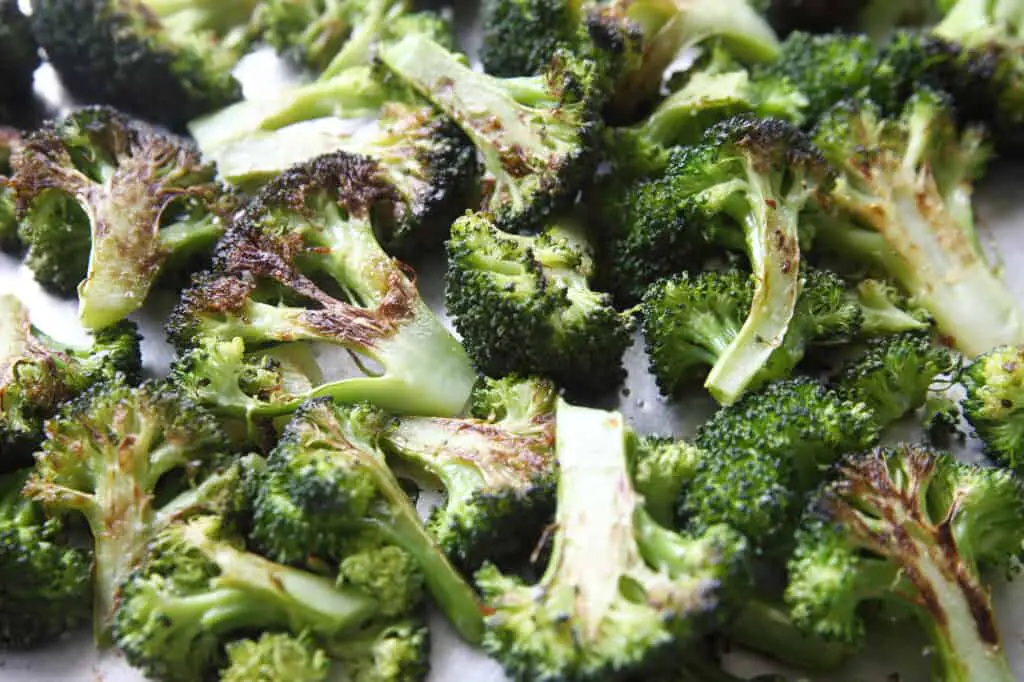 How to Air Fry Frozen Broccoli?
Broccoli is one of the most nutritious vegetables you can eat. It's a nutrient-dense powerhouse packed with fiber, vitamins, and minerals. Plus, it's incredibly versatile and can be used in a variety of recipes. So let's get on and show you how you can enjoy this 'super food' in your air fryer with that added crispy texture 🙂
Step 1: Preheat Your Air Fryer (optional)
Before you start cooking, some people think you should preheat the air fryer so that it's ready when you're ready to cook the frozen broccoli florets. Most types of air fryers will have a preset temperature setting specifically for cooking fresh or frozen veggies like broccoli; use this setting if available or set your machine at 350°F (177°C). Allow the machine time to come up to temperature before adding any ingredients. Personally, I don't think you need to preheat an air fryer and I have a full article on that HERE.
Step 2: Preparing The Broccoli
DO NOT thaw out your frozen broccoli before air frying. A lot of people think you should do this and end up with soggy broccoli or broccoli with a weird texture. Simply put the frozen broccoli straight from your freezer into the air fryer!! Usually, I spray a little olive oil on the broccoli florets to give them that roasted quality 🙂
Step 3: Placing the Broccoli in The Air Fryer
Carefully place frozen broccoli florets inside your air fryer basket (or on the wire rack if you have an air fryer oven), making sure there is enough room between each piece so they don't clump together and block the hot circulating air that should cook them evenly throughout – this is why you shouldn't overcrowd your air fryer's basket/drawers too! If you want more than a single layer of air fried broccoli, you can use a wire rack to add that additional layer whilst still allowing good air flow around the broccoli.
Set the timer for 12 minutes at 350F (180C) degrees, but you should adjust the time accordingly depending on how crispy/soft you prefer the end result. Also, be aware that air fryers can have slightly different air frying intensity, so you may have to adjust the time for your particular model. Personally, I don't like my broccoli tips to get too charred, so I go for 12 minutes with the air fryer I have.
Step 4: Shake your Broccoli (optional)
To ensure even cooking, you might want to shake your frozen broccoli halfway through the cooking process.
Step 5 : Remove Broccoli
Carefully remove the air fried broccoli from your air fryer's basket, ideally using a pair of tongs. Don't use anything metal, as this may scratch your air fryer's delicate non-stick coating. Now comes the best part – enjoying meal! For added flavor you should add some seasoning, such as freshly ground sea salt and black pepper. You may also want to try garlic butter, my personal favorite!! Or garlic powder, for a simpler version 🙂
There you have it: perfectly crisped air fried frozen broccoli that's ready in under 20 minutes! Such an easy side dish! Not only will this save time compared with other methods such as boiling or steaming, but it also helps retain more nutrients than those methods due to less water contact during cook time. So go ahead – give this quick & easy recipe a try today! If you do make this recipe, let us know how it goes in the comments section below 🙂