Welcome back air fryer enthusiasts! High Five! The Air Fryer Bro is back! Hopefully, back to answer more common questions about air fryers! Imagine this! You go to cook some yummy air fried food and pull out the basket from your shiny new toy. And (unfortunately) you gasp in horror as you notice that something is peeling off of your air fryer basket!! Why is this happening? What to do? We hope to answer this today! Come along for the ride!
So, Why is my air fryer basket peeling already? This is a problem which I often see exclusively from the air fryer basket, and concerns the non stick coating that the manufacturers have put on this basket. You might see this non stick coating flaking off of the basket due to heavy use or sometimes due to a poor choice of material from the air fryer manufacturer. With a combination of good research into the air fryer you buy and 'kid gloves' when cleaning it, you should lessen the possibility of air fryer peeling!
With that quick answer out of the way, let's take a deeper dive into the details of what this problem is and how to avoid it!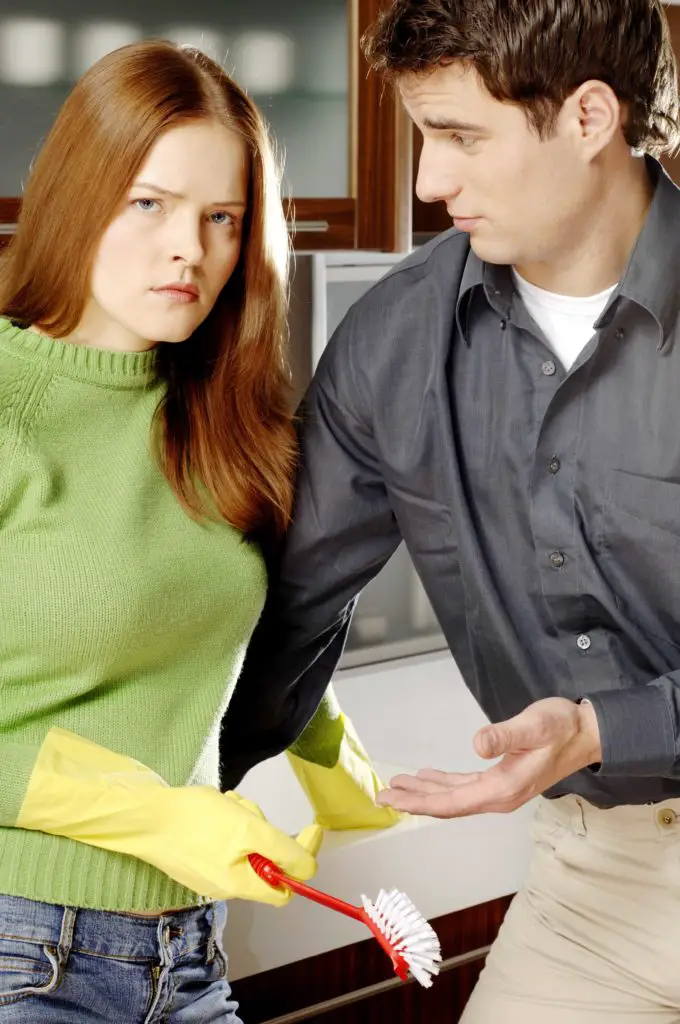 Should I be worried?
After noticing your air fryer's basket peeling in this way, most people will start worrying about their health. What if some of these flakes get in my food and I eat them accidentally, will it start to poison me in some way?  Should I be concerned about my air fryer being so flaky!!
To put it into simple terms, I am sure that nobody wants a peeling air fryer, whether it is for health or aesthetic reasons! In this article, we will start by giving some advice about finding out how safe the materials are in your air fryer, followed by discussion on why air fryers peel and what you can do to prevent this.
Disclaimer!! I am not a doctor or scientist! In fact, I am not qualified to answer this question properly from a medical or technical point of view. Please consult such a professional if you are truly worried. I am simply speaking from my experience with air fryers!
Is my air fryer's non-stick coating safe?
Good Housekeeping were able to talk to someone more qualified, with a PHD none the less! His name was Paul Honigfort, and he worked for the food and drug administration. He said if it is just a small flake then it would probably just pass through your system without being absorbed!
Outside of simply eating flaking non-stick coating, some people are worried about them giving off unwanted chemicals! In the very same Good Housekeeping article, they also talked about non-stick surfaces generally being safe as long as they are not overheated. As non-stick surfaces in air fryers are in a controlled environment temperature wise, this is unlikely to happen. Good to know. I would recommend you to read that article if you want the finer details 🙂
Regarding air fryer material safety, my bro advice would be as follows:
1. Only buy your air fryer from a reputable brand, one that you  should be able to trust with sourcing high quality materials for their air fryers! Then when the company says all of the materials inside their air fryer are food safe and of high quality, you know to trust them.
2. Check the manual of your air fryer and find out if all of the materials the air fryer is made out of are food safe (meaning you can ingest it with no problems). If you lost the physical manual, you should find it with a simple Google search, or even by refering to the air fryer's Amazon listing! Look for FDA approved non-stick coatings, and if you want to be really safe those without polytetrafluoroethylene (PTFE – better known as Teflon) or bisphenol (BPA).
3. If you still don't know whether your air fryer flakes are safe or not, in this day and age it is really easy to find this information out online or contact the company through email or social media to find out. For example, Philips have THIS answer on their website on the subject. Tweeting a quick question to the company would also get you an answer in double quick time! In this situation, social media is a good thing!!
You may think I am crazy talking about whether non stick flakes are safe to ingest, a lot of you will probably just want to get your hands on a new air fryer or a new basket all together. But, trust me, there will be people out there that would consider continuing with a flaky air fryer. Or maybe the flaking is happening somewhere that is not in direct contact with food, but still inside the cooking compartment. If your non stick coating is food safe, you may consider soldiering on with it!
If you are not comfortable with having a flaky air fryer basket, unless it is still under warranty and can be replaced for free, your only real option is to buy a new (and hopefully non flaky) one!
Do ALL air fryer baskets peel?
Now that we know what the problem is, you may be looking at your shiny new air fryer and wondering what might happen to it in the future! Wondering whether it is something all air fryers are prone to.
I would liken this situation to buying and owning non-stick frying pans. I have bought many non stick frying pans over the years, and some have worked out better than others. Sometimes, you feel the non stick coating will last forever. Other times you feel it is paper thin and will get worn out with the slightest rub from a wooden spoon! Any non stick surface is prone to quality issues, and an air fryer basket is no different.
In this section of the article, as well as talking about my own experiences, I also want to talk about the air fryers that I have seen mentioned a lot when it comes to air fryer peeling! Please bear in mind, it is literally impossible for me to mention ALL air fryers with this problem. So, I would always recommend that you do your own due diligence and research any air fryer product before you buy it. Simply, look at the consumer reviews and see if a lot of people are complaining about having the peeling problem. Or join a Facebook air fryer group and ask the question.
I recently did an article talking about some major air fryer brands, which goes over quality issues. I called it air fryer brands 101, and this could be a starting point of your research!
Personally, I have owned two air fryers in my life (something you will be sick of reading if you are a regular to this website!!), a generic Chinese branded one and more recently a Philips model. 
To be honest, I can't even remember the brand of my generic Chinese air fryer, it has already been erased from my memory. The thing wasn't awful by any means, but owning the Philips air fryer has totally changed my perspective on the first model I owned.
And, guess what, my generic Chinese air fryer did suffer from this basket peeling problem. I started to notice this after about a year of heavy use. I don't know about you, but if you end up with a flaky air fryer basket, the last place you want it to come from is the factory of a generic Chinese brand. I wouldn't have thought they have the best quality and/or safety control when it comes to picking materials for their products. 
My Philips air fryer is about 2 years old (at the time of writing), and I can wholeheartedly say that so far the peeling hasn't been an issue for me at all. The basket is still as good as new, as is the additional grill pan accessory that we purchased to go with it. See my low rent photos below as evidence!!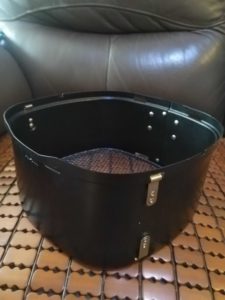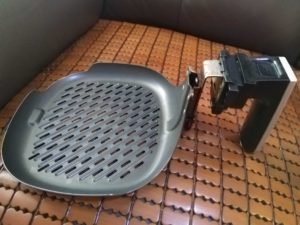 So, to start the selection process, don't buy a generic air fryer. Buy a known brand that has good quality.
In the air fryer circles that I mix in (no really, I do!!), the biggest offender I have heard of is the Power Fryer XL. Numerous times, this is the name I hear when people talk about the basket peeling. These people usually accuse the Power Fryer of being "made famous" by TV shopping and infomercials, and not having the quality to back that up. 
Of course, this could just be the case in these particular air fryer groups, so do your own research! But, from what I have heard it might be an idea to steer clear of this brand. The last thing us air fryer geeks want is a flaky basket!
What can we do about this peeling?
After discovering this problem (or at least being aware that the problem exists), most air fryer users will be wondering what they can do to prevent this from happening. 
The best thing to say, is to treat it like a non stick pan, and a delicate one at that!. I am sure many people have used non stick pans and know the drill!
Don't scratch the non stick surface with any metal utensils or scrub it with anything overly harsh. That means no crazy metal scrubbing pads!! It works exactly the same with an air fryer. 
What I do with my air fryer, is I will always soak my air fryer after use with boiling water and a little washing up liquid. Then, after about 15 minutes (making sure the water is still hot), I will be able to easily clean the air fryer without any intensive scrubbing. Just make sure not to let the water go cold, as it will be much harder at this point. Of course, this is only possible for an air fryer with a removable cooking compartment.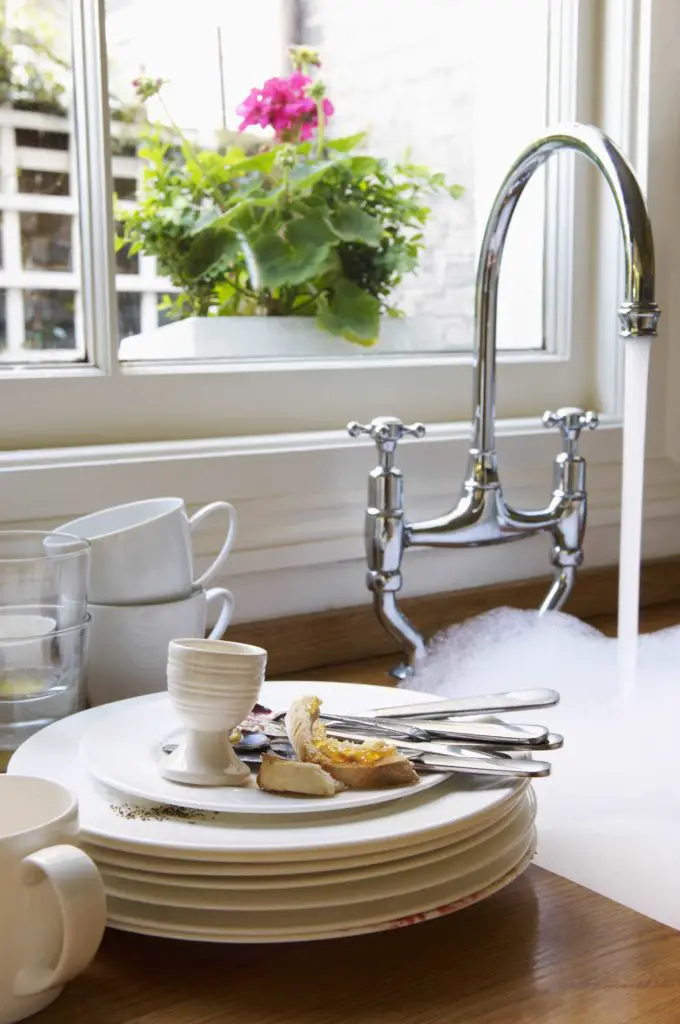 You could also try soaking your air fryer's basket in a vinegar solution before washing. You should find that any baked on mess will come off after that!
It might also be an idea to use a good non-stick oil or similar product to prevent any food from sticking to your air fryer basket. That would mean you never have to scrub it and the problem should never arise.
For me, personally, I would recommend heating up your air fryer basket and then rubbing some kind of avocado oil on it to prevent food sticking. Either that, or just use some parchment paper instead. You may find other oils that work, but just watch out for smoking! Only use pure oil on your air fryer. Some of the oil sprays have additives in them that can actually harm your air fryer's non stick coating. We have an article here talking about good oil to use in an air fryer!
To Wrap Up…..
As always, thank you for taking the time to read some bro advice on another topical issue with air fryers.
As I always say, I am an air fryer geek, rather than an expert. If you have any of your own advice when it comes to preventing or dealing with a flaking air fryer basket, please feel free to add a comment to the section below this article.
Also, we want to hear from you if you have had this specific problem with your air fryer? What brand was it and how bad was the problem? What did you do?
I am always looking for new ideas and inspiration when it comes to my beloved air fryer!
Air Fryer Bro over and out!!