Welcome back to Air Fryer Bro, the place that is immersed in air fryers 24/7 🙂 Well, maybe not that much, but you get the idea! Today we are talking to those large families that want to experience air fryers! When air fryers first came out on the market they were pretty small, but with the latest technology they are getting pretty big now. Not sure which air fryer is best for your large family, read on…..
What Should Large Families Look for in an Air Fryer?
The obvious feature a large family needs is capacity. To give you some perspective, in my household it is just my wife and I. We have a 3.5 quart air fryer and we struggle to cook a whole meal in it. Can you imagine if you had a large family and want to cook a bulk of your meal in your air fryer? You need a pretty massive capacity!
Other than this, you should look for an air fryer that is quick and easy to clean. A large family doesn't always mean you need to cook a massive amount all at once, it can also play out that the air fryer just gets used often. Especially if there are teenagers in your family, expect the air fryer to get well used. This means it must be easy to clean!
Finally, an air fryer for a large family should be simple to use. Then, no matter who wants to use it, they can do so with little fuss. Confusing and over complicated control panels that look like they are from 'The Starship Enterprise' are out!
Air Fryer Oven or Basket?
When air fryers first came out they were modeled on deep fat fryers and had a similar look. They often had a drop in and out basket or bucket style to them. If you still have no idea what I am talking about, they looked something like this.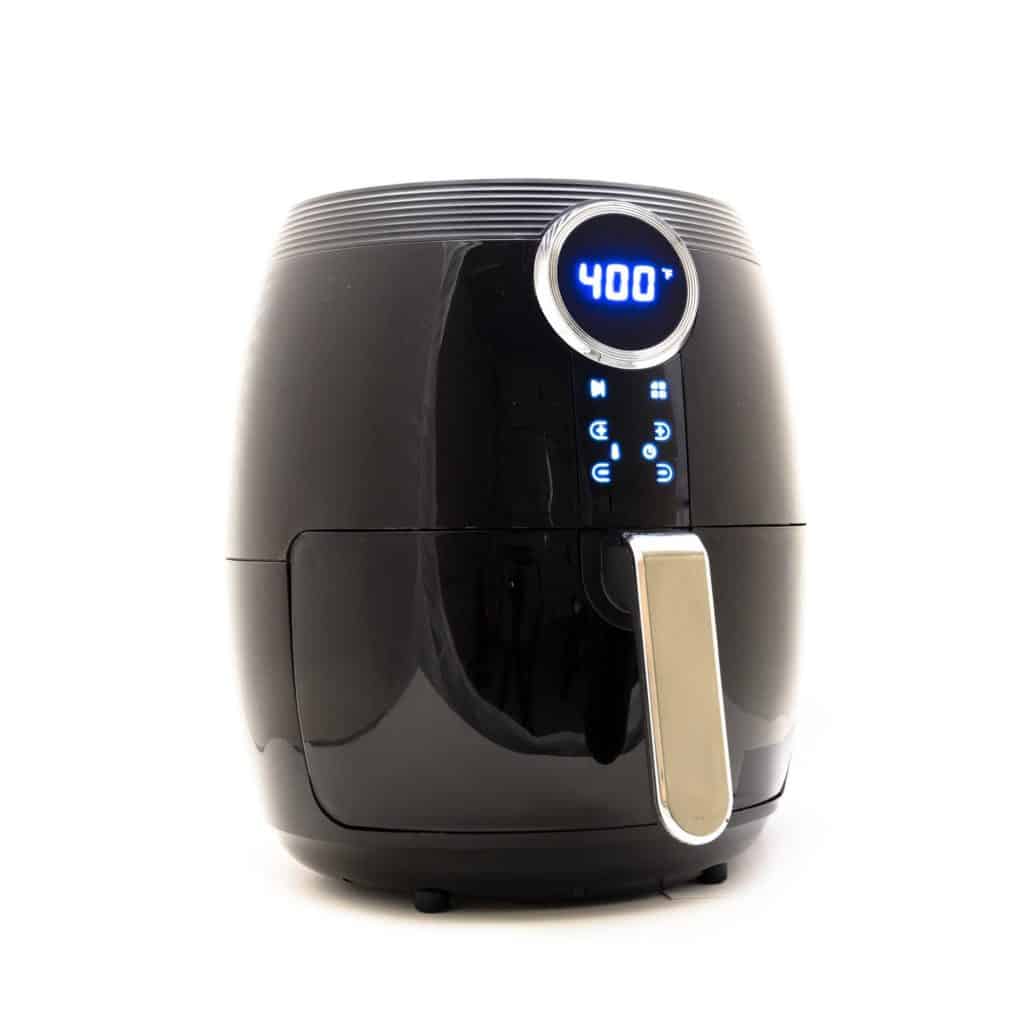 As the air fryer technology has developed, they have worked out how to fit an air fryer into the form of a regular oven. You would then get something that resembled a toaster oven but worked more like an air fryer. Below is an example from Amazon.
For shear size, I would always recommend that a large family opts for an air fryer oven if possible. They come in much larger sizes and are more flexible for everyday use. The flat oven racks are great for frozen pizzas, for example.
However, they are hard to move and need to stay in one place. If your kitchen is not so big, or the air fryer isn't your main method of cooking, you might find an air fryer with a basket would be easier to move or pack into a cupboard.
This is why I will give you my top 3 for both the air fryer oven and the basket/bucket style air fryer, so you have the option to choose the type that best suits your needs.
Before we get started, I would like to say that all the air fryers I recommend today can be found over at Amazon. To view them over there, simply click on the product image. I will not talk about exact pricing in this article as it changes frequently. To get the latest pricing, again click the image to see for yourself over at Amazon.
Top 3 Air Fryer Ovens for the Large Family
These are in no particular order, all three models come highly recommended. It is more about finding the model that suits your family's needs the most.
Instant Omni Plus Air Fryer Toaster Oven
The first air fryer oven I want to recommend is this massive example from Instantpot. This company got famous (as you probably know) from the instant pot itself, but have been killing it lately in the air fryer world too!
Why do I love this one so much? Well, simply put it ticks all the boxes. At 26 litres (or 23 quarts) in size, it is one of the largest air fryer ovens on the market. This is big enough to cook a 12-inch pizza, for example.
This Instant Pot air fryer oven is a very flexible device. It comes with a pan, a rack, a basket and even a rotisserie. This means you can pretty much cook anything in here! In fact, this is the only oven of the three recommended that has a rotisserie, so if that's your thing you might want to go with this model.
Also, this air fryer oven is simple to use. Mainly because it has a good selection of quick and easy recipe presets you can use. So if your teenage offspring wants to cook something in the middle of the night, they only have to press a couple of buttons 🙂 And the fact it goes for more buttons rather than a confusing digital only interface just adds to the simplicity.
Finally, you are buying from a reputable brand that you know you can trust. They have a one-year warranty against "all defects", so you can have real peace of mind when you buy.
Cuisinart TOA-65 Digital Convection Toaster Oven Airfryer
Next up we have this Cuisinart air fryer oven. This one is not quite as big as the other two on show here, coming in at around 18 quarts in size. That should still be enough for most large families, though.
The thing I really like about this air fryer oven is how classy it looks in your kitchen and the simplicity of use. The brushed steel look of this air fryer makes the unit look sleek and elegant in my opinion. I think it would look great in any kitchen!
This version is very simple to operate, as it has a digital panel accompanied with just 6 buttons and a dial. This thing could be used by anyone in your family, no matter how much of a gadget phobe they might be 🙂
This air fryer has awesome power too. The problem some larger air fryers have is that the intensity of the cooking is not as intense as an air fryer should be. They can end up being more like a convection oven than a true air fryer. Not the case for this Cuisinart model! You will still get top-notch air fried crispiness!
As with the first air fryer oven, you also have peace of mind knowing you are buying an appliance from a big well-known kitchen brand.
Ninja DT201 Foodi 10-in-1 XL Pro Air Fry 
When we talk about companies 'killing it' in the world of air fryers, Ninja is one of the main companies I think of. They started out by surprising us with the first ever pressure cooker/ air fryer hybrid appliance and have since come up with several other excellent air fryer innovations.
Their latest innovation is simply making a 'beast' of an air fryer in terms of size. This thing is equally as massive as that first Instant Pot air fryer oven, perfect for any large family. You can cook a decent sized roast chicken and still have enough room for a rack for roasted vegetables. This is pretty epic stuff air fryer wise 🙂 Ninja have also done a great job to maintain the intensity of this oven, even though it is so big in size!
This air fryer oven is also very easy to clean as it comes with a rather unique rear heat source. This makes the interior of this oven simple and easy to wipe after each use.
Finally, I love the simplicity of the control panel. Ninja must have great user interface designers, as using this air fryer oven is like child's play. Everything is just so clear and simple.
Although you have probably never heard of Ninja, they have become a trusted brand in the world of air fryers. You can buy with confidence!
Top 3 Bucket or Basket Air Fryers for the Large Family
Not quite as massive as the ovens, these more traditional style air fryers will make up for this by being more portable.
Ninja DZ201 Foodi 6-in-1 2-Basket Air Fryer
Remember what I was saying above about Ninja being innovative? This is another prime example of what I was talking about. They took the traditional basket air fryer design and made it suitable for large families! They did this by giving you a large air fryer with two cooking baskets!
This means you can cook two items at the same time at different temperatures etc. Perfect for fussy teenagers!! Each basket is 4 quarts in size, giving the air fryer a total size of 8 quarts. The only downside is that you can't cook larger items in this, such as a whole roast chicken.
I really like the design of this unit and it's simple to use control panel. Ninja have knocked it out of the park AGAIN with this air fryer in my opinion. As a bit of an air fryer geek, I love seeing a company that doesn't just want to churn out copy and paste appliances. They are really thinking how to be innovative in this space!
Paula Deen Stainless Steel 10 QT Digital Air Fryer
You know Paula Deen as a somewhat famous celebrity chef, but she is also the name behind a small series of well loved air fryers. This particular model is ten quarts in size, so the biggest of the bucket/ basket style air fryers on show today.
Paula Deen recently slightly upped the capacity from 9.5 quarts and along with this redesigned the unit to look much more up to date when compared to the competition. The outgoing model was very popular and well received, but was starting to show its age design wise. So great to see Paula Deen obliging with a redesign. This air fryer comes in some pretty bright and funky colors too, if that's your thing 🙂
The main selling point here is the sheer size, but it also has a pretty simple and easy-to-use control panel. It's good to see so many presets on there to allow for quick and easy cooking.
The only slight downside is that this model is so new it hasn't been widely reviewed by the masses yet. Although we know from the last super popular model what Paula Deen is capable of, so I am not worried here.
OMORC 7.6QT Large Air Fryer 
When looking into buying larger sized traditional bucket or basket style air fryers, your choice is more limited than with air fryer ovens. This means that you will probably have to consider some smaller and lesser known companies to buy an air fryer from.
This is one example of this, being from a company you have probably never heard of before Omorc. Although as someone that has followed the air fryer market a while, I can say that this company has been putting out solid air fryers for several years now. They are building a following too, with this particular model being rated very highly by many consumers.
As well as the large size (coming in at just under 8 quarts) , I think this is one of the better looking traditional air fryers out there. It has an almost space age look to it!
This air fryer also has a keep warm mode, perfect for busy parents!
The only slight downside for me is the fact that the control panel is not the simplest out there. Yes, it has few buttons, but you may get stuck in the menus when trying to set up this unit to cook. A quick glance of the instruction manual should be enough to get you on your way though.
Well, there you have it! My top air fryers that would suit a large family. Hopefully, you have a better idea of the different options you have. If you are a large family that already has experience with air fryers, we would love to hear your recommendations in the comments section below 🙂