Welcome back to Air Fryer Bro, the place where we de-mystify everything air fryer related 🙂 One of the reasons people buy air fryers is to cook frozen convenience foods much better than a conventional oven. High on the list of frozen food to cook in an air fryer has to be chicken nuggets, so today we want to tell you the best ways to get crispy and yummy chicken nuggets air fried every time!
In order to find out the optimal time, there will some experimentation at the start of the article. If you are not interested in hearing about the process we went through, you can simply scroll straight down to the recipe card at the bottom.
Before we get on with that, I want to say save the planet and don't preheat your air fryer. A lot of people seem to think they need pre-heating, when in fact air fryers give pretty much instant heat due to the technology used.
The only situation to preheat might be if you have a particularly low powered air fryer oven, as the technology can struggle sometimes with these larger capacity units.
The Chicken Nuggets
Regular readers over here at Air Fryer Bro probably know what's coming next! Ha ha!! Yes, we bought our chicken nuggets over at Tesco. I don't live in America right now (I don't live in the UK either), but where I live Tesco is pretty much the easiest brand available that has these types of frozen food stuffs 🙂 If anyone wants to send me over some Tyson chicken nuggets, I will happily show you how to air fry them 🙂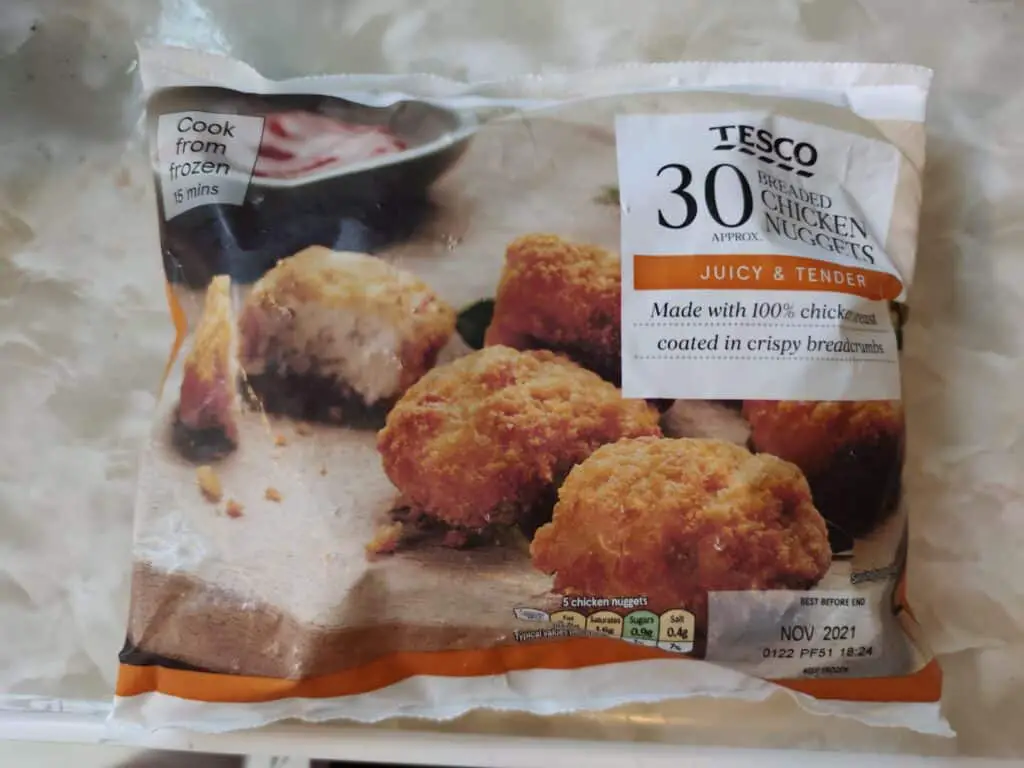 As you can see, these nuggets are apparently 'juicy and tender'. I'll be the judge of that thanks Tesco 🙂
The only slight issue here is that the size of the chicken nuggets was slightly smaller than I would expect, as you can from the picture below of them carefully placed in my air fryer!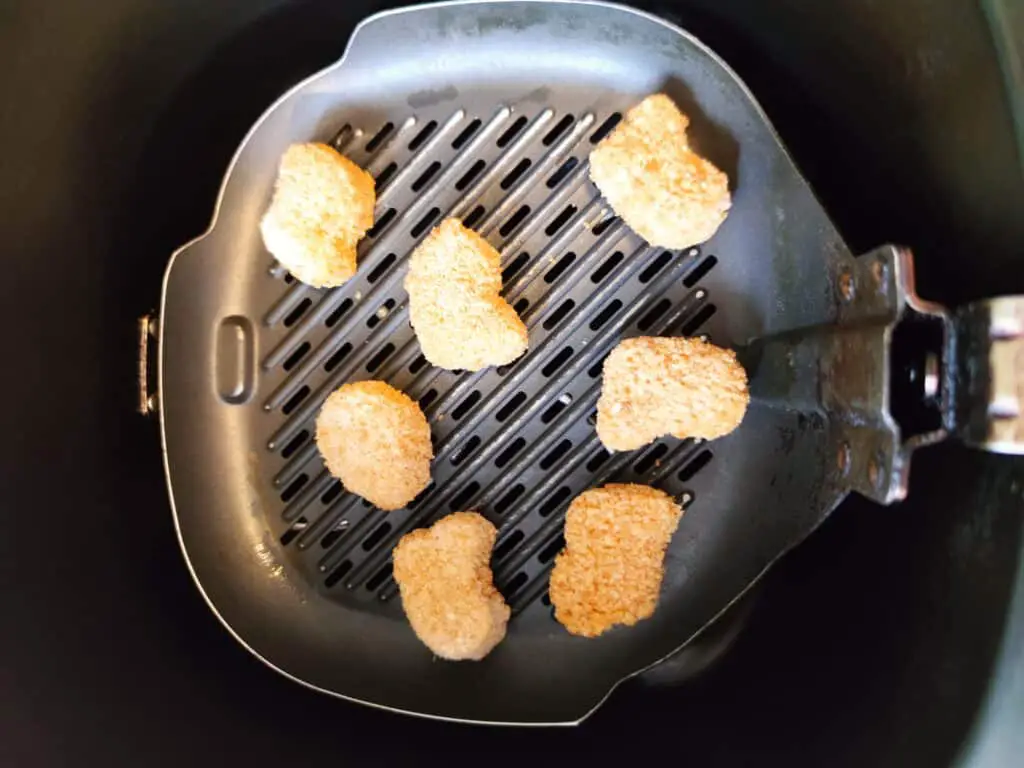 Make sure not to overstack your chicken nuggets in your air fryer, as you need the hot air to flow all around them to cook evenly.
Also, although I usually tell you to spray oil on air fried food, there is no need here. This is because these convenience foods already have something in the coating to help them crisp up, as they are designed to oven cook.
How Long To Cook Frozen Chicken Nuggets in an Air Fryer?
Now that we know what chicken nuggets we are using for this experiment, now lets get on with the cooking.
As you may know, I usually simply half the timing suggested on the packing as my starting point when cooking in my air fryer. Today is no different.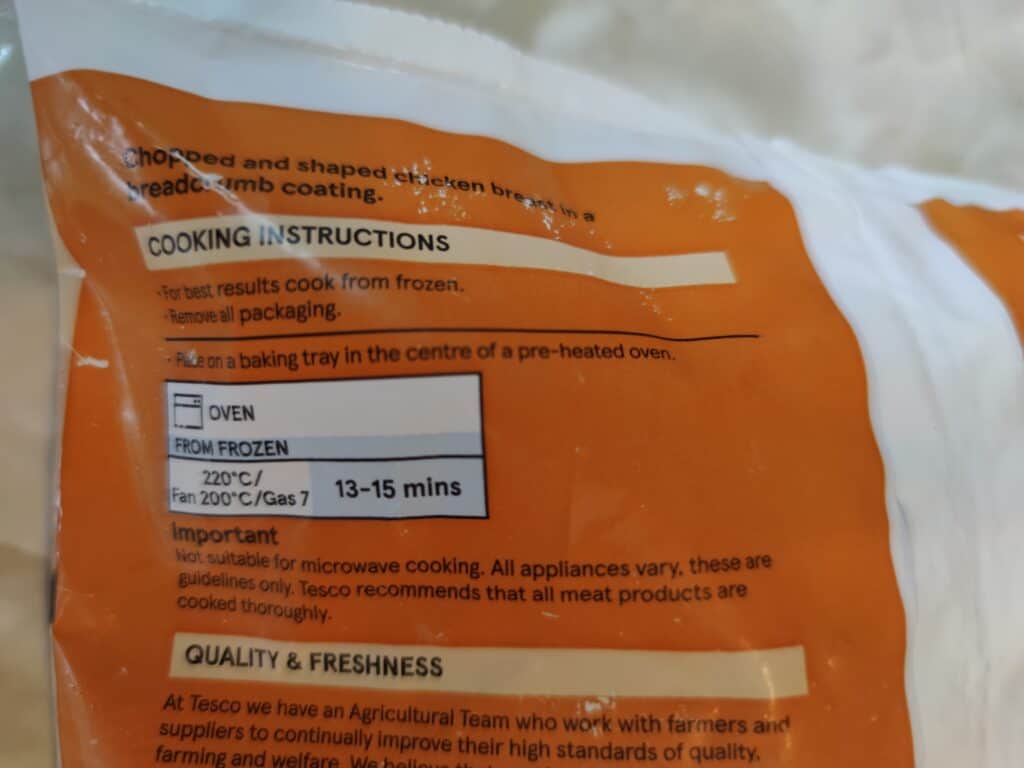 Apologies for the quality of the photo above, its kind of hard to capture text on a plastic bag! Hopefully, you can see that for a fan oven Tesco suggest a temperature of 200 degrees Celsius (392 Fahrenheit) for 13-15 minutes.
Therefore, I started out with 7 minutes at 200C/392F, hoping for a perfect cook 🙂 What were these chicken nuggets like after those 7 minutes? The inside was well cooked through and as juicy as store bought chicken nuggets can get! 
However, the outside of the nuggets were crispy but not crispy enough for me. To me, chicken nuggets are all about the crisp, so I put them back in for another 3 minutes (giving us a total cook time of 10 minutes). 
This seemed better to me, having a much more defined crisp. However, the inside was slightly more dried out at this point.
So, I would say air fry your frozen chicken nuggets depending on how you like them. If you are happy with a slight crisp and a more juicy inside, go for half the suggested time and temperature for fan asssisted ovens.
If you are all about the crisp (like me) you should go for slightly over half, more like three quarters the suggested time.
Why Would You Want To Air Fry Frozen Chicken Nuggets?
These are usually cooked in traditional ovens, which are much larger than a typical air fryer. So you save some energy and don't need to heat up your whole kitchen in order to cook up your chicken nuggets 🙂
Also, you are cooking in around half the time of a traditional oven, so the whole process is much faster!!
This is why I would air fry my chicken nuggets over anything else (I am the Air Fryer Bro though!!).
How To Air Fry Frozen Chicken Nuggets [So They Taste Great]
For the perfect air fried frozen chicken nuggets, follow these simple instructions. Do not spray with extra oil and make sure to place your nuggets in your air fryer with enough room around them for even cooking.
Ingredients
One pack of frozen chicken nuggets
Directions
Take your frozen chicken nuggets out of the freezer.
Place your nuggets in the cooking compartment of your air fryer (on a baking tray or in the basket).
Check the temperature recommended on the box of the nuggets for a fan assisted oven, and set your air fryer to that temperature.
For juicy nuggets, cook for half the time recommended on the box for fan assisted ovens. For super crispy, cook for just over half the time.