Welcome back to another review roundup from Air Fryer Bro. As the air fryer market grows in popularity, so does the range and variety of products we can buy. This means you can pretty much find an air fryer that matches the type of food that you want to cook in it. Today we are looking at air fryers that include a rotisserie function. So if this floats your boat, please read on.
Throughout this article, simply click the image of any recommended products to go and view them for yourself over at Amazon. Also, these reviews are divided by quart sizes, if you are still unsure what size air fryer you need you can read our full guide on this very site!
What is a Rotisserie Function?
Rotisserie is just a fancy French word that describes spit roasting, but it wouldn't sound as fancy if we said air fryers with a spit roast!!
Many years ago, when someone wanted to cook big hunks of meat over an open fire, they would set up a spit roast. Basically, some kind of stand with a pole on the top that spans the open fire. You then spike whatever food you want to cook through the pole and hang it over the fire.
The great thing about spit roasting is that it is easy to turn the food you are cooking/ roasting to make sure it is evenly cooked on all sides.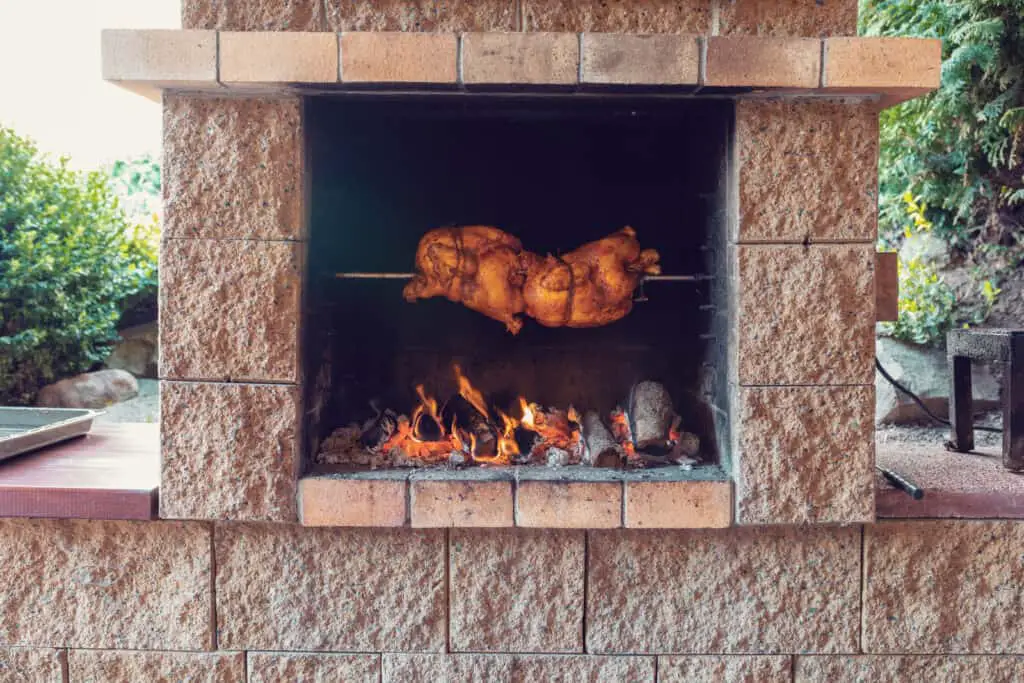 This medieval style of cooking has been refined somewhat in our modern world. A lot of ovens will now come with a much more compact spit roasting/ rotisserie function, often automatically rotating the spit throughout the cooking process.
This rotisserie/ spit roasting function is now coming to air fryers too! Yay!
What Air Fryers Typically include a Rotisserie?
Rotisseries have been made possible with air fryers, mostly because of the introduction of an air fryer oven. Air fryer ovens take all the benefits of an air fryer and add them to a more oven based form factor. These air fryer ovens have enough space to fit a decent-sized rotisserie function.
I wanted to point this out in case you were wondering why you can't see traditional bucket style air fryers here.
A bonus that you will get when using air fryer ovens is that you don't have to worry about flaking non-stick coatings, as most ovens either don't have these coatings or only have them on easily replaceable accessories. Unfortunately, this is one of the major worries when buying a traditional bucket style air fryer, so if you have the space for an oven style I would always recommend it!
Which Rotisserie Air Fryers are our Favorite?
So here we go (finally!), our top picks for air fryers that include a rotisserie function….
Best Small Form Factor Air Fryers with Rotisserie
Chefman 6.3 Quart Digital Air Fryer Oven
This has to be the smallest air fryer oven on the market right now, which also includes a full rotisserie function. So if you require small form factor, this may well be the air fryer for you.
I am impressed by the range of accessories that this air fryer comes with, even including a well thought out drip tray for use together with the rotisserie. They also give you both the regular spit and basket style rotisserie options, meaning this you can get even cooking on a wider variety of food.
Usually, you have to be careful not to overlap or stack food in an air fryer, but with the rotisserie basket this is less of a worry. The rotating function means that you can achieve even cooking in the basket even when it is near capacity.
It is also good to see that all of the removable accessories on this Chefman air fryer oven are dishwasher safe, meaning clean up is a lot easier.
This product has over 700 reviews from America at the time of writing, and almost all are glowingly positive, something that is great to see from a fairly unknown air fryer brand. I am also impressed with their customer service, who seem to be handling any quality issues with replacements even when outside of their usual return window. Click the image below to see these amazon reviews for yourself!
Instant Vortex Plus Air Fryer Oven (10 Quart)
If you can go a bit bigger than the Chefman above, you can't go far wrong with the Instant Vortex Plus air fryer oven. As far as air fryer ovens go, 10 quart is still pretty compact. And you are buying into a well-known and respected brand that has gained a loyal following with its Instant Pot products.
The Instant Vortex comes with an excellent range of accessories too, coming with perforated baking pans, drip trays and of course the rotisserie spits, forks and basket.
The design of this air fryer oven isn't anything to write home about, but it certainly isn't ugly! The only slight downside is that some reviewers talk about a toxic plastic smell coming from the air fryer. This is something that is fairly normal with many air fryers, and in most cases can be fixed with some simple pre- cooking treatments. I have a whole article talking more about this, if you are interested 🙂 I wouldn't let this totally put you off, and if the treatments I recommend don't work, you can simply send the unit back!
If you want to buy from a more well-known and trusted brand, this could be the air fryer for you.
Oster Air Fryer Oven and Multi-Cooker (10.5 Quart)
If you want to buy from a respected brand Oster is also one you can trust, although they may not be well known to you. As part of the Sunbeam group, a manufacturer of home appliances in America since 1910, you know this is not some fly-by-night operation. They usually make larger commercial looking air fryer ovens, but this model is an exception.
This Oster air fryer oven is my pick for the 'dark horse' of this category. It is still coming in at a fairly compact 10.5 quarts in size, but can still offer a real air fryer punch!! I absolutely love the sleek black design of this model and the rather unique blue lit digital panel. I can see this fitting in with most kitchens with ease!
This air fryer oven has dishawasher safe accessories and a removable door, so clean-up is going to be a breeze even after cooking the most messy of dishes!
The slight downside of this unit is that it doesn't come with the full complement of accessories that the others do.
Best Medium Capacity Air Fryers with Rotisserie
CalmDo Air Fryer Oven Combo (12.7 Quarts)
For the life of me, I don't know why they decided to call their brand CalmDo, I am guessing this is a fairly new Chinese Brand or something! When dealing with these unknown quantities, I would only buy an air fryer from them if they have a decent amount of positive reviews. This particular CalmDo product is actually the most highly reviewed product in this article today! I actually struggled to find any negative reviews at all! This is an excellent sign.
Of course, this air fryer oven is slightly larger at almost 13 quarts, and it comes with all the usual rotisserie accessories you would expect. However, the unique thing here is the ease of cleaning after cooking. Mainly due to the splatter guard that covers the heating element at the top, although it also has a detachable door to add to the ease of clean-up 🙂
I am also a big fan of the skewer rack that comes with this CalmDo air fryer oven. Great for making kebabs! The digital display also has a wide range of one press cooking presets, which makes for quick and convenient cooking without always having to check timings.
The only slight downside for me is the boring and bland outward design of the unit, something that I am sure won't bother most people!
If you are willing to go with a lesser-known brand, this is one of the top choices for mid range air fryer ovens with rotisseries.
Yedi Total Package Air Fryer Oven XL (12.7 Quart)
This is another pretty weird sounding brand 'Yeti', although they have been around the air fryer market for a while now. And, as with CalmDo above, they are getting a lot of excellent reviews to help with brand confidence. Click the image below to go and view the Amazon reviews yourself. Rest assured that Yedi are currently offering a two-year replacement warranty over on Amazon, so they must have great confidence in their product.
The thing that sets this Yedi Air Fryer Oven apart from the competition is its crazy amount of accessories (hence the total package tag). Along with the regular rotisserie items, you will also find items such as silicone oven gloves and all kinds of wire racks. If you are an accessory lover, this is the air fryer oven for you 🙂
Other than buying from a fairly unknown brand, the other downsides here are a really ugly design and cheap looking digital panel. Not the end of the world for most, but certainly worth noting.
NuWave Brio Air Fryer Oven (14 Quart)
If you really must buy a well-known brand, then I have the air fryer oven for you in this category! NuWave have been in the air fryer market for a long time and are well known in the space. Frankly, I don't often recommend their traditional bucket style air fryers as they can suffer from the dreaded flaking non-stick coating pretty badly. However, this is not a problem for the mostly stainless steel or aluminium inside of the typical air fryer oven! As you would expect with any big brand, they even have an accompanying smart phone app 🙂
A nifty feature here is that you can control the wattage of the product down as far as 900W. Of course, this can effect the cook times, but it does make the Nuwave Air Fryer Oven much more portable than the competition. The removable door also makes another appearance here, to ensure easy clean-up!
The downside with this model is that you don't get as many accessories as the other models, just the essentials. But if buying a trusted brand is your priority, you can't go far wrong here.
Best Large Capacity Air Fryers with Rotisserie
Now we are getting into the 'big boys' of air fryer ovens! Best suited to those with big families or who just like cooking alot in their air fryers 🙂
Dash Series 7 in 1 Air Fryer Oven (24 Quart)
Firstly, Dash is a well-known air fryer brand that has become popular with its retro styled traditional models. It has now branched into air fryer ovens, and I have to say I like what I see. The design of this air fryer oven is striking. Instead of opting for the spaceship like complex control panel, they instead just have a set of big chunky dials. Firstly, this means there is less to go wrong! But I also really like the way it looks, blending in more like a traditional oven!
I am also impressed with Dash's offer of a two-year warranty if you register your purchase with them directly.
The only downside for me is that, although it comes with the basic rotisserie items, the rotisserie basket is an optional extra that sets you back another $25!
Other than that, I have been really impressed with Dash's monster air fryer oven!
COSORI CO130-AO 12-in-1 Air Fryer Oven (32 Quart)
If you thought the Dash air fryer oven is big, you haven't seen nothing yet. This Cosori model comes in at a whopping 32 quarts!
Cosori have been in the air fryer business for a good while now, and seem to be building up a freat reputation. This particular model has been getting rave reviews from a majority of buyers, from what I can see. They are not yet a Philips level company, but Cosori are taking good steps to becoming a respected brand all the same.
The stainless steel design of this Cosori air fryer oven is very attractive and sleek in my opinion. It would looke great in most kitchens. Other than this, it has all the features you would expect from a modern air fryer oven.
The only downsides being the fact that this model is not quite as quick and easy to clean as some of the competitors. Also, it only comes with the basic rotisserie spike rather than the option of a rotisserie basket.
Kalorik 26 Quart Digital Maxx Air Fryer Oven
This particular air fryer oven from Kalorik is awesome in my opinion! It has an almost industrial look to it, with its clean stainless steel design. At 1700w, it has the power to match its looks too!
The most unique feature of this Kalorik Oven are the doors, which open in the same way as French doors. Also, the range of accessories offered here is epic! As well as the rotisserie spit, they have even gone as far as including a bacon tray! It's just a shame there is no rotisserie basket.
This is a massive air fryer oven that comes wrapped in great design. Rest assured that Kalorik are an established brand from Belgium too!
Get Roasting!
There you have it, if you love rotisseries then you now have a massive selection of air fryer ovens to choose from! No need to buy your roast chickens from the supermarket when you can spit roast them yourself at home.
If you have any of your own experiences with air fryer ovens, we would love to hear all about them in the comments section below!