Have you ever looked at Air Fryers on Amazon recently? Or browsed them in your local megastore? If you have, you will see that there are simply masses of them! New air fryers and air fryer ovens are entering the market all the time and it can be overwhelming. Today, we hope to help you decide whether the Calmdo Air Fryer oven is the air fryer for you. We will go over the background of the product, the features and what we like and don't like. So sit back, grab your drink of choice and read on…
Before we start, a disclaimer. Unfortunately, the web is full of air fryer reviews from people that don't actually own the product and make generic reviews based on others' experiences. This is not what the Air Fryer Bro does! This air fryer was purchased by the Air Fryer Bro and was fully tested before putting pen to paper on any review. You know you can trust an Air Fryer Bro review 🙂
If you are in a rush, here is a quick overview of this product:
CalmDo Air Fryer Oven Quick Review
| What We Like | What We Don't Like |
| --- | --- |
| Cooking Performance | Dodgy Door |
| Price | Control Panel |
| Compact Footprint | Cheap Materials |
| Accessories | Design |
| Quiet | Insulation |
| Stainless Steel Interior | |
| Well Thought Out | |
Click to view this air fryer on Amazon
Who are CalmDo?
As you might imagine from the weird sounding name, CalmDo is a pretty generic Chinese branded air fryer. Of course, they don't admit this: proudly stating on their official website "We are a USA based company operating with headquarters in Massachusetts" whilst also talking about having US representatives on the 'About Us' page of this very same website. I suspect the Shenzhen address on that same page is closer to the original source of this company in my humble opinion. Just go look at the fact that the trademark for CalmDo was registered by a company called "Substanbo Innovations Technology Limited" which is based in Shenzhen too.
Actually, none of this matters as long as the air fryer is good. And it is good for peace of mind to see that they have offices in America and the European Union. Unless you are one of those patriotic Americans that has been commenting on my article about air fryers being made in the USA. If that's you, stop reading. This air fryer is 100% made in China 🙂
What is the CalmDo Air Fryer Oven?
As the name suggests, it is an air fryer oven rather than the traditional bucket style air fryer. This means it has metal racks like a regular oven. I suppose you could call it a tabletop oven style, with added air fryer features. As an air fryer adds a powerful fan to its heating source, meaning it can crisp up food like no oven or toaster oven ever could! Air fryers were originally designed to replace the deep fat fryers, as a healthier alternative. Hence the need to crisp up food! 
Key Calmdo Air Fryer Oven Features
| | |
| --- | --- |
| Air Fryer Name | CalmDo Air Fryer Oven Combo |
| Air Fryer Type | Oven |
| Air Fryer Size | 12.7 Quarts |
| Air Fryer Wattage | 1500 watts |
| Air Fryer Weight | 18.61 pounds |
| Air Fryer Dimensions | 14.1 x 12.8 x 12.8 inches |
| Air Fryer Warranty | 1 year with 60 Day Money Back Returns |
| Cooking Modes | 8- air fry, bake, sauté, grill, roast, dehydrate, reheat and rotisserie. |
| Included Accessories | 2 wire grill racks, 1 metal baking tray, a rotisserie skewer and rotisserie cage. |
Click the image below to view this air fryer over at Amazon for yourself.
First Impressions
My first impressions of this air fryer oven were that is a simple but effective product. No fancy boxes or packing. It came in a pretty basic brown commercial style box, with the unit coming boxed in with some polystyrene that also housed some of the skewers for the rotisserie function.
The impressive thing is that it has everything I could ever need in an air fryer oven. A recipe book, a warranty card, and even a thankyou card from CalmDo. And just look at the accessory list above. This unit came with multiple useful accessories such as metal racks and a baking tray!
The unit itself doesn't blow me away either. The design is basic and it has oceans of black plastic. And, of course, there was quite a smell of plastic coming from the box and the unit whilst unpacking. This is pretty normal for any kitchen appliance made in China.
So to sum up, this is a simple appliance but one which comes with a lot of accessories in a well thought out way. Just don't expect to be 'wowed'.
What I Like About the CalmDo Air Fryer Oven?
Cooking Performance
I did my regular cook test for this oven, which basically means I made some home fries with my usual recipe (chopped up potatoes with olive oil, salt and pepper!!). After a 15 minute blast at 175 Celsius/ 347 Fahrenheit, I was pretty happy with the results that you can see below: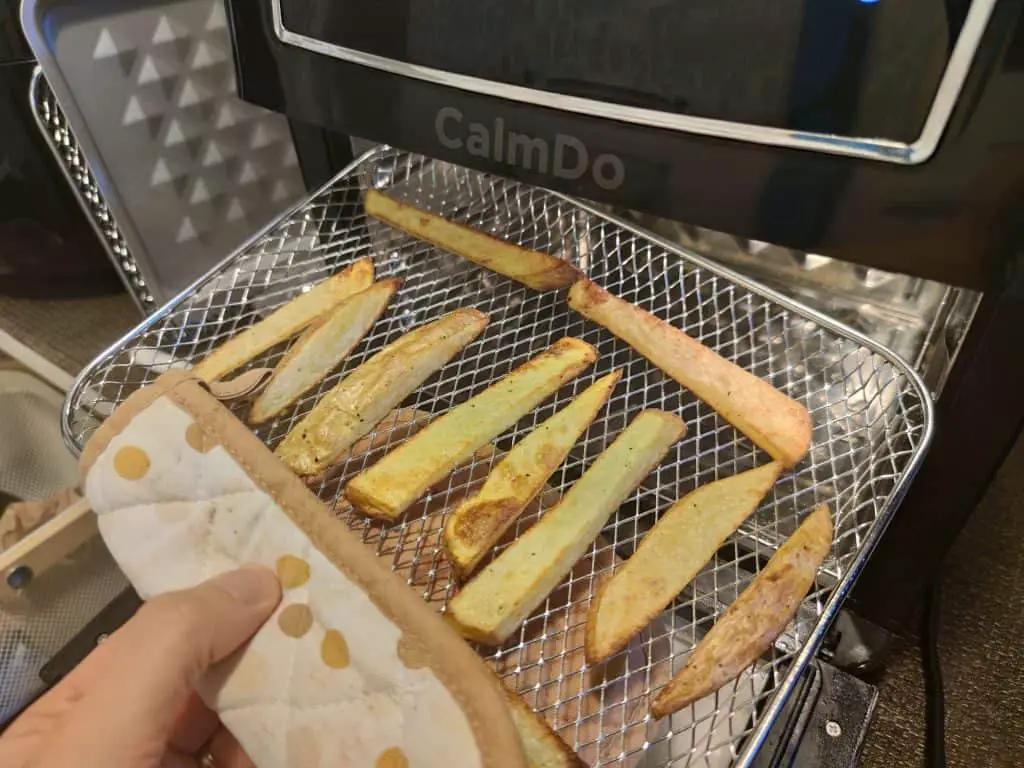 The fries were crispy and well cooked all round, with the mesh tray being a great way to get even hot air flow all around them. I sometimes worry about whether these larger air fryers have enough power to get a full air fried crisp on, but this CalmDo didn't let me down!
Price
I managed to buy this air fryer for just around $130 at the time of writing (for exact pricing refer to Amazon directly). For an air fryer oven with the amount of accessories included, this was a bargain price. Usually you would expect the oven style air fryers to cost a premium over the traditional bucket style, but this CalmDo oven proves otherwise. My recently reviewed Proscenics T21 air fryer cost a similar amount, for reference.
I feel like you are getting a lot of air fryer for your money.
Compact Footprint
Upon receiving this air fryer, I was surprised at how compact the form factor was. This is a 12.7 quart sized unit after all, so I was expecting it to dwarf my other air fryers. I sat it next to my recently reviewed Uten air fryer (which is a traditional bucket style) and the footprint is surprisingly similar.
And the benefit the air fryer oven gives is the usable space. The actual usable space inside the CalmDo air fryer is similar to that Uten air fryer, which is rated at a size of 6.9 quarts. However, the racks in the oven style CalmDo mean it is significantly easier for me to stack multiple batches of air fried food inside. This is a real plus for something that has a similar footprint.
Accessories
The amount of accessories included in this CalmDo appliance really helped sweeten the deal. I don't think I have ever seen so many different accessories given away with an air fryer, unless you pay extra for a package deal.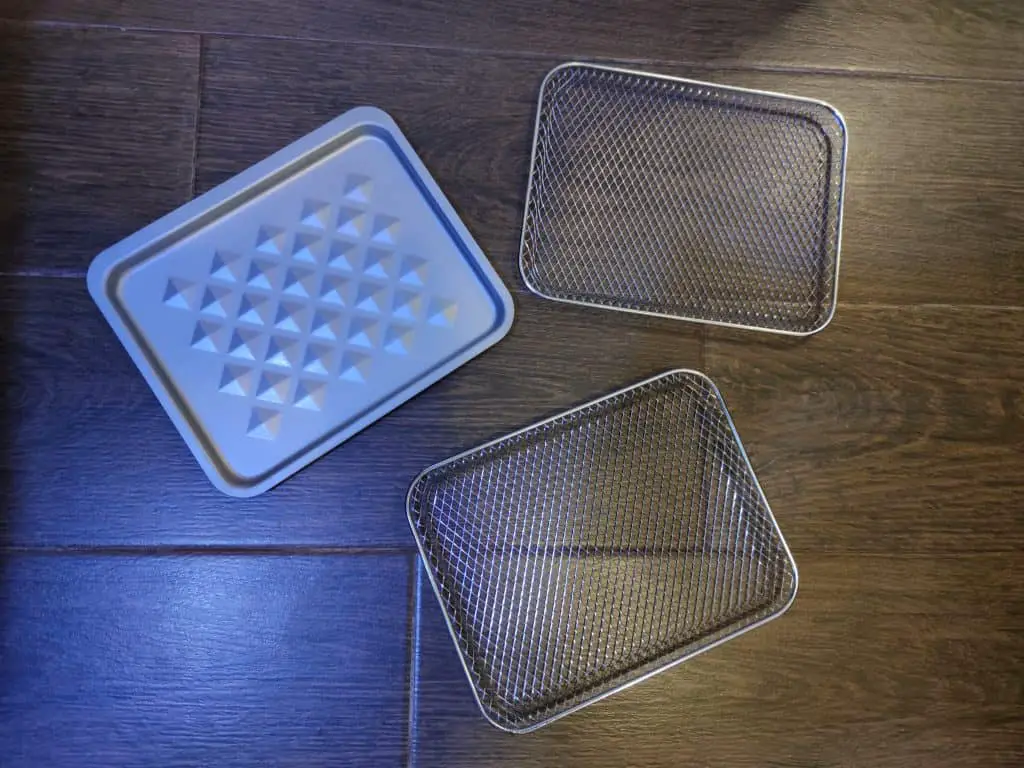 These accessories are useful too. The rotisserie cage is a great way to cook french fries evenly, for example. The continued rotation of the food you are cooking is great for things like this that you want cripsy. The baking tray seemed good quality as well, being coated with some type of non-stick coating. 
No stone was left unturned when it comes to accessories and this air fryer. I wish more manufacturers would take this approach rather than asking us to source our own or paying extra for the privilege. 
Quiet
I was shocked at how quiet this air fryer was whilst in operation. I have owned many air fryers in my time and have never seen one this quiet. If you hate the constant whirring of traditional air fryers, this may be the product for you.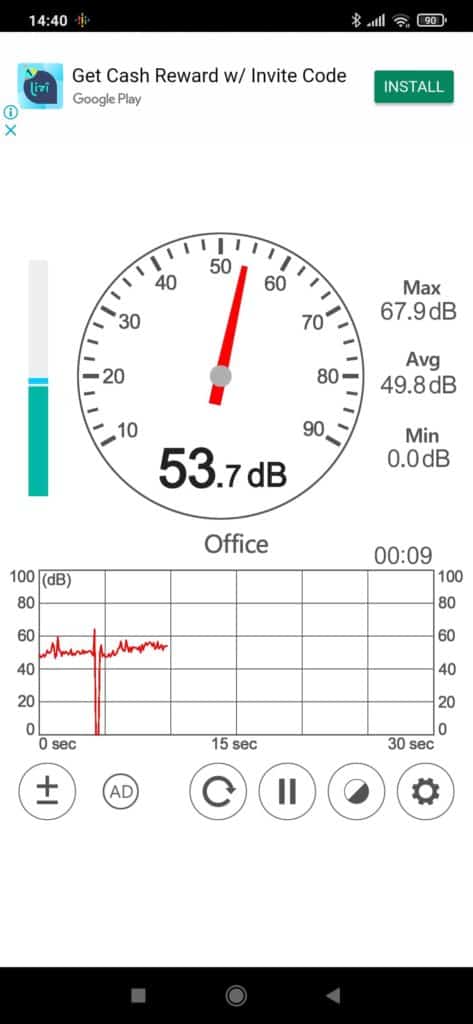 As you can see, a decibel reading of 53.7 is way lower than the recently reviewed VPCok air fryer, that clocked in at 59.3. This is in fact the quietest air fryer I have tested to date.
Stainless Steel Interior
For regular readers of my blog, you will know that the killer of most air fryers (especially cheap ones) is the non-stick coating that can be found inside the air fryer and on its cooking basket. The beauty of this CalmDo air fryer oven is the fact that its inside cooking compartment is entirely made from stainless steel. Add to this the fact that it comes with metal wire racks, and you have a recipe for a long-lasting air fryer interior. The only fail point might be the included baking tray, which does have a non-stick coating. However, it is pretty cheap and easy to buy a baking tray like this. 
Well Thought Out
This air fryer was clearly thought through carefully during the design process. The use of stainless steel inside the unit adds to the longevity. Another smart move was to put a removable splatter guard to protect the heating element at the top. Although this won't catch everything, it will certainly help to protect your heating element. And the fact it is removable makes it easy to clean.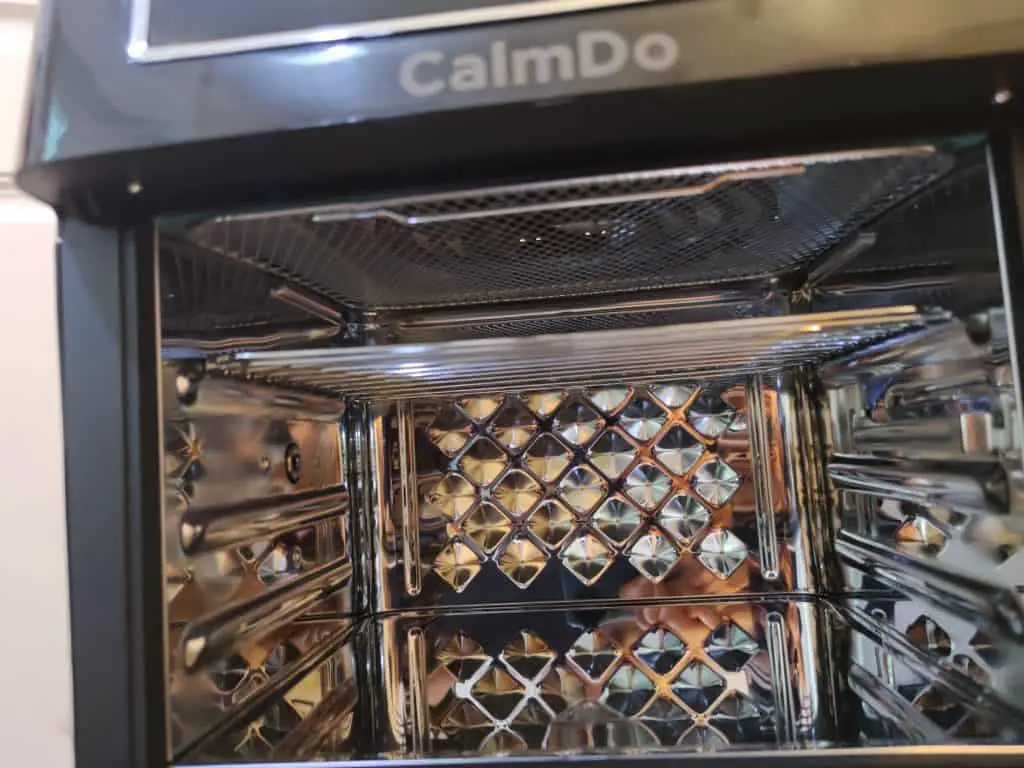 CalmDo even put a warning sticker on the front saying that the unit will probably smell of plastic inside and how to deal with it. They recommended putting citrus fruit slices inside, which I tried and it worked a charm. Thanks CalmDo, that is now officially a part of my new air fryer routine!
When I think of generic Chinese brands I think of faceless air fryers all being churned out the same. CalmDo have proven that this is NOT what they are doing!
What I Don't Like About the CalmDo Air Fryer Oven?
Dodgy Door
CalmDo say that they have made the oven door removable for your convenience. I agree it is convenient but my unit has a door which can come away from the hinge when you least expect it. I am not sure if all the units are like this, but sometimes I just open the oven door and it comes off in my hand.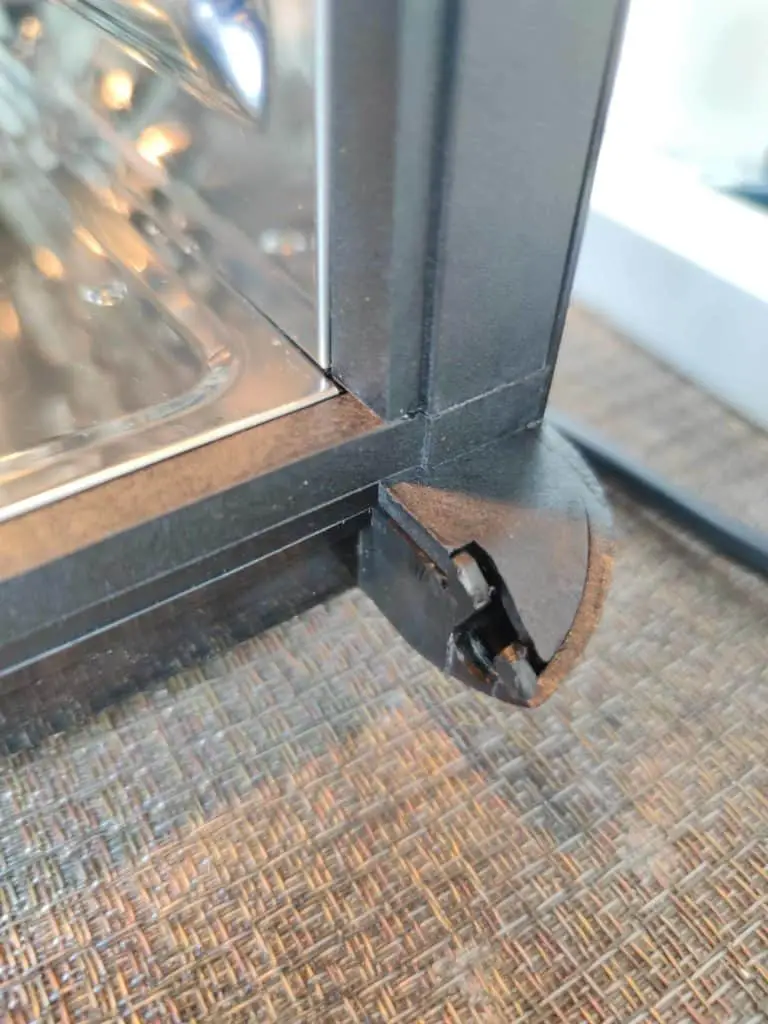 I like that the door comes off but CalmDo should really make this feature so that it only comes off when the user wants it to! The hinge also looks a bit delicate, so I am wondering if this will get worse over time. To be fair, this is the only build quality issue I have with this air fryer oven, which is good for a product at this price point.
Control Panel
This has unfortunately been quite a bugbear of mine with cheaper air fryers recently. They have a touch sensitive control panel that is so sluggish and slow that it becomes frustrating. This CalmDo example is no different. I found myself having to press hard on the 'buttons' to get the response I needed, which could mean they break faster. It sours the whole experience, as it slows down your cooking process somewhat!
It boggles my mind why these air fryer makers want to put a touch sensitive control panel when they are charging so little for their appliance. I say go with old-fashioned but rugged physical buttons!
Cheap Materials
The stainless steel interior aside, the rest of this air fryer is made with cheap and cheerful shiny black plastic. With the other features on offer at this price point I suppose CalmDo had to cut corners somewhere and, for me, it is with the exterior material choices.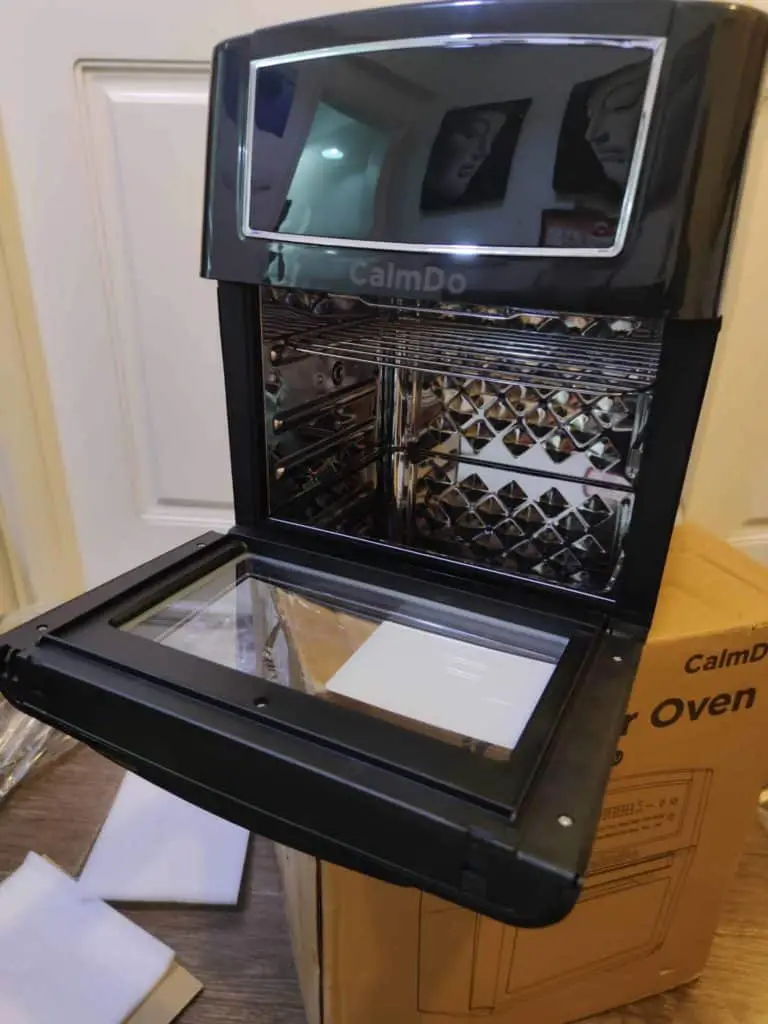 Design
Alongside the cheap black plastic is a rather boring and over simplified design. If you want an air fryer that can be a statement piece in your kitchen, the CalmDo is not it! Maybe winning design awards will be next on CalmDo's list, but clearly its not a top priority right now!
Insulation
As I have found with many recently reviewed air fryers at the cheaper end of the market, the insulation these products have is not up to standard. The CalmDo is no different.
When running the unit for any decent amount of time the sides of the air fryer get particularly hot to the touch. If I touched the area directly on the exterior of where the heating element is positioned I felt like it could actually burn me, it was that hot. To be clear, it didn't burn me, but it felt hot enough to cause a burn. This is actually quite an alarming problem for a domestic home appliance. Make sure to place well out of the way of young children when in use.
It is debatable whether this would ever be a fire hazard but it certainly gives food for thought.
And this is not only about potential fire risks, if an air fryer is leaking heat it is a sign that it is an inefficient air fryer when it comes to energy usage as well.
Should You Buy the CalmDo Air Fryer Oven?
From what I have seen so far, if you are in the market for a cheap mid-sized air fryer, this could be the one for you. As long as you don't mind the cheap plastics and boring design, you could get a lot out of this CalmDo air fryer oven. It has a multitude of accessories and doesn't seem a prime candidate for the dreaded peeling non-stick coating that a lot of others do. It offers a good sized amount of air frying performance at a competitive price. What more do you want?
The only possible deal breaker for me would be the lack of decent insulation the unit has.
With these cheaper air fryers, longevity can be an issue. Although I don't think this unit will suffer from peeling non-stick coatings, I am interested to see how it holds up electrically in the longer term. I intend to place this oven in my air fryer rotation (yes, I have an air fryer rotation!) for a few months and then I will get back to you with an update.
If after reading this article you have a burning desire to buy this air fryer, click HERE to head over to Amazon and check it out for yourself.
CalmDo 3 Month Update
Below is my update on this air fryer oven after 3 months of hard use. The quick version is I loved it for rotisserie chicken, and it's a solid, cheap air fryer oven if you can put up with the door sometimes randomly falling out in your hands 🙂
CalmDo Air Fryer Oven Frequently Asked Questions
Can You Cook a Full Roast Chicken in the CalmDo Air Fryer Oven?
As the CalmDo air fryer oven has a rotisserie, then yes you can cook a full roast chicken in it. Due to its size it can only take a small to medium-sized chicken though. And with a larger chicken you may find it harder to put the drip tray in, ending up with a bit of a mess to clean up!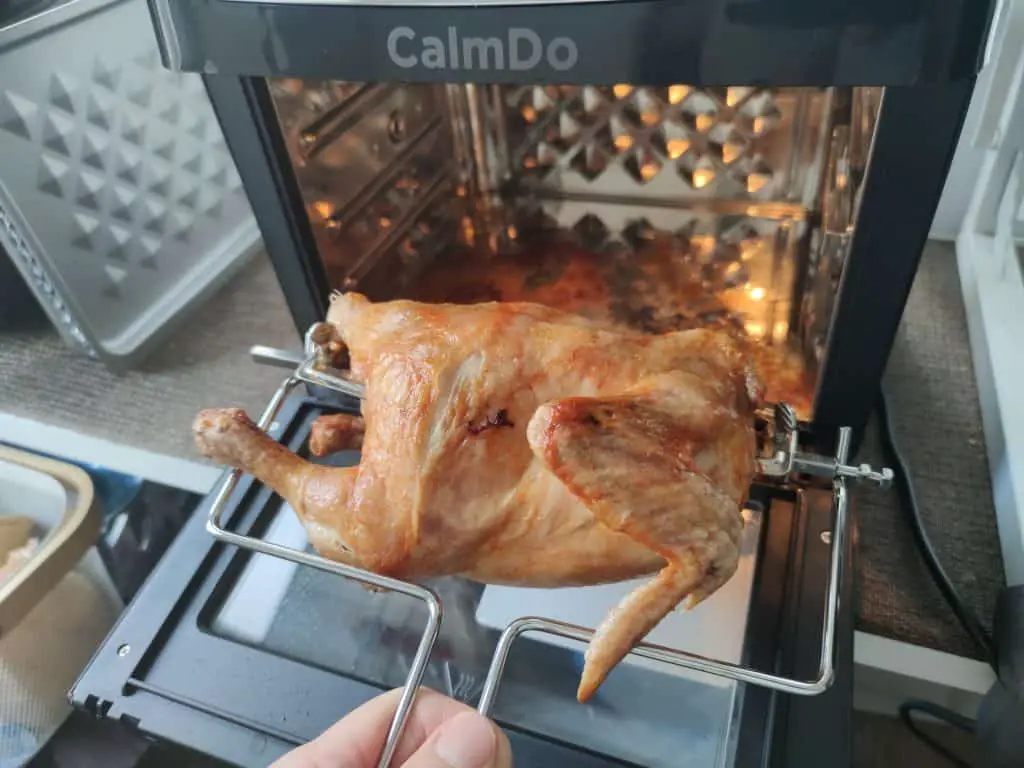 As you can see, I got good results from cooking a roast chicken on my CalmDo air fryer oven's rotisserie. It was pretty much the largest chicken I could fit though, as it wouldn't slightly graze the top of the air fryer whilst rotating. I was happy to see that the rotisserie rotated fine, even with such a big chicken on it.
This did make quite a mess, but to be fair it wiped off pretty easily, even with all that chicken oil!
Tips for Roasting a Chicken in the CalmDo Air Fryer Oven
Tip 1- Make sure that the chicken is skewered evenly with equal weight on each side. This will help the rotisserie rotate better and with decrease wear and tear.
Tip 2- When placing your rotisserie skewer into the oven, make sure that the bolted side in on the right-hand side.
Tip 3- Use the included drip tray to reduce clean up. Just make sure the chicken is not dragging on it as it rotates!