Welcome back everyone, and hope you are doing well! Here at Air Fryer Bro, we like a good experiment. Today is no different. I have seen people online asking whether an air fryer can fry battered food? Will wet batter work in an air fryer? Well, today we will do an experiment to look into this using battered fish! For those of you in a rush, here's the short answer 🙂
Can an air fryer fry battered food? The short answer is no! An air fryer cooks with hot air, and it can't solidify the wet batter fast enough to give the same result as an oil fryer. Your batter will have a strange gloopy texture to it, which is not good! A lot of the batter will also simply drip off your food! However, there are other techniques you can use to achieve a battered style of finish. Although, not exactly like what you would get in an oil fryer.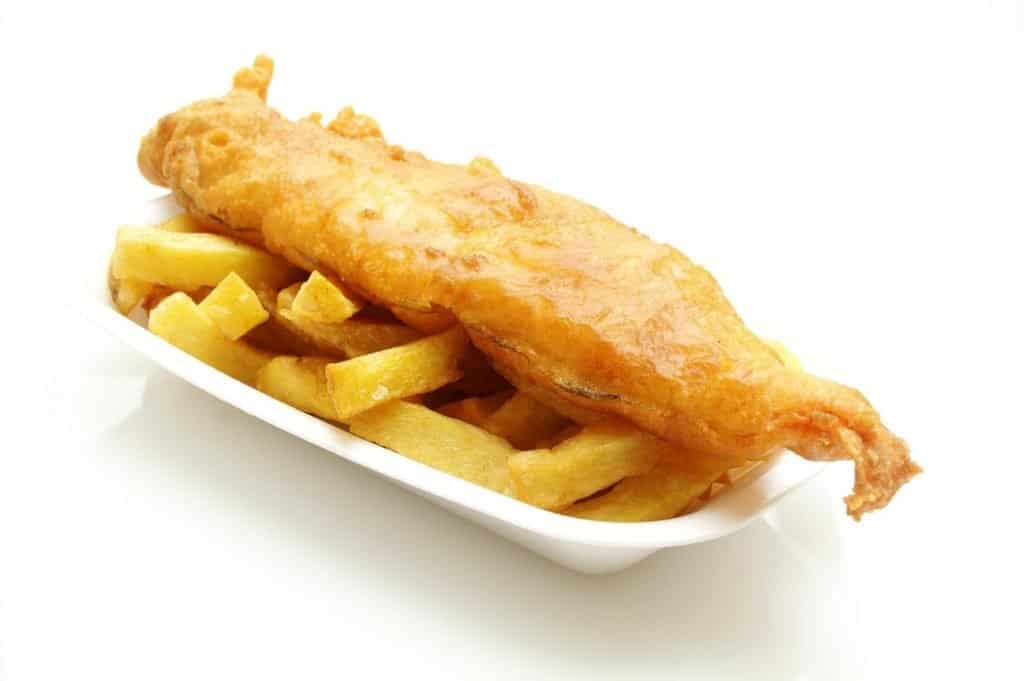 Now for those who are more time rich, here's the detailed answer!!
The Experiment
After hearing these questions online about air fryers and batter, I decided that I would take the plunge and do an experiment to find out whether wet batter works in an air fryer. And, alongside this, I tested a couple of other methods for battering (actually breading!) within the air fryer community.
Before I go into the 3 methods for the tests below, I want to explain what I used as the test subject. Some frozen cod fillets that my wife had picked up! I cut this cod into small pieces and used one for each different cooking method. Fair, right?
Also, I decided to conduct this test by cooking the fish at 200 degrees Celsius (or 392 Fahrenheit), as this would be the closest an air fryer could get to hot frying like in oil.
As my photos are all pretty bad quality (including terrible lighting), they will all be placed in the article in a rather small size 🙂 However, you can click on any of the images in this article to see full size! (if your eyes can take it!)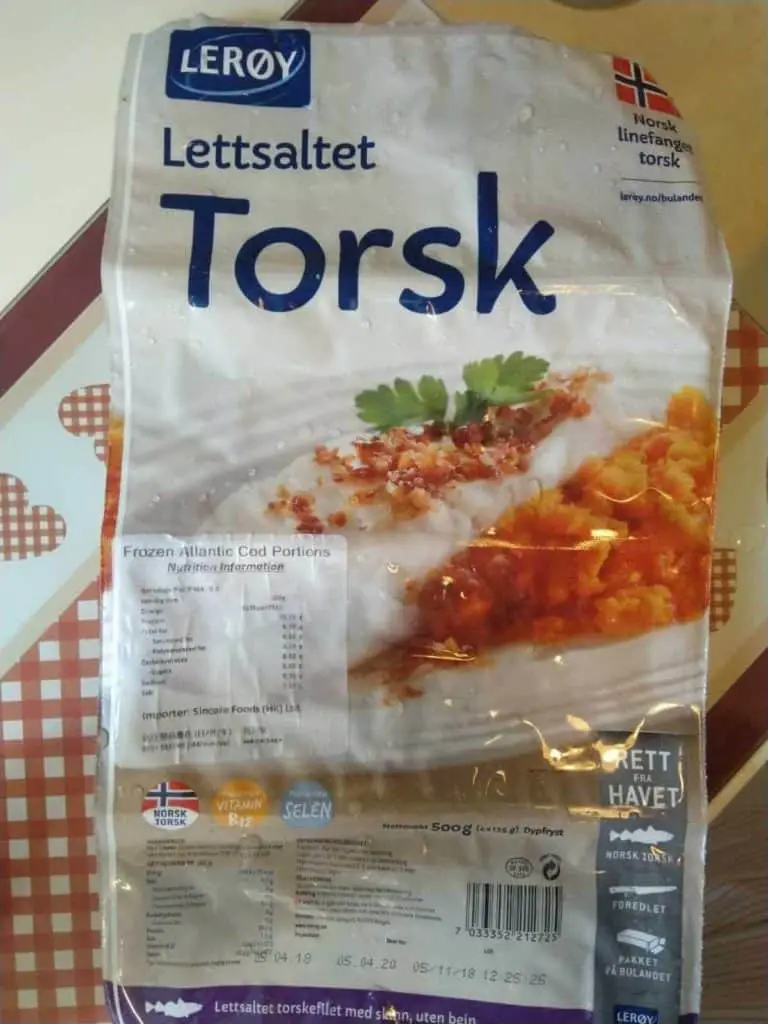 Test 1: Traditional Wet Batter in the Air Fryer!
So, on to the first test. This is the traditional wet batter method that is close to my heart (as I am originally from England). 
I made a simple batter using flour, water and milk (yeah I forgot the other seasoning!). I whisked all of this to a smooth batter that I would usually use when frying fish in hot oil.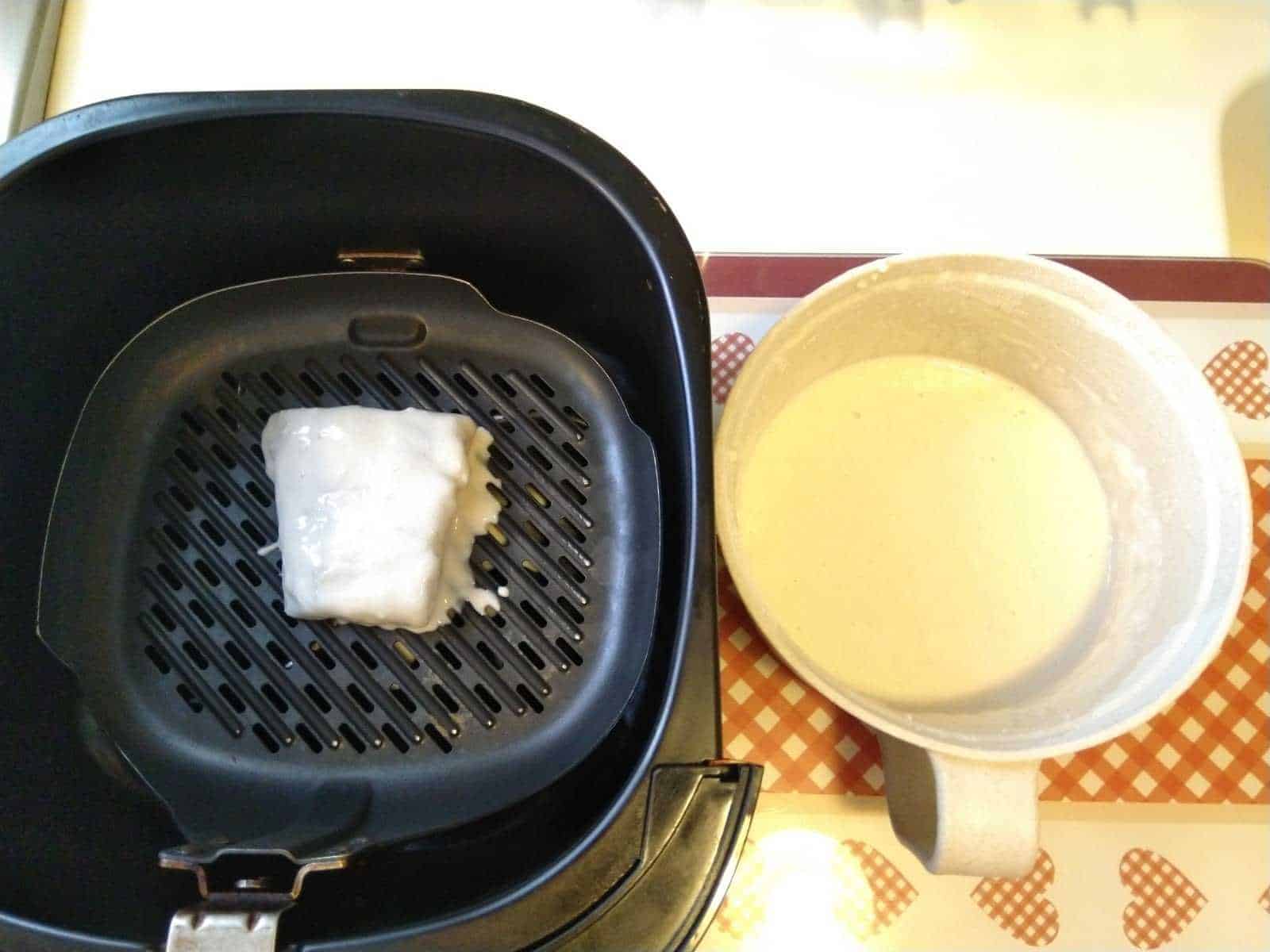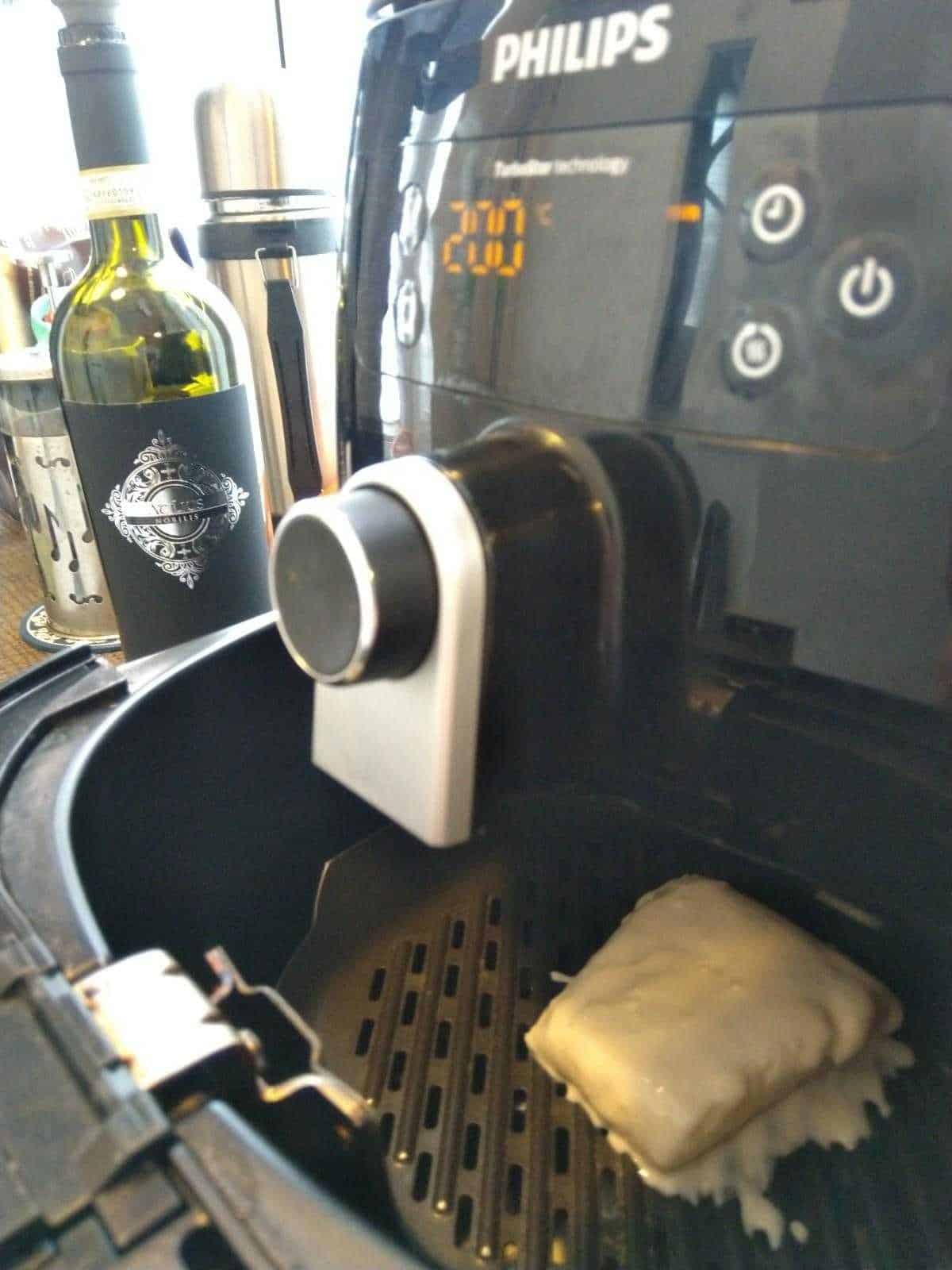 My small piece of cod was then put into the batter and then swiftly into the air fryer basket. Straight away, I could see this wasn't the best idea. As the fish lay in the air fryer basket ready for blitzing, the wet batter was already starting to drip off! 
I pushed on with the test and blitzed the piece at 200 degrees celsius for 5 minutes! Upon inspection, I had one pale looking piece of fish, so I put it on for another 3 minutes with the hope of browning it up! Here is the end result!!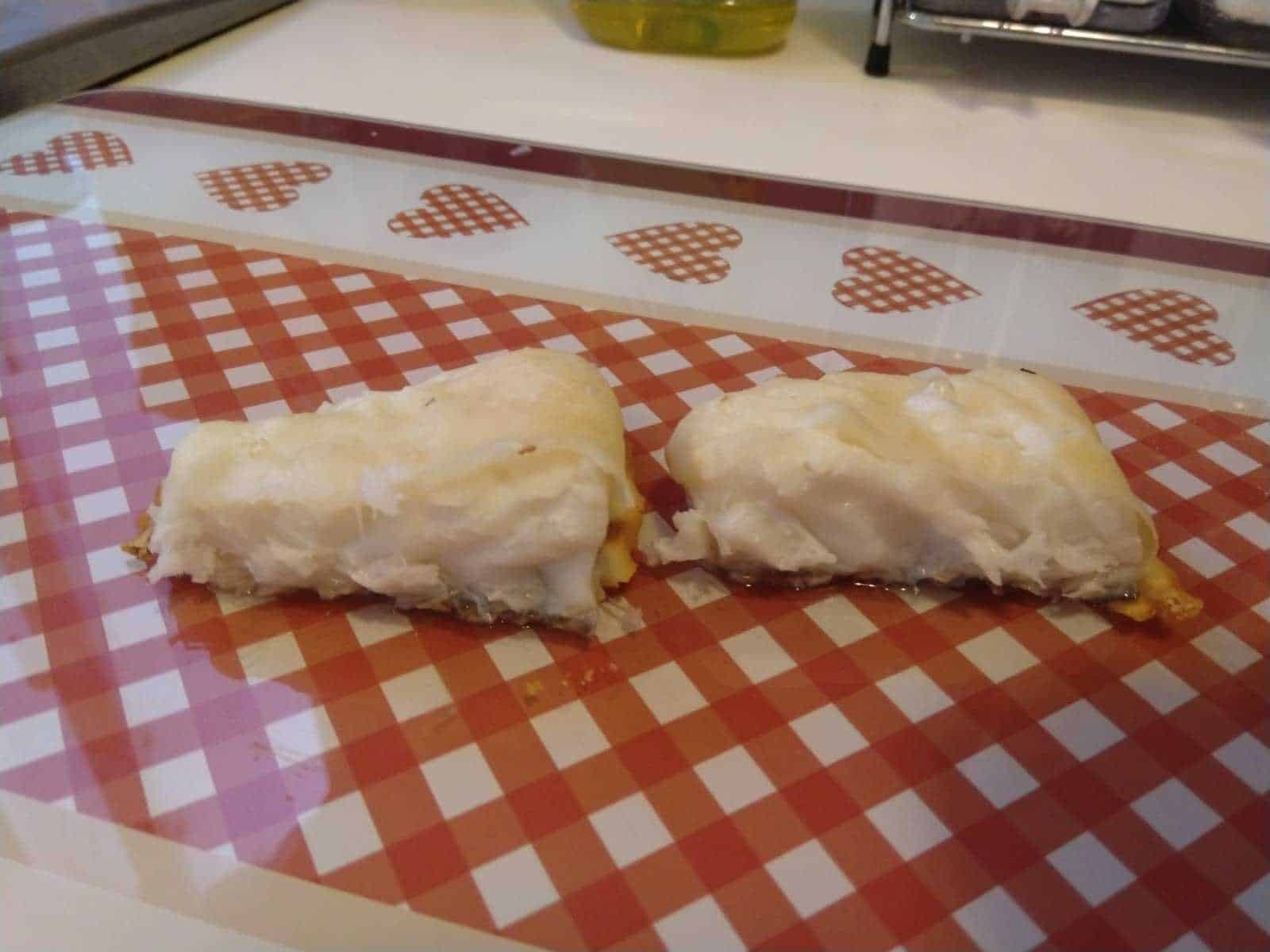 Yeah, what we ended up with was a rather pale looking piece of air fried fish. Also, the wet batter had cooked in a strange way, resulting in a texture I can only describe as gloopy. It seems the batter wasn't fully cooked but the fish was over done. The only thought I had to rectify this, was maybe by adding some oil into the traditional batter mixture. Maybe, that would help crisp it up somewhat! Maybe I can try this at a later date!
It was clear that the wet batter method was a failure in the air fryer. This is why I had lined up these two other methods to try. Although they are not technically using batter, these are the best alternatives you will find for air frying (in my humble opinion).
Test 2: Oil then Flour coating!
This was a method I had been introduced to by Urvashi Pitre whilst reviewing her air fryer cook book Every Day Easy Air Fryer. Whilst choosing recipes to try out from her cookbook, I decided to do a chicken wing recipe! In this recipe, Urvashi told us to first dip the chicken wings in vegetable oil and then into a flour mixture spiced with paprika, garlic powder and salt (yeah, she's a pro and didn't forget the seasoning like me!!)
This method had worked so well for the chicken wings, I thought to replicate it here for this test. As I didn't have any vegetable oil in my house, I decided to use this olive and canola oil blend that my wife likes to use as her 'everyday' cooking oil.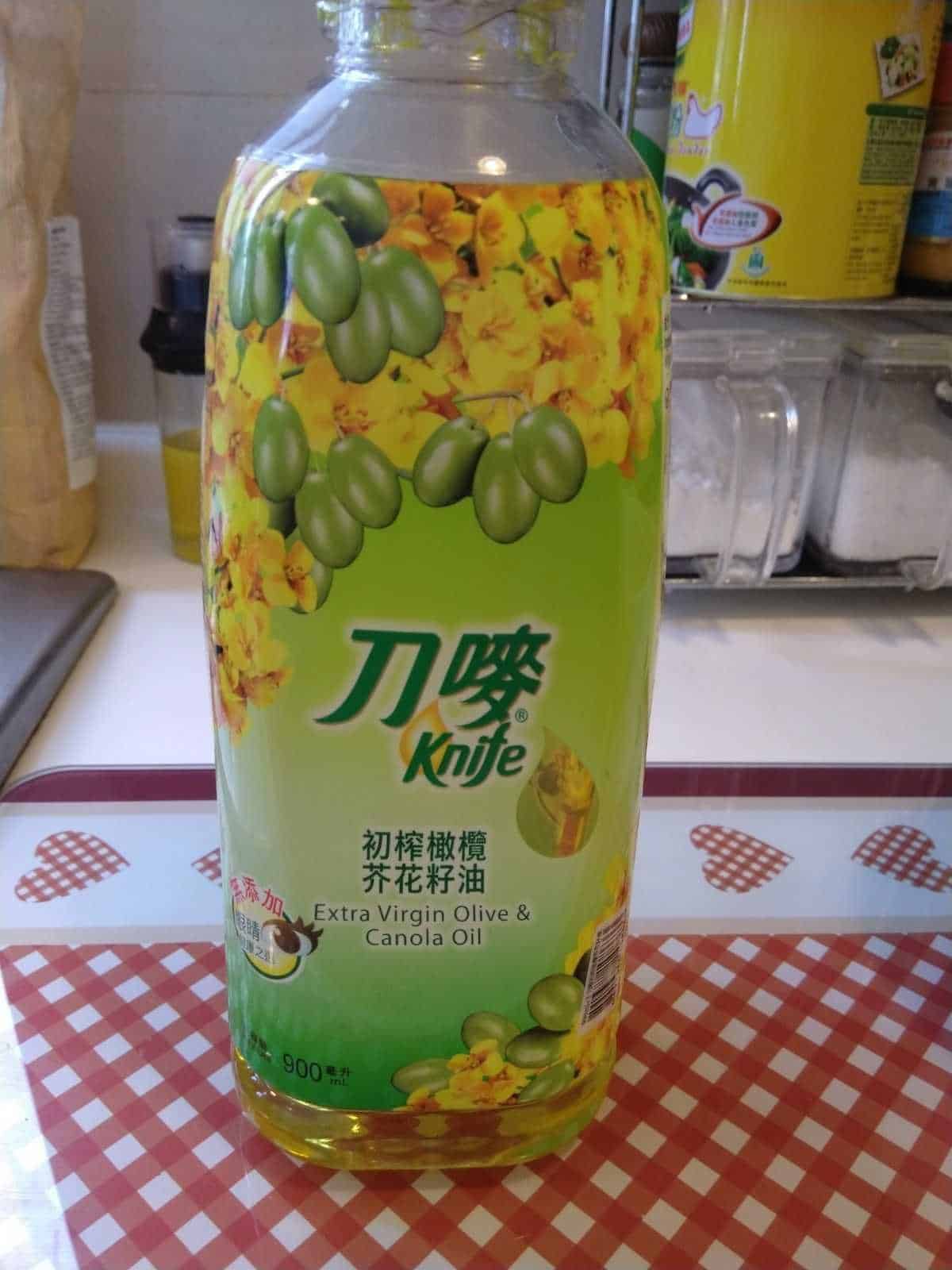 I got my flour mixture and oil ready in bowls and carefully dipped the fish piece in both (oil first), gently placing it in the air fryer there after, exactly as I remembered from Urvashi!
This time I only had to cook the fish for 200C for 5 minutes. It was clear from first inspection that we already had enough browning and crisping going on!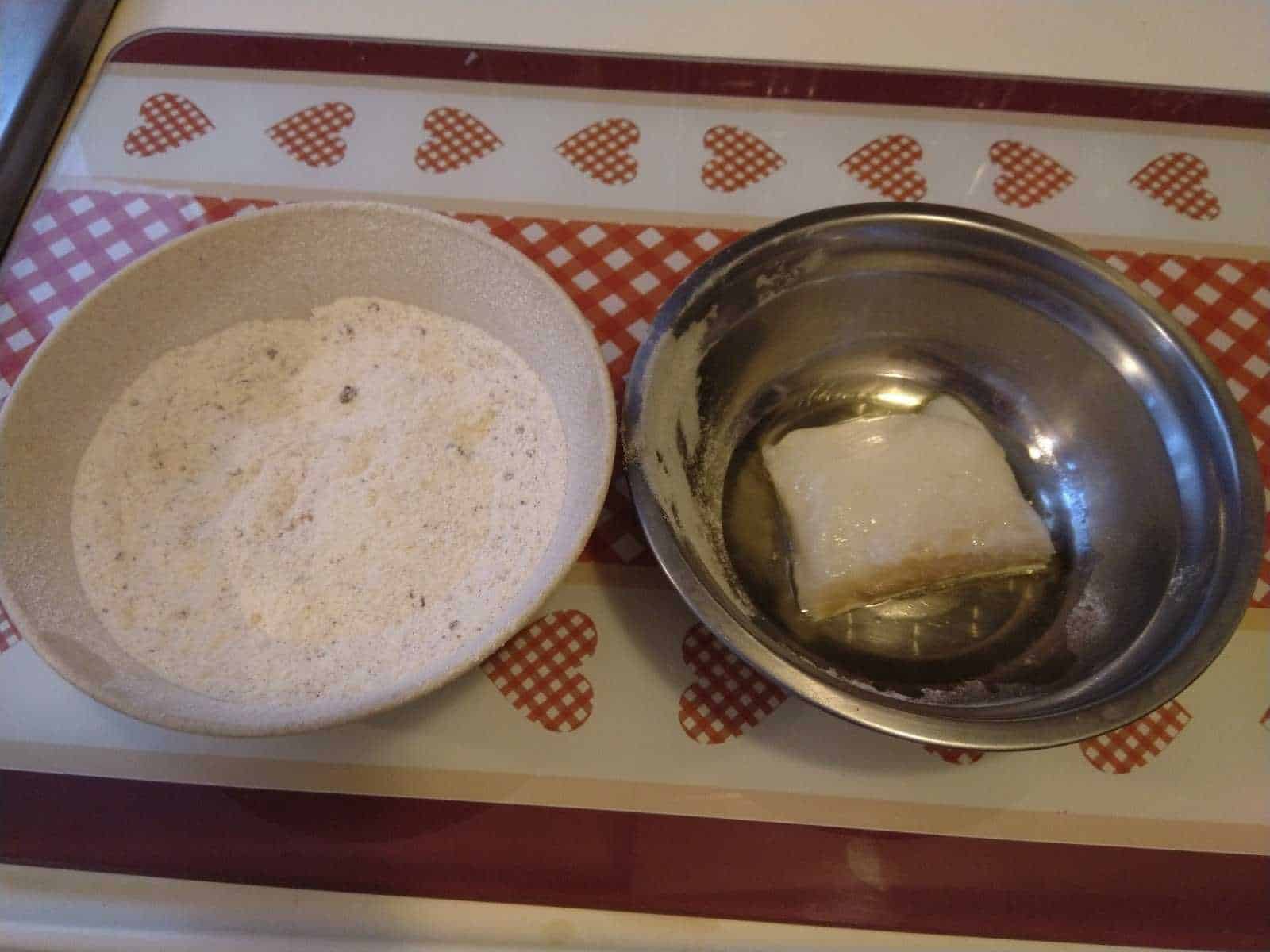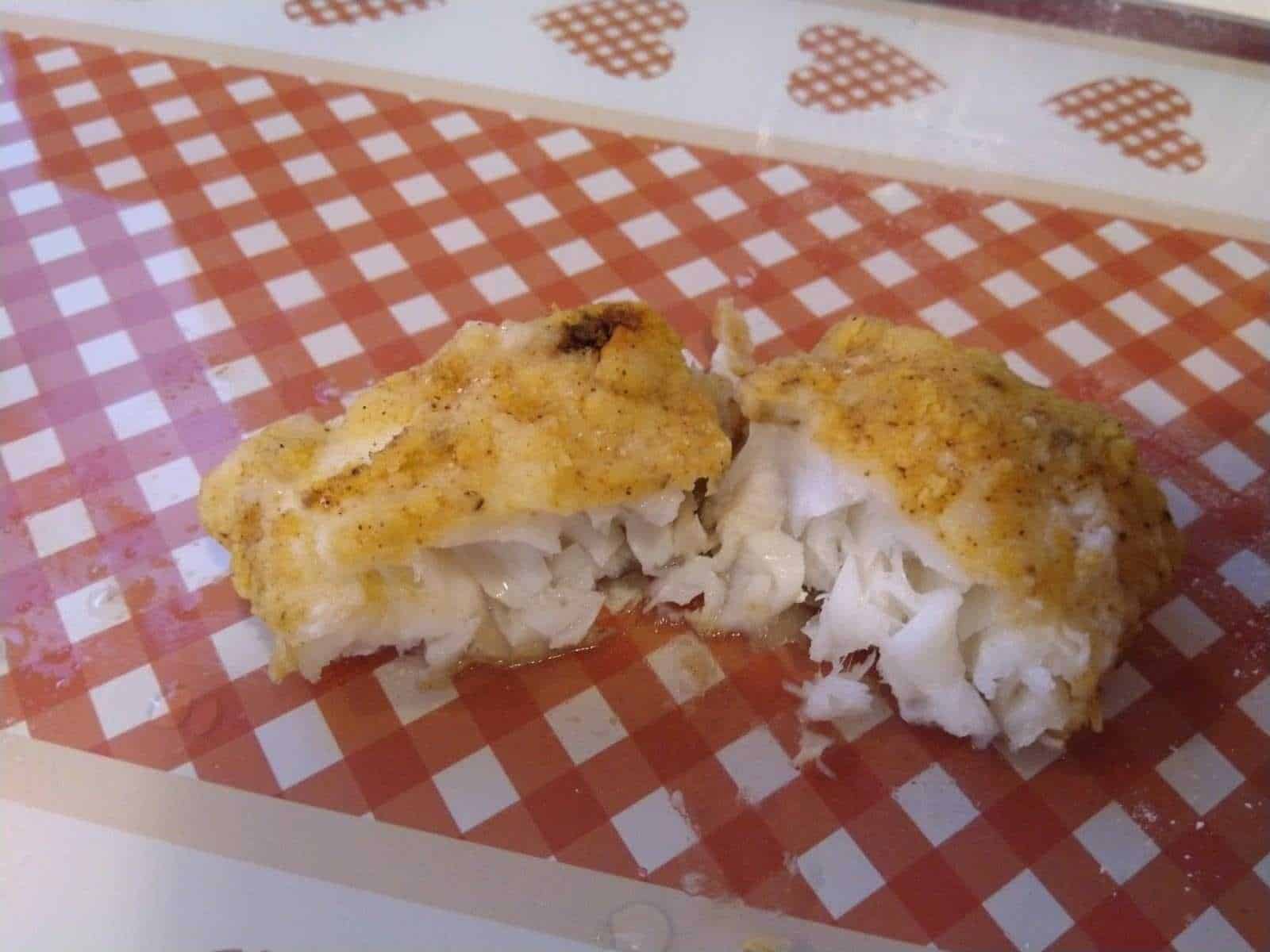 This end result was much better. Hopefully you can see from my amateurish picture above the difference in the color and the crisp that I got from this method. And it tasted amazing. Not exactly like the batter on fish and chips, more like the breading on fried chicken (as you would expect from a flour based coating!). Sometimes, when cooking such flour coatings in an air fryer, you could get some 'floury' (is that even a word) and dry patches. Not at all with this method! Yum!
Test 3: Egg then Flour coating with a spritz of Oil at the End!
So, on to the final test. This time I was going with the more traditional way of flour coating when cooking. I made a simple egg dip and dipped the fish into this before going on to dip it into the same spiced flour mix as method 2. The final touch was to place the fish into the air fryer and spritz with some oil. I did this, as from my experience this really helps to crisp up this type of food in an air fryer.
I have an article on this you can read HERE. I used my trusty pump oil sprayer for this, which had regular olive oil in it. If you need such a oil sprayer, I have highlighted a good one in my recommended products page.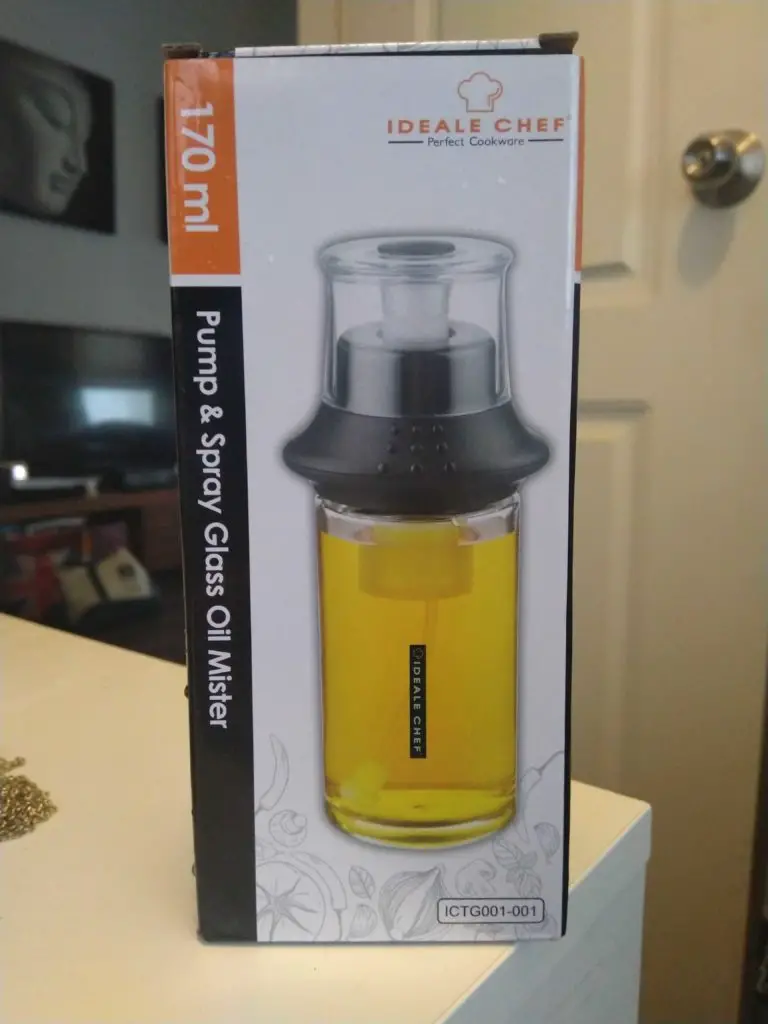 I wanted to use the exact same flour mix, so that the taste test would only be based on the cooking method, rather than on the taste of different flour mixes!!
Again, I only needed to put this fish in for 200C for five minutes, as you can see from the end result below!! It had a real nice crisp to it already!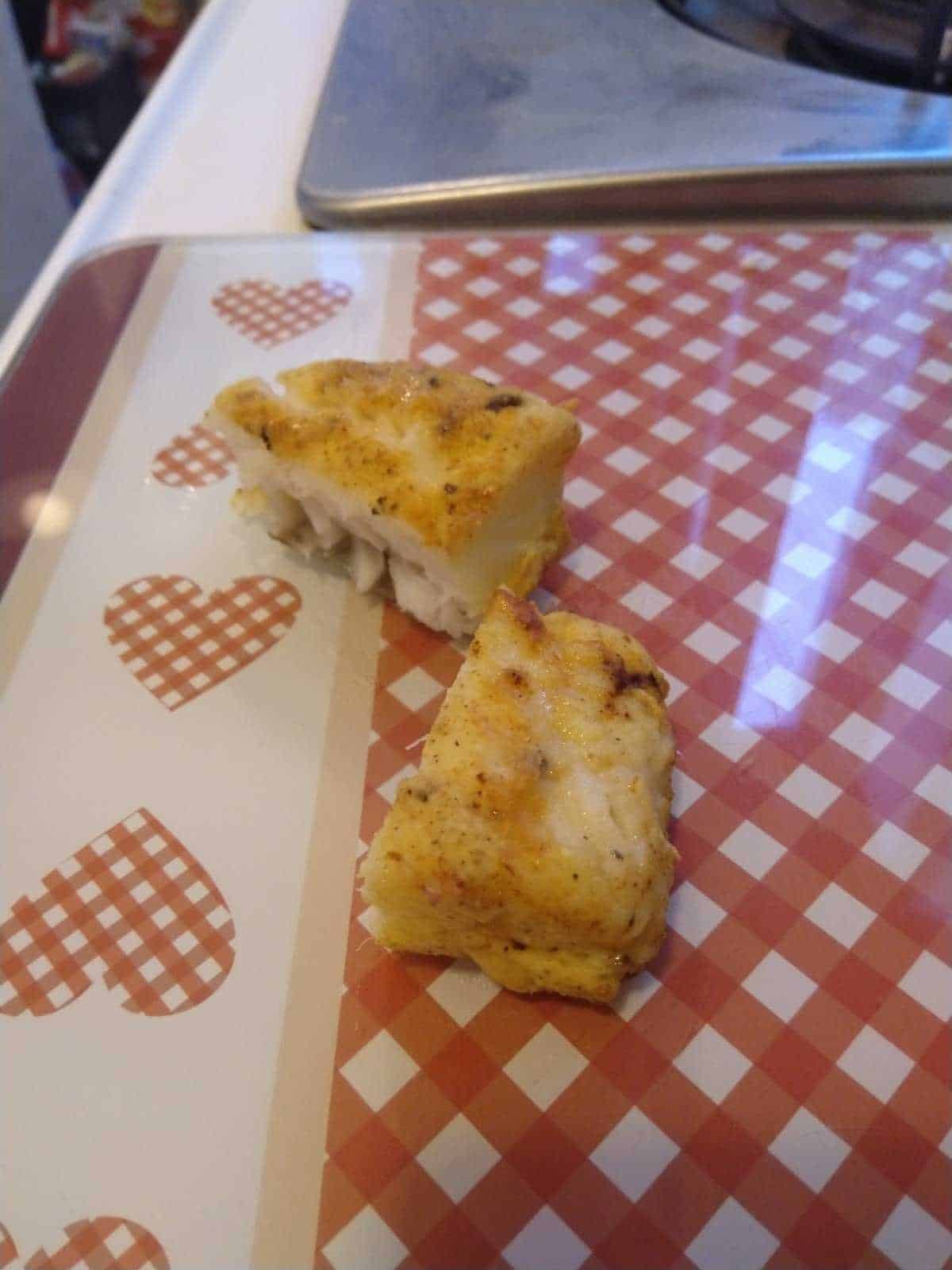 This end result was also excellent, as I had fully expected after tasting the result from test 2. The two methods are pretty similar! I would say that this method had a slight downside. It did have a few slightly dry and 'floury' parts that detracted a little from the taste. Nothing major, but that would be how I would separate this from test 2. Another win for flour breading over wet battering (in an air fryer anyway!!).
The Verdict?
From veggies to fish and even zucchini, people like to batter everything it seems! But will it work in an air fryer appliance?
It is pretty clear from test one that using a wet batter is pretty hopeless in an air fryer. The batter doesn't have enough heat from an air fryer to properly crisp it and cook it through. Some people in the air fryer community talk about pan frying first, then finishing in the air fryer. To me, I would much rather use a pure air frying method (they don't call me the Air Fryer Bro for nothing!). So, put that wet buttermilk batter away, its useless for an air fryer 🙂
However, all is not lost. Although wet batters are hopeless, a dry flour based batter worked a treat here. Not exactly the same as a traditional battered fish, but a great alternative all the same. 
My favorite method when using the flour coating was the second one, where I dipped it in oil first. This gave the best end result, although only marginally. If you are more health conscious, I would imagine (please correct me if I am wrong) that the spritzing oil method would be healthier. So, I would use that one if you are more biased towards health. Especially if you do as I did and substitute the vegetable oil for something healthier.
Anything else I want to try? Well, this whole experiment has got me wondering if it would help to put a little cornstarch in my dry batter flour mix. Maybe this would give an even better result. In terms of spice, I would also love to try some different seasoning options in that flour mix. Maybe curry powder, paprika or even just some proper gourmet cracked black pepper!
I had fun doing this experiment, and I hope you weren't too put off by my poor photos! I live in Hong Kong and have a really small and pretty dark kitchen. This, coupled with my mid range smart phone, is what gives me these results!
If you have differing views about batters, coating and air fryers; we would love to hear all about them in the comments section below. Although I love air fryers, I am no cooking genius 🙂
Frequently Asked Questions
Why would you air fry battered food rather than deep fry?
Many people love battered food, but deep frying this type of food will use excess oil and up your calories some what…..in basic terms, it is unhealthy! By using the air fry cooking process instead, you you will use a fraction of the oil and therefore it is a healthier alternative.