Welcome back to Air Fryer Bro, and to another food related article. Today we are looking at the idea of cooking Brussels sprouts in an air fryer. Is it possible? Will they taste good? By the end of this article hopefully you will have a better idea.
I want to start with a disclaimer. I am a simple guy who loves air fryers, not what you would call a chef or expert in cooking in any way. I just like to share with you my experiences of cooking in an air fryer. Therefore, expect to see some low rent and even grainy photos in this article.
For this experiment, I am using a Philips air fryer. You may get slightly different results depending on which air fryer you are using. In fact, if you try any of these experiments yourself, we would love to hear all about them in the comments section below.
In other news, my wife just bought me a new oil sprayer, which I will be proudly using throughout this article 🙂 Aren't I just the luckiest bro alive? Actually, I have been impressed with how fine the oil mist is with this sprayer. As we bought this over here in Asia, and it is made by some generic brand (actually no brand lol), it is hard to find the exact same thing on Amazon. It does look very similar to this one though.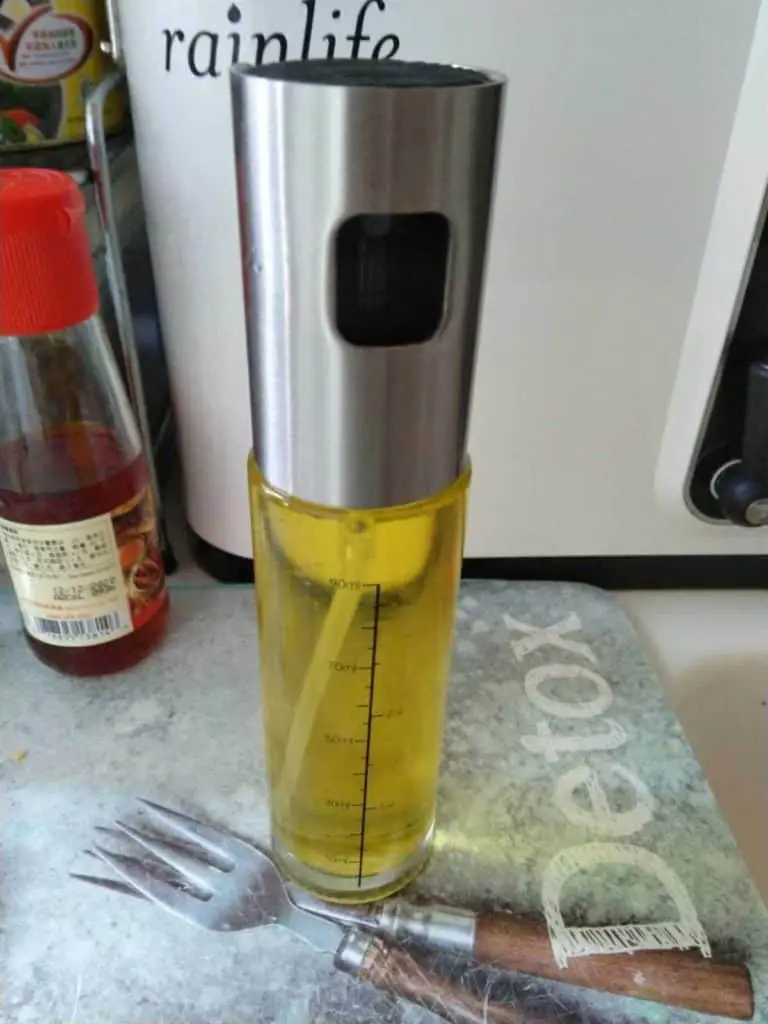 The Brussels Sprouts Experiments
During this article, I want to try two ways of cooking Brussels sprouts, to see how they translate into an air fryer. These are two ways that I would use when cooking this type of vegetable in a regular oven, so it will be interesting to see how it works out in an air fryer.
Before we get started, here are the Brussels Sprouts I was able to get from my local market. As it was around Christmas time, they were rather easier to find than normal. This is actually what inspired me to get on with this experiment, something that I have been meaning to do for a while 🙂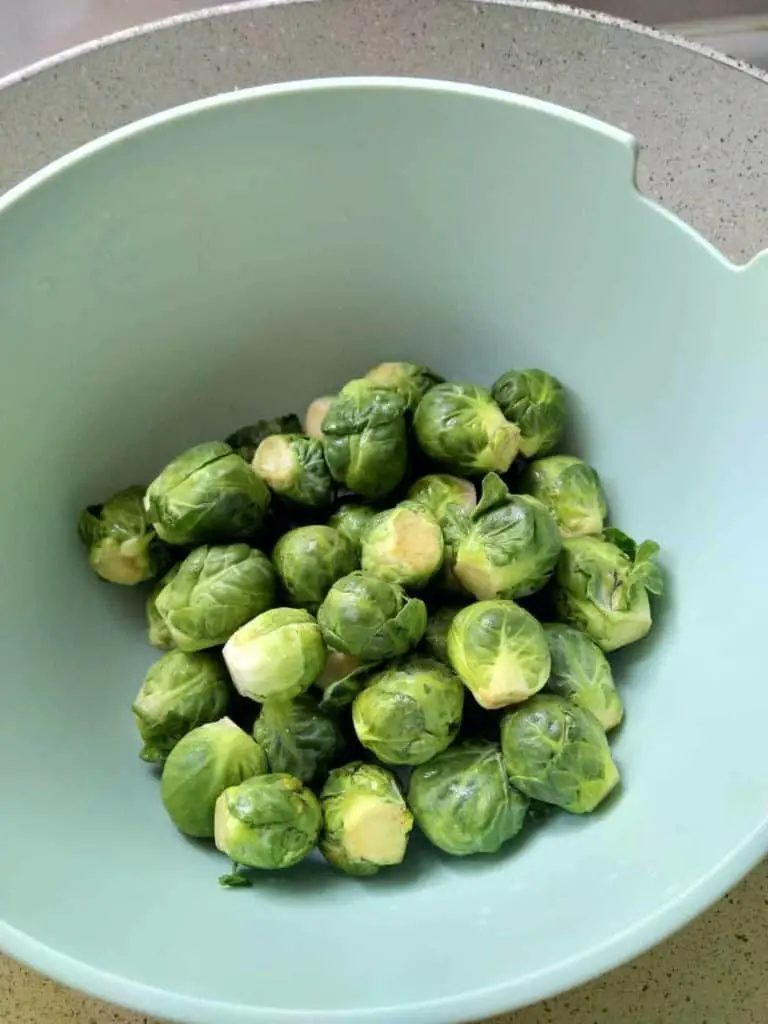 I know that some other real cooking experts like to recommend that you cut the bottom of the Brussels sprouts off before cooking, but I have another view. Call me weird, but I actually quite like the taste of the whole sprout 🙂 It can be quite bitter though, so if you aren't into those levels of bitter you might want to listen to those other gurus 🙂
The Bare Air Fryer Brussels Sprouts
Before we try these simple experiments, I want a baseline to go off of. For me, the best way to do this is to try cooking some Brussels Sprouts bare naked in the air fryer first. I will not add anything, and lets see how they turn out. Roasted Brussels Sprouts usually take between 20-30 minutes in a regular oven, but I expect it to be faster in my air fryer. I will give it ten minutes first, with the possibility of an extra five minutes after if required. My particular Brussels Sprouts are quite small, so they likely won't take long. Below you will see my before and after results. I cooked them at a temperature of 180 degrees Celsius or 356 degrees Fahrenheit.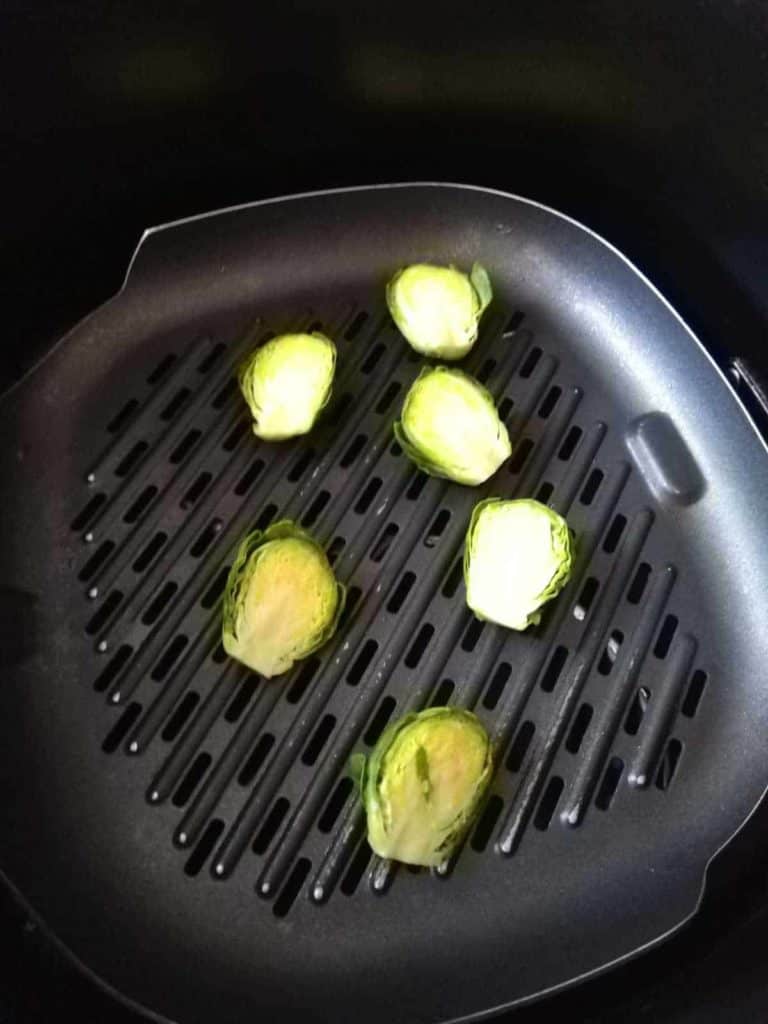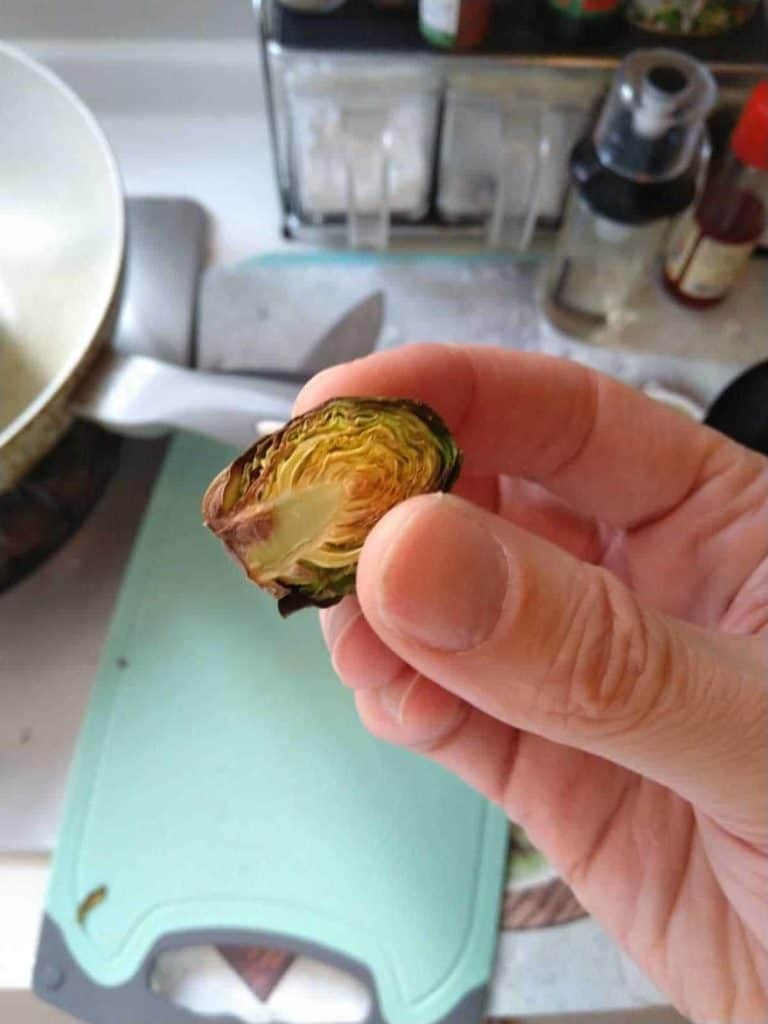 In the end, the first ten minutes were enough. The Brussels sprouts had a good roast on them. However, I felt that the roast was too dry and seemed almost like burned paper in terms of texture. They still tasted fine for bare roasted Brussels sprouts! Actually, it shows how amazing an air fryer is to roast these vegetables in such short order. We just need to refine our methods some more to get a less dry result.
The Simple Roasted Air Fryer Brussels Sprouts
This is as simple as they come, but should help massively with the dryness problem I experienced with the first bare experiment.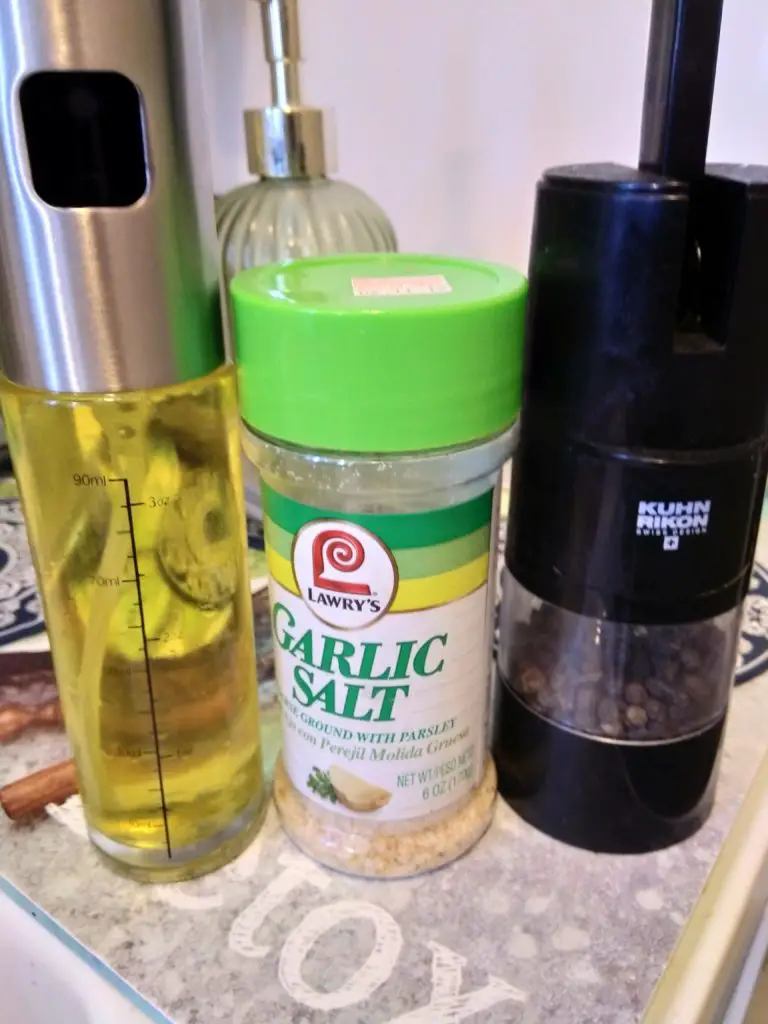 Roasted Version 1
This time, I will simply put the halved Brussels Sprouts in my air fryer's grill pan and spray with a little olive oil and sprinkle a little salt and pepper. The idea of this method is to get simple roasted Brussels Sprouts. I would expect that the salt will help to dry out the Brussels Sprouts more as they roast, leading to a better crisp. The light coating of olive oil will help us get that slightly burned or roasted effect. Hopefully, this pans out.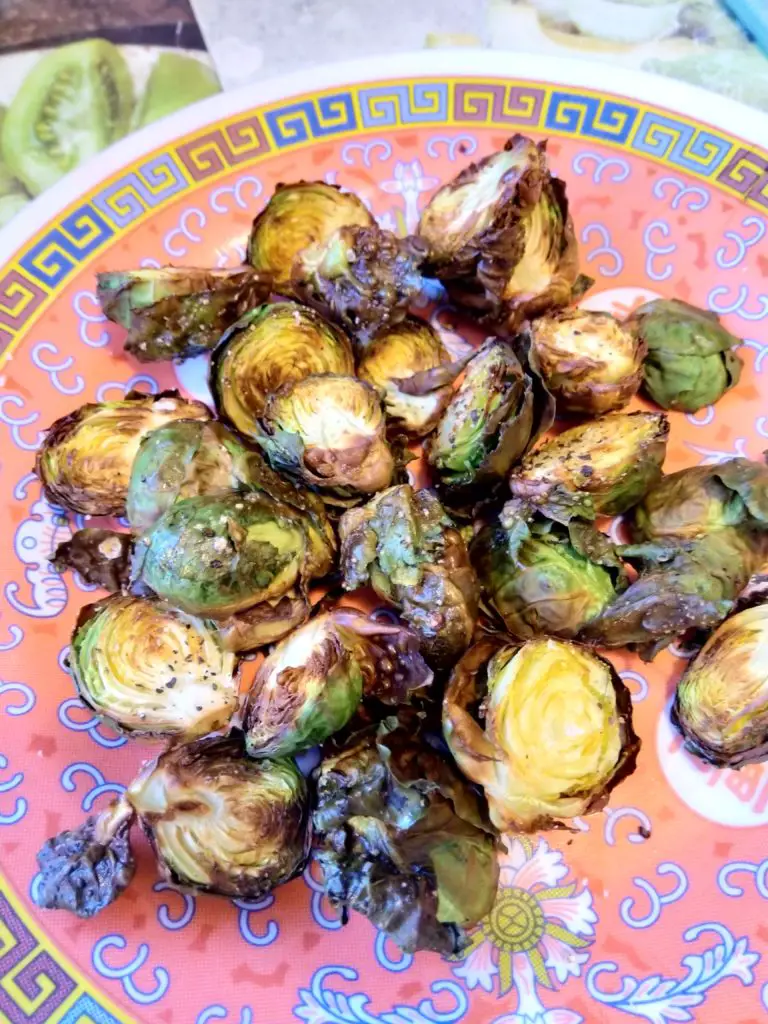 As you can see from the picture, the Brussels sprouts roasted much better in the air fryer with oil sprayed on first. Also, they were well roasted all over considering I didn't flip or shake them during the ten minute cooking time (again at 180C). The texture was less dry and pretty similar to what I have seen out of a regular oven (but in half the time).
Roasted Version 2
This time, I will use the same ingredients but turn it into a marinade that I use on the sprouts and then roast. I want to see if it makes a big difference to coat them in the oil rather than just spray on with the spritzer/sprayer. You can see my before and after results below.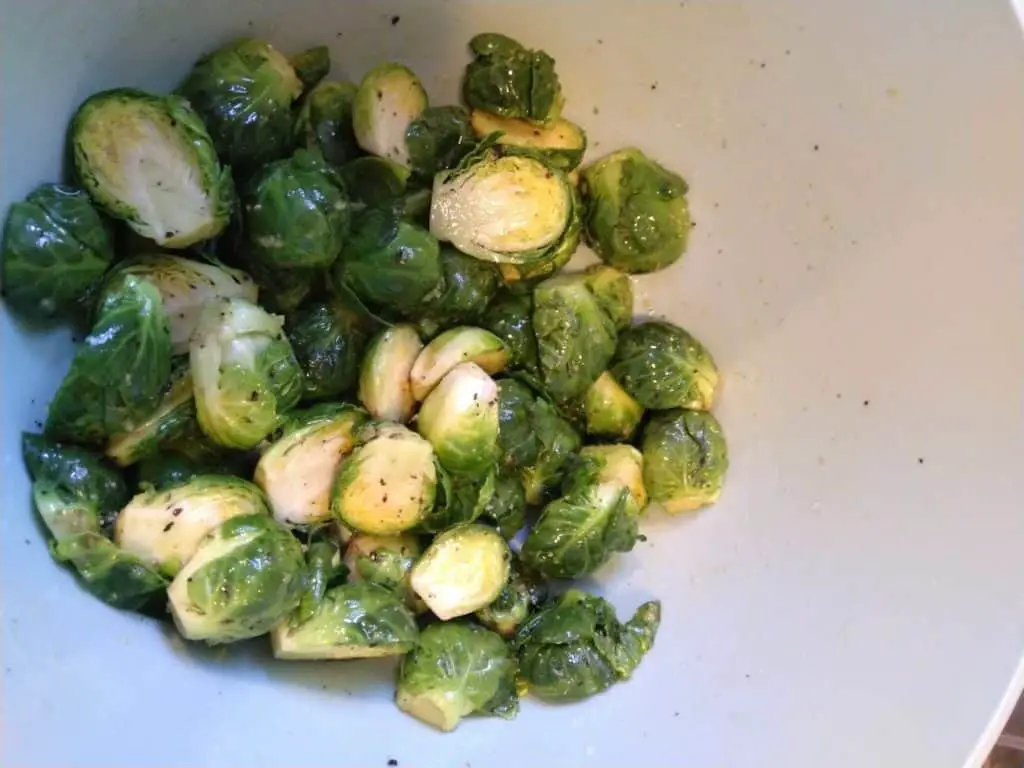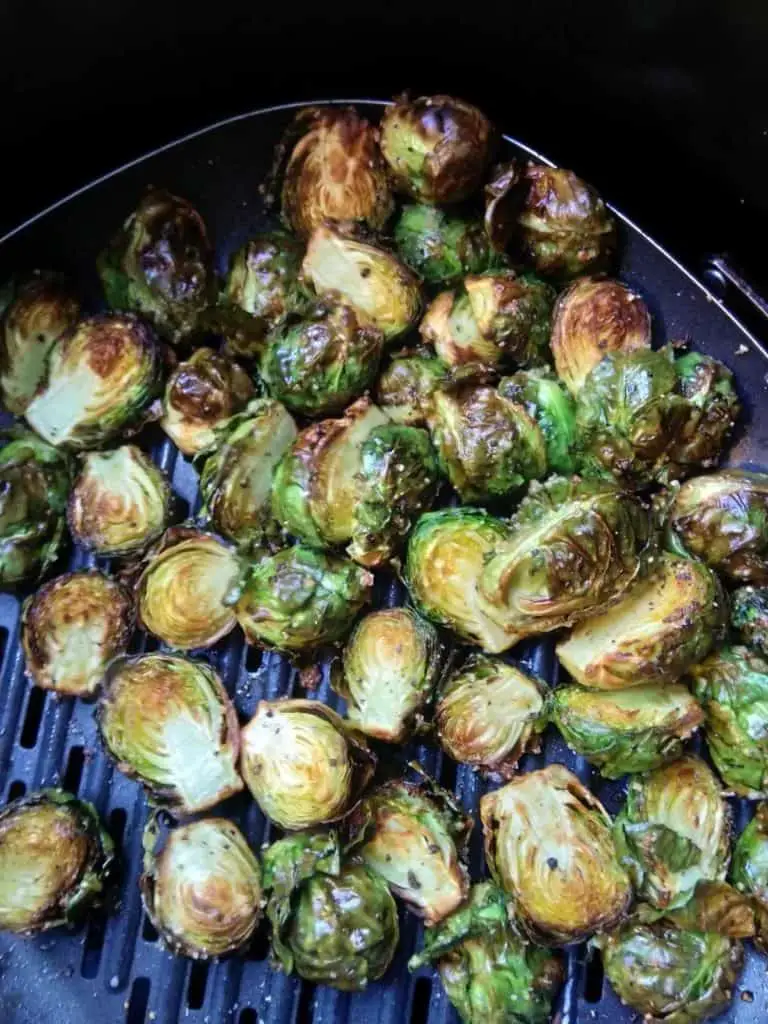 Both my wife and I agreed that this result was better. The Brussels were much better roasted and the flavor was more 'roasted' too. Version 1 wasn't bad, but this was a clear improvement. Also, by coating the whole Brussel sprout you get a much more even distribution of seasoning, as well as it being roasted all over. These were pretty yummy! If I want to cook Brussels Sprouts in my air fryer, this will be my default technique going forward. Maybe not as healthy as spritzing, but damn tasty all the same.
What can I do to liven up my roasted Brussels Sprouts?
It's all well and good learning that you can roast this vegetable in an air fryer, but I am sure after the first few meals you will get sick of the flavor when you simply roast with olive oil and salt. So what else could you do to liven up your roasted sprouts? The approach I have is to toss the Brussels sprouts in a tasty sauce after first roasting in the air fryer. I encourage you to look online at all the wonderful types of sauces you could use, but below is the one I have used and enjoyed many times in my kitchen 🙂
The Balsamic and Honey Roasted Brussels Sprouts
This has been one of my favorite recipes for Brussels sprouts in a regular oven, a sweet and vinegary take that I like rather a lot. It really is as simple as air frying your Brussels sprouts first, and tossing them in honey and balsamic vinegar. I am going to go all vague on you and not give any exact amounts here. The amount you use is a matter of personal taste. I personally prefer the sourness of the balsamic vinegar, so I add slightly more of that. In fact, each time I just pour and judge on the fly how much to put in based on experience. See, this is why you shouldn't follow my cooking tips! Luckily, Kevin in the Kitchen made this awesome video on the exact recipe I am talking about. Simply switch out the oven with an air fryer and use my roasting times above 🙂
That's All Folks!
Hopefully, all your air fried Brussels sprouts questions were answered now 🙂 Like I said at the start, if you have your own experiences we would love to hear all about them in the comments section below.