Welcome back to Air Fryer Bro and welcome back to another (hopefully informative) article on air fryers, my favorite kitchen appliance 🙂 Today we will be skimming the content on Reddit to find out what users over there rate as the top 5 air fryers!
Let's begin with a warning. We will start by talking about Reddit and what it is. If you want to skip right to the Reddit air fryer recommendations, please use the table of contents to skip straight to that part.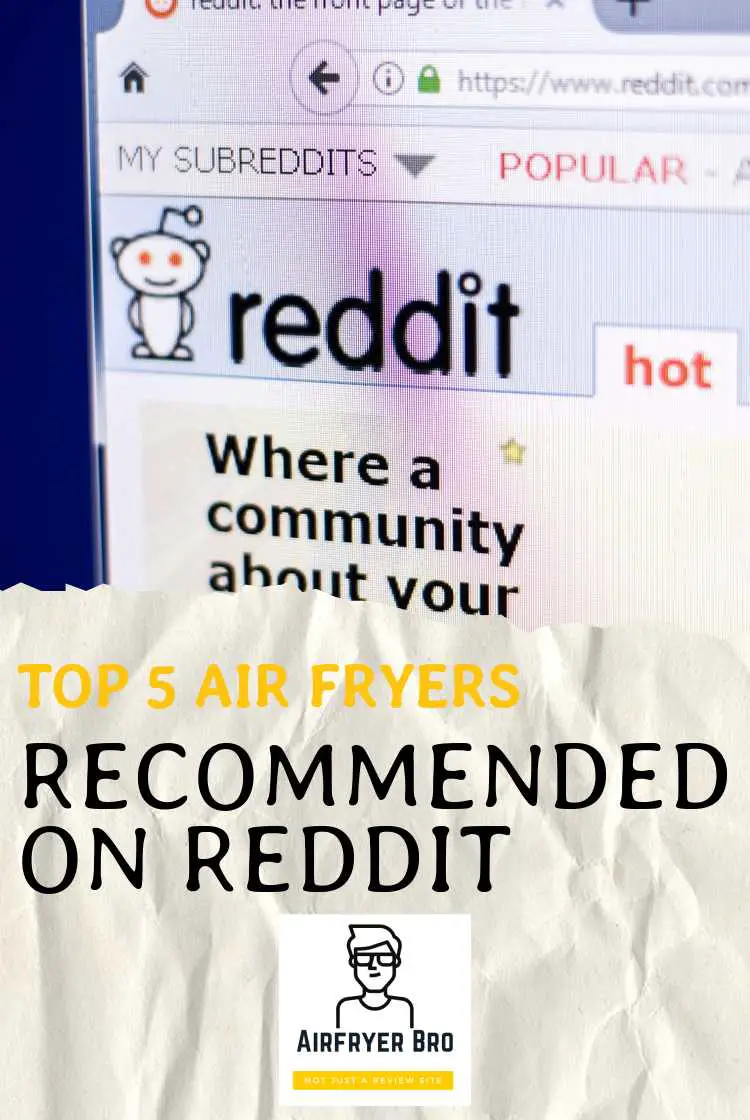 What is Reddit?
If you have never heard of Reddit, it is a website that has been around for some time now.  It was started in 2005 by two college graduates Steve Huffman and Alexis Ohanian. They were only 22 years old at the time, and probably didn't realize how massive this new service was going to get.
Reddit acts as a place for people to come together and share their ideas and knowledge. It started as a text-based service but now allows users to upload content such as images to couple with their posts. Think of it as a place with lots of forums in one place. Whatever subject matter you can think of, there is probably a Reddit community for it.
How does Reddit Work?

Think of each community on Reddit as a board for people to post their ideas on. These boards are called 'Subreddits'. The posts on each Subreddit can be voted up or down by the users. To do this, you will need to make a Reddit account.
Here are the popular Air Fryer Sub-Reddits I use:
https://www.reddit.com/r/airfryer/
https://www.reddit.com/r/AirFryer_Recipes/
Why are you taking ideas from Reddit?
Reddit is a popular place for air fryer enthusiasts (such as myself) to hang out and discuss everything air fryer related. It can be a great resource of information.
However, for people that are not familiar with Reddit, they might not want to take the time to learn how to use a new platform. Also, if you get lost over there you might stumble across some content you don't want to. That's why I thought to help you gather that information myself and re-post here.
Actually, in the early days of Reddit it had quite a lot of adult and even illegal information on it (allegedly), whereas as it has become more mainstream that type of content is much less.
What were the Top 5 Air fryers on Reddit?
To start off, I will say that this is not really an exact Science. The process I went through is to spend time reading a lot of posts from the past 30 days on Reddit, and working out which air fryers were recommended the most. Of course, this could change quickly and is only valid at the time of writing. It still gives you an insight into current air fryer trends, though 🙂
The other thing to say is that most people didn't mention specific models, only brands, this is why some of the options don't include specific models.
This is what I found out after sorting through Reddit this month….
Pick 1. Ninja Foodi
I have to say that I am not surprised by the recommendations for this air fryer, they have been trending aggressively for what feels like the past few years. They almost have a hip and trendy appeal within air fryer circles.
To be fair, Ninja are a brand that deserve these accolades, as they do often innovate in this space. They were the first people to bring us an air fryer combined with a pressure cooker, and they also brought us the first folding air fryers!
These are some of the comments from Reddit users:
Ninja is probably best bang for buck on a high quality air fryer but I would suggest getting the XL version (AF161). The crisper tray is completely ceramic coated including the little bar in the center (food always seem to stick to the plain metal version), higher wattage that allows for it to reach 450F for the maxcrisp, and just the higher capacity is always a plus (Corgoi)
I wouldn't trade my Ninja Foodi for any thing else out there.(KyleGoodReau)
My Husband and I have one of the Ninja models (not sure offhand which one or how much we purchased it for, it's been a few months) and we love it. I used to follow the book, and one thing I noticed is following the books instructions, I was actually overcooking the food most of the time. I usually cook frozen fries and frozen breaded chicken in there, and put them both on for 390F (the hottest it will go) and for 10mins each, comes out perfect every time. (9000BeatsPerHour)
The typical Ninja Foodi air fryer that a lot of people are referring to is the hybrid version that also acts like a pressure cooker. You can view it futher over at Amazon by clicking the image below.
Pick 2. Philips XXL
I have to say I am surprised how many recommendations Philips got, even though I own one myself and love it. I would assume that the slightly higher price tag would have put off some potential owners of this brand, but clearly not as much as I had thought.
Philips were the original company to take that initial risk and make air fryers for the home all those years ago, so we do have something to thank them for!
Here are some comments from Reddit Users
I have a Philips XXL & it is fantastic & made of excellent quality. I have done a lot of research & Philips is always rated at the top 3 usually #1. I believe you get what you pay for. It's very easy to clean. Philips is the inventor of the air fryer. (BillsGirlGina)
I have bought one (the Phillips brand) for each of my family members(+/-7 units) and all of them are still perfectly good condition after +6 years. The only annoying thing is that the mesh that the food sits on was not removable in the earlier editions. (Stubs07)
Go view the Philips XXL air fryer on Amazon by clicking the image below..
Pick 3. Instant Pot Vortex Plus
I know that the Instant Pot brand has also been getting massively popular (like the Ninja Foodie brand) for the past few years. However, I thought this was only in the instant pot or pressure cooker space. I didn't realise that their air fryer was already making waves.
This particular one is an oven style air fryer and I can see why it is so popular!
Here are some comments from Reddit users:
I have the Instapot air fryer oven, it's only $120 and works great (ShevanelFlip)
We have a instant pot vortex plus and I love it! Really easy to clean too. (DriftingThroughLife1)
You can check this air fryer out at Amazon by clicking the image below.
Pick 4. Cosori
I did see this one coming too, but then again I am the Air Fryer Bro 🙂 Cosori is not a trendy or innovative brand, but has been gaining in popularity for offering solid air fryers at a competitive price. Ninja and Instant Pot have the 'trendy' factor that allow them to have higher prices, but not Cosori. They are not budget air fryers, but you do get alot for the money.
Here are some comments from Reddit users…or in this case user!
I researched for months and went with the Cosori 5.8 qt. air fryer.
I literally use it everyday and believe I made the right choice for me. (MsDizzyDolores)
I have the Cosori 5.8qt and love it.
The Cosori and the Ninja were the two I kept going back and forth on.
The Ninja has the dehydrator. (Also MsDizzyDolores)
The typical Cosori air fryer a lot of people have is the COSORI Air Fryer Max XL 5.8 Quart version. You can find out more over at Amazon by clicking the image below.
Pick 5. GoWise
This is the only pick that surprised me in the Reddit top 5. When I first started covering air fryers I heard a lot of rumblings about poor quality with GoWise air fryers, but they seem to have turned this problem around now. Perusing their air fryer reviews on Amazon, they seem to be getting mostly high 4.5+ star ratings.
Reddit certainly seems to back this up with a top 5 rating!
Here are some comments from Reddit users:
I got a Gowise and it's fine. The Phillips is almost three times the price and might have some nice features but it probably won't justify the price for making fries, roasting other vegetables and reheating leftovers. If mine dies I can buy 2 more and still break even. And who knows what will change technology wise in a few years. Go middle of the road and you'll be fine. (ClitPot23)
I've been using my GoWise for nearly 2 years. Holds up very well. The small handle issue it had a year ago was replace by the company. Very happy with it. (FoxP3)
A lot of these owners seem to have the GoWISE USA 3.7-Quart version. Check it out at Amazon by clicking the image.
Any more air fryer buying tips gleaned from Reddit?
One user had a great idea of going over to Amazon and buying the cheapest air fryer with a 4.5 star rating or higher. Seemed to work well for that user, what do you think? I noticed quite a lot of Redditers commenting that the size of the air fryer is important too, and to make sure you buy one that is big enough!
That's your lot 🙂
Well all that is left to be said is thank you for reading this article. And if you have any of your own recommendations about air fryers we would love to hear all about them in the comments section below.
Happy air frying!!
Oh, one more thing before you scoot! We also have an article going over some of the more popular air fryer brands in detail, if you are interested.