Welcome back to Air fryer Bro. If you've been considering snagging a Proscenic T21 Smart Air Fryer, then you've come to the right place. In this review, I will cover everything you need to know about this new kitchen appliance—from what it does to how well it does it! And, of course, I'll give my opinion on the T21 for those of you wondering if this is the model for you.
As always, this is my full and honest review. I actually bought this Proscenic T21 Smart Air Fryer with my own money and will be using it in my air fryer rotation so I can let you know what it is really like. No generic reviews here!!
If you are in a rush, here is a quick overview of this product:
Overview of Proscenic T21 Smart Air Fryer
| What We Like | What We Don't Like |
| --- | --- |
| Design & Feel | Droopy Air Fryer Basket |
| Value | Control Panel |
| Temperature Control | Sticky Cooking Compartment Drawer |
| Smart App Features | Bordering on Loud |
| Cooking Performance | |
Click to view this air fryer on Amazon
Who are Proscenics?
In the air frying world we are often surrounded by a lot of unknown Generic Chinese Brands. These are often companies recently spun up from China and can often license their air fryer designs rather than do this in-house. What we end up with is a lot of nameless generic looking air fryers.
Honestly, I had never heard of Proscenics either, so at first I thought this would be another tale of a generic Chinese brand, but was left pleasantly surprised to find out this is a company with a longer and richer history than that.
Proscenics have been around since 1998, when they were founded in Taiwan. For a lot of their existence they have been a faceless partner working alongside big Japanese electronic brands such as Hitachi and Panasonic.
However, in 2013 they launched their own Proscenics brand to mainly compete in the smart vacuum market. They have since branched out into other home and kitchen appliances.
When you look at their history, I feel more confident in this brand's ability to make an air fryer. They must have picked up a lot of good experience working alongside big brands in the early days.
Fast forward to today, Proscenics are clearly trying to look like a big brand. Their website and Amazon listings are slick and well designed. And they didn't just churn out another cookie cutter air fryer, it seems they put a lot of thought into the model I am reviewing today. It's a shame I noticed some minor spelling mistakes in their literature though, as this tells me they are not quite at big brand status!

What is the Proscenics Smart Air Fryer All About?
It is good to see that Proscenics went for something more premium for their first attempt at an air fryer. It is a smart air fryer as it connects to a smart app on your smartphone and also has the ability to be controlled by an Amazon Alexa enabled device.
Click the image below to view this air fryer for yourself over at Amazon.
The Proscenics T21 Smart air fryer comes in at 5.8 quarts, a decent size for a traditional bucket style air fryer. They also boast that this appliance has an air fryer basket that is dual coated in Teflon. Regular readers of this blog will know that non-stick coating quality is a big issue among a lot of air fryers these days, so it will be interesting to see if this dual layer claim makes any difference.
| | |
| --- | --- |
| Dimensions | 12 x 12 x 12.7 inches |
| Weight | 15 pounds |
| Size | 5.8 Quarts |
| Wattage | 1700 Watts |
| Price | Check at Amazon |
Other than that, this is a pretty regular air fryer, with things such as 8 cooking presets and a digital display. It also has a pretty typical temperature range of 170-400 Fahrenheit and a 60 minute timer.
What Were my First Impressions?
I have been reviewing some budget priced air fryers recently (under the $100 mark) and it was clear to me straight away that this air fryer was slightly higher level than that 🙂
Don't get me wrong, this is not Apple level packaging, but the look and feel of the packaging did give me the impression that this air fryer had a bit more to it!!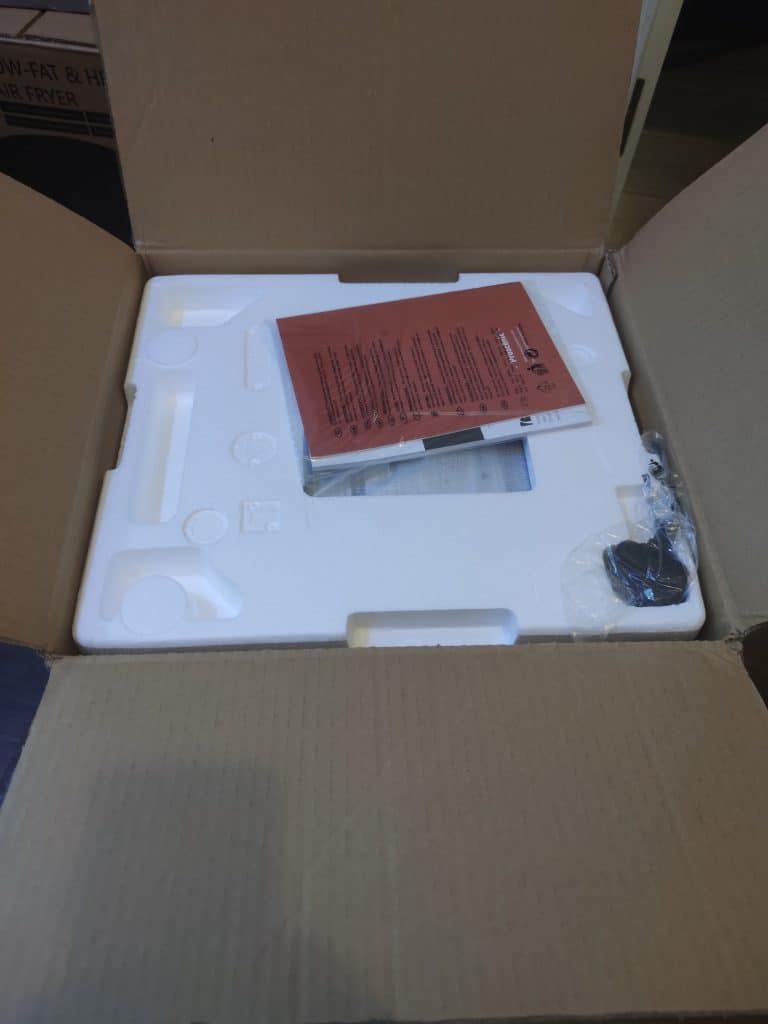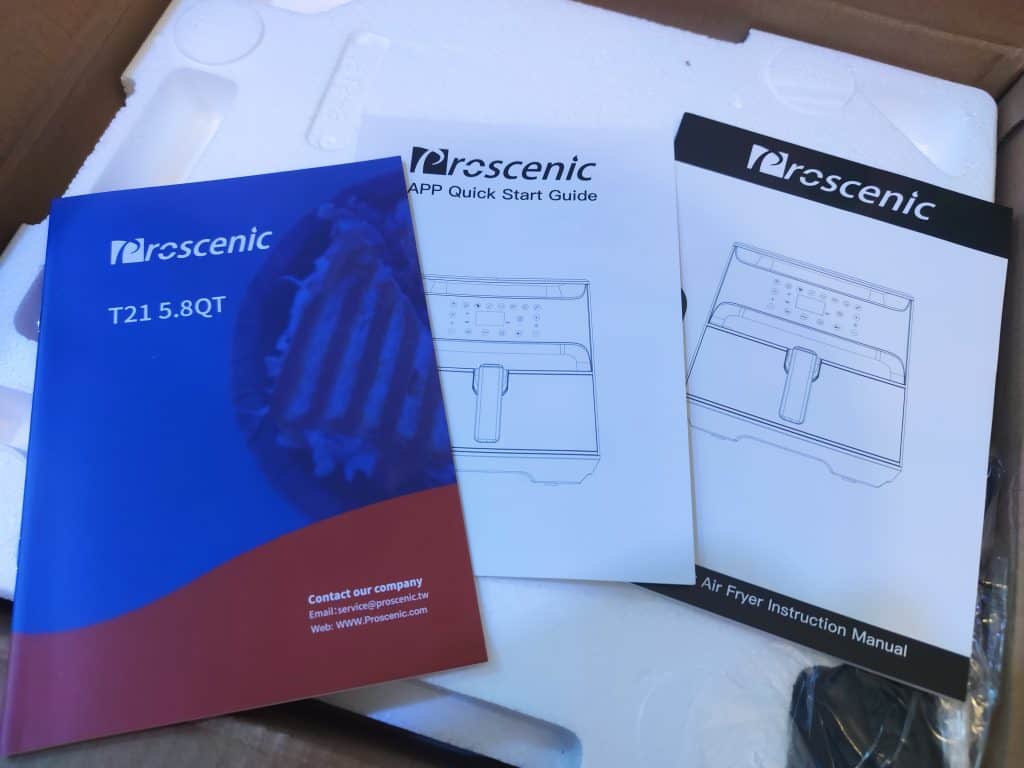 I felt like the plastic smells I was getting during the unboxing of this appliance were much less than what I had experienced with those cheaper air fryers I reviewed recently. It was still there, but so faint it was hard to pick up.
Inside the package was a quick start guide, a full manual, and a recipe booklet. Weirdly, the cover of the recipe booklet made it look more like a manual, but inside the quality of the recipes was pretty high.
This air fryer was also well packaged up with cardboard inserts all over the place to make sure that nothing is damaged in shipping. It's great to see this, but just make sure you have removed them all before firing up the appliance:)
The heating element in this air fryer is pretty typical, but I was impressed with how well thought out the interior of the cooking compartment was (without the basket tray inserted). They had made an effort to put some runners on the bottom, for example.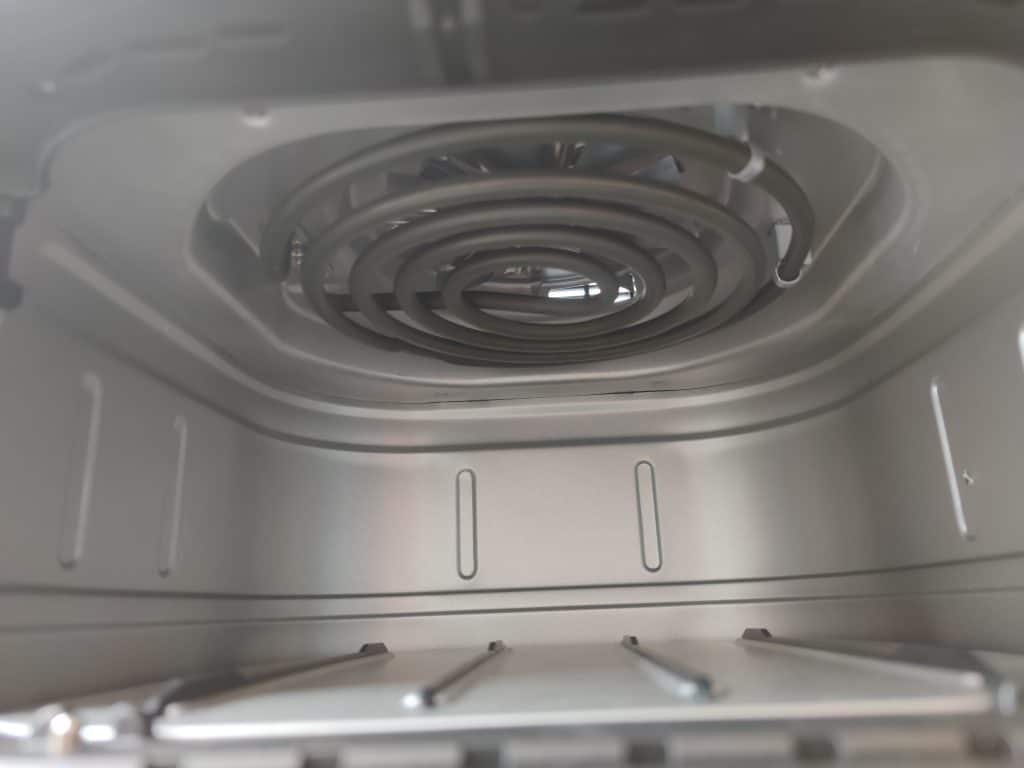 What I Like about the Proscenics Smart Air Fryer?
Cooking Performance
I like to do the same test for all the air fryers I review. I make a simple batch of home made fries and see how the two batches compare. My benchmark air fryer for the test is my trusty Philips air fryer. The batches were both coated with olive oil, salt and pepper, then air fried at 175C/ 350F for 15 minutes.
How did the Proscenic batch turn out? Although not quite as crispy as the Philips batch, they were pretty close in my opinion. For an air fryer that is twice the size of my Philips, this is pretty impressive. They must have a decent amount of power under the hood to achieve that!
Below are the results, so you can see for yourself.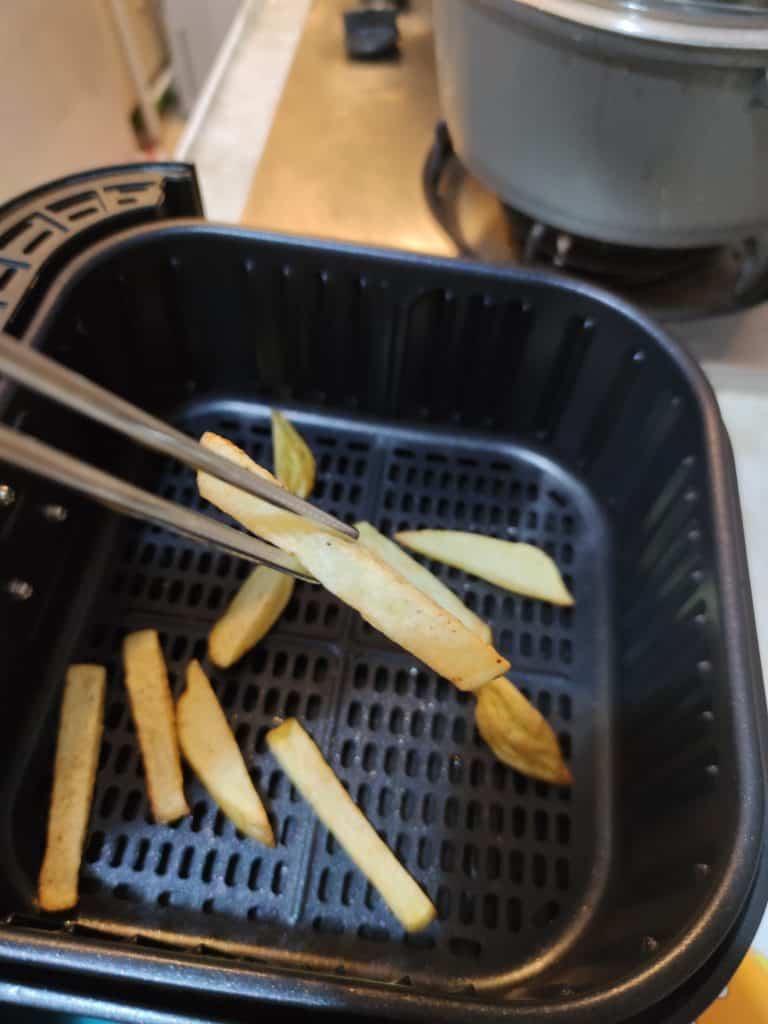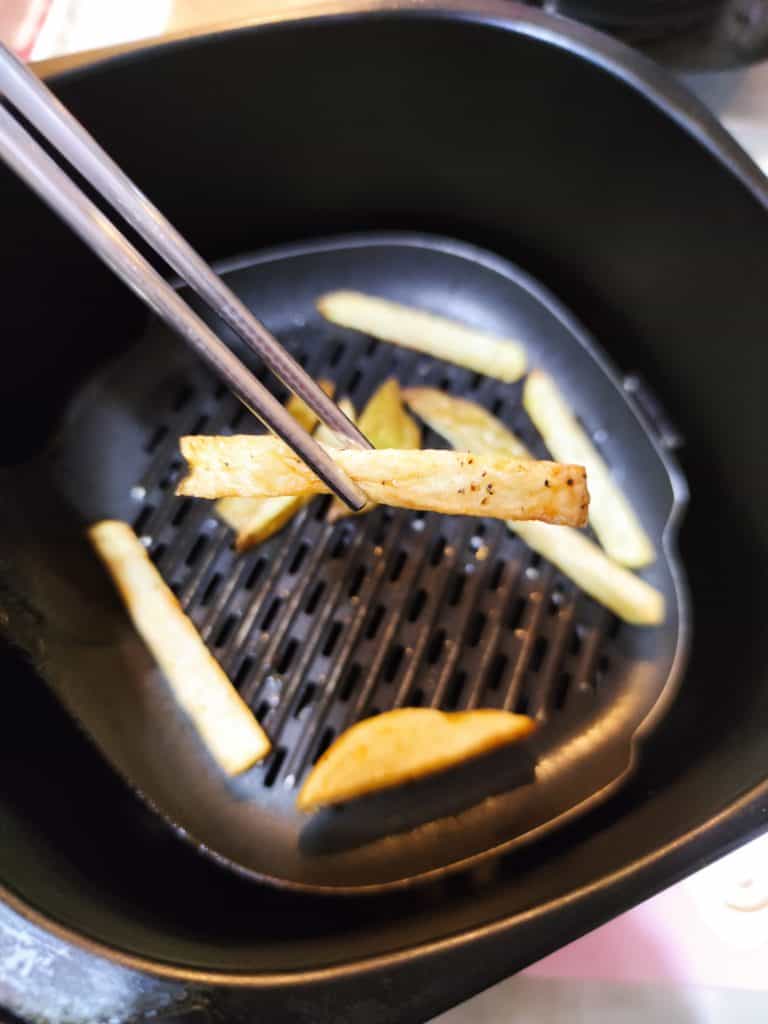 Design & Feel
This T21 air fryer has a unique look to it, with its stainless steel exterior inserts. The way the exterior plastic is textured also gives this air fryer a more premium look and feel. As mentioned above, the interior compartment of this air fryer isn't just a metal shell, Proscenic have put some thought and design effort even into these smaller details.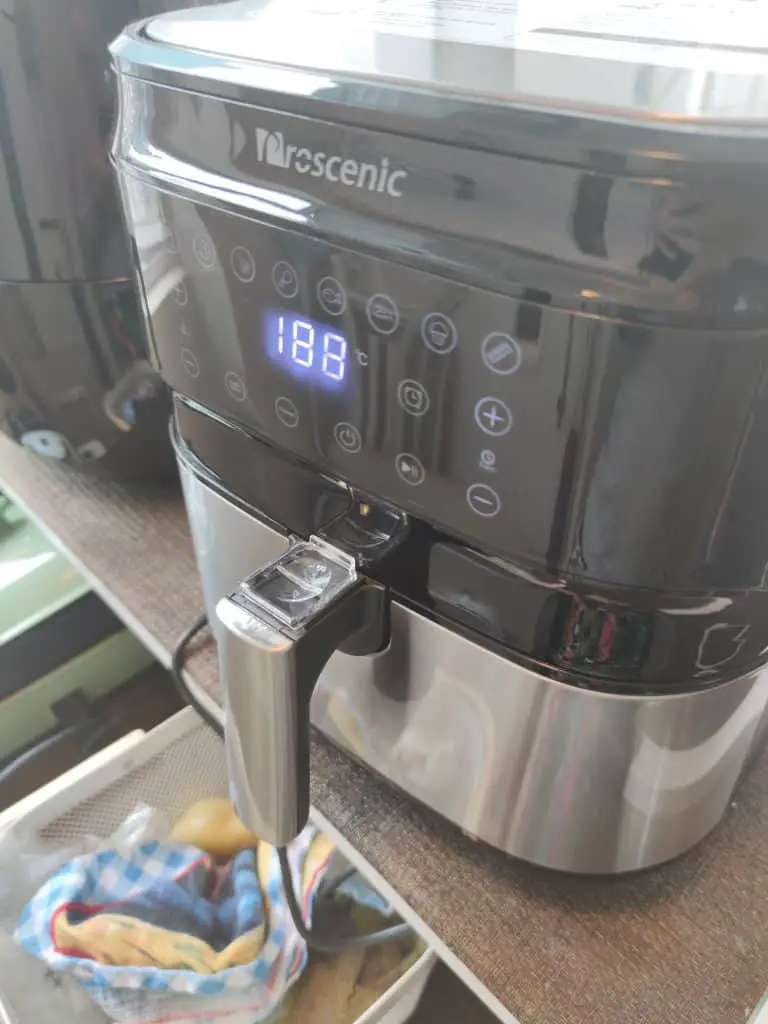 As you can see above, they have put a plastic slider over the button that releases the air fryer basket from its compartment, meaning it should be harder for you to spill all your air fried food on the floor by accident. And unlike the recently reviewed VPCok air fryer, this one doesn't feel like cheap plastic.
Value
I really like how this smart air fryer sits in an attractive area in terms of price. It is more expensive that those budget air fryers, but considerably cheaper than its rivals offering similar features. Proscenic have really set this air fryer up for success by positioning it so well in terms of price.
Temperature Control
A lot of popular air fryers will usually only let you adjust the cooking temperature in increments of five (or sometimes even ten) degrees. This doesn't bother me, but I have heard others complaining that you can't always exactly match the temperatures on different air fryer recipes. Luckily, this Proscenic air fryer lets you control the temperature exactly, so if you like to exactly dial in your air fryer's temperature, this might be the model for you 🙂
The Smart App
I was a little reluctant when ordering this 'smart' air fryer, as Proscenic isn't exactly a big brand. This feeling increased when I downloaded the app on my Android smartphone and noticed it only has 2.5 stars out of 5 for its rating on the Google Play Store!
However, after some use I have to say I love it. There is a simple wizard that you follow to connect the app with the air fryer. You can then set the temperature and timings directly from the app.
It doesn't stop there either. There are some recipes already programmed into the app, but you can also add your own custom recipes. When doing this you can set all your cooking times too, even down to the details of if you want to preheat the air fryer first or not. This means you could program in all the common things you air fry, making the whole process quick and easy!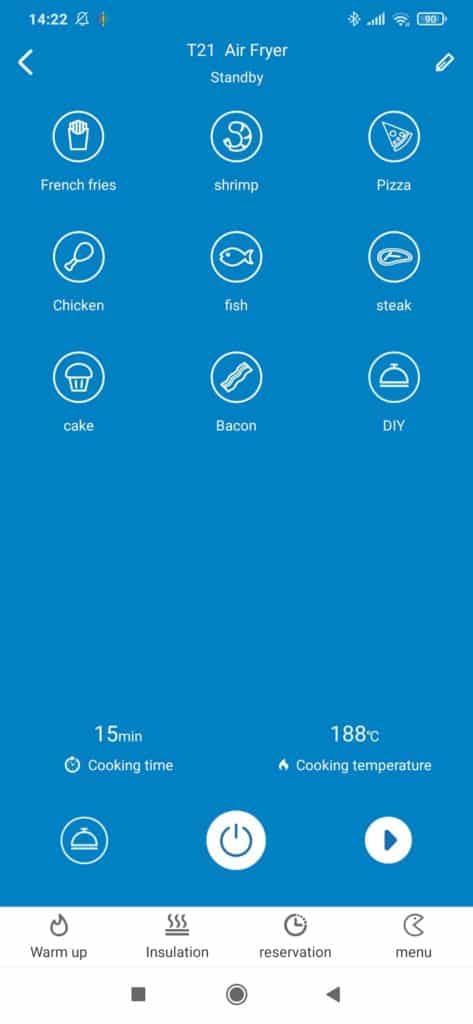 You can also use this app to program your air fryer to start at a pre-determined time. It could be tempting to set it to cook your breakfast whilst you are still in bed, but personally I would never have an air fryer running when someone isn't up and about. An air fryer fire is unlikely but is a possibility 🙂
What I Don't Like about the Proscenics Smart Air Fryer?
Droopy Air Fryer Basket
I have to say I was quite excited by my initial impressions of this air fryer. However, after a while some niggling problems started to rear their ugly heads to ruin the party a little!
One of those was the droopy air fryer basket. When you have the air fryer basket clipped into the cooking compartment, there is a little bit of play. The far end of the air fryer basket will raise up slightly away from its compartment. It also wobbles around slighlty when being carried. See the image below. For a company trying to be premium, this is quite a big deal for me.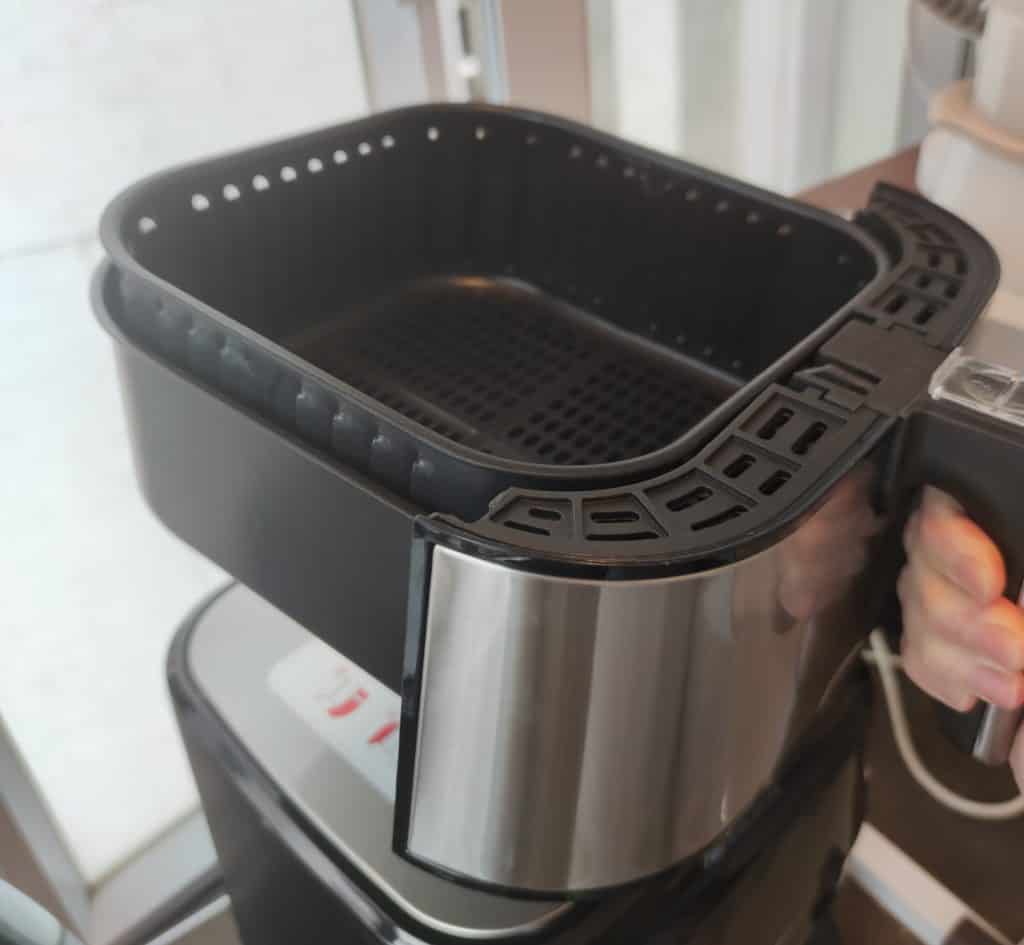 Control Panel
I absolutely hate the control panel on this air fryer. The buttons are not that responsive to the touch, and the way that you navigate around the different functions is cumbersome at best and frustrating at worst.
Luckily, if you don't mind using the smartphone app, all of this can be bypassed. If they didn't have that feature, being forced to use such a clunky control panel would be a deal breaker for me.
Sticky Cooking Compartment Drawer
Regular readers will know that I had a similar problem with my recent review of the Uten air fryer. Unfortunately, this Proscenic air fryer also frustrated me with a sticky air fryer draw too.
The difference being that the Uten problem felt like this had happened due to cheap plastic and design, whereas the Proscenic one seems like over engineering. In that, they were so worried that the drawer would fall out that they made you have to press it firmly in to secure it.
As someone that uses an air fryer alot, I find it frustrating to have to use two hands to operate my air fryer. I am used to my Philips air fryer, where the drawer feels secure but is still easy to take in and out.
If Proscenic are serious about their air fryers, they need to address this problem in a future product refresh. This problem alone almost killed my interest in this appliance all together!!
Bordering on Loud
This air fryer is among one of the louder ones out there, clocking in at almost 70 decibels (apparently the equivalent to a ring tone on a phone), even more than my own Philips air fryer. To put it into context, the Uten air fryer I recently reviewed is about 10 decibels quieter.
Personally, the noise doesn't bother me, but if you are looking for a quieter air fryer look elsewhere 🙂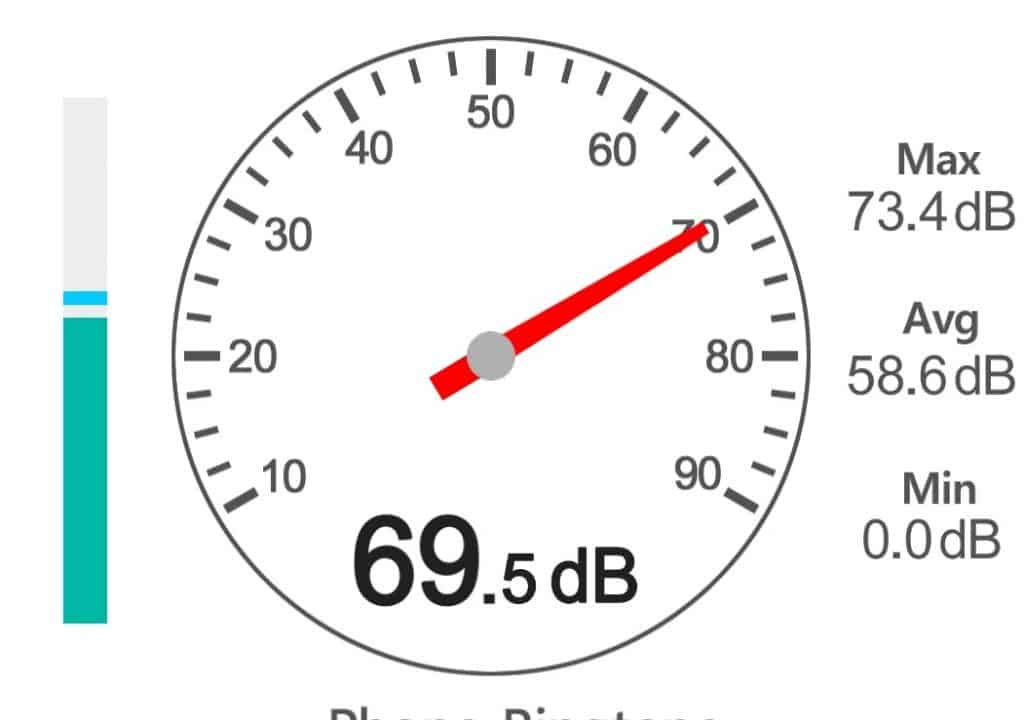 Should You Buy the Proscenics Smart Air Fryer?
What are you getting with this air fryer? You are getting a smart air fryer with some premium feeling elements to it for just over $100. This is going to be a very attractive proposition for many.
I was so excited when unboxing this unit, for those very reasons. However, the droopy basket problem and the sticky cooking compartment drawer have marked this air fryer down heavily in my books. I will see over time whether these problems improve, but for now I am not expecting this air fryer to replace my trusty Philips unit.
However, if you can put up with these problems, and you like the idea of a smart app operated air fryer, you probably won't find anything better at this price. And the cooking performance was more than solid!
Please stay tuned for my long-term updates to this review…..
If you have any experiences of this Proscenics T21 Smart Air Fryer, we would love to hear all about them in the comments section below.