Welcome back to Air Fryer Bro and another one of our air fryer reviews. Today we are taking a look at an Uten air fryer. What exactly is an Uten? Is it any good? Find out in our Uten 6.5l digital air fryer review.
Before we get on with the review, I wanted to let you know that this is not a sponsored review. I bought this air fryer with my own cold hard cash 🙂 I want you to trust my reviews and the only way to achieve that is by being open and honest.
If you are in a rush, here is a quick overview of this product:
Overview of Uten 6.9 Quart Digital Air Fryer
Who are Uten?
Well, here we go again with another air fryer review and another apparently generic Chinese brand. There's nothing wrong with being a generic Chinese brand, though, if you can produce a quality air fryer. Do Uten have the credentials to do this?
Upon further inspection, Uten appear to hail from Shenzhen in China. Although they seem to have a pretty crappy official website, they do have a pretty slick looking Facebook page. And this page has multiple five star reviews (hopefully from real customers) in the review section. Things are looking up!
Uten also make other home appliances, ranging from kitchen scales to air humidifiers to….er….. air fryers 🙂 As someone that makes websites myself, I still can't get over how bad their official site is! Hire a designer dude!

What is the Uten Digital Air Fryer All About?
This Uten air fryer is a traditional bucket style air fryer that comes in a 6.5 liter (otherwise known as 6.9 quart) size. This is a digital air fryer that comes with 8 cooking presets. It has all the typical features you would expect these days in an air fryer, such as automatic shutoff, non-stick coating in the cooking compartment and both air fryer basket and racks included.
It's a pretty bog standard affair all round, apart from the shake reminder feature (something that is bordering on unique!). This will pop up with reminders for when to shake those french fries so that they get evenly cooked 🙂
If you want the full lowdown, you can click the image to go and read all the fine details over at Amazon.
| | |
| --- | --- |
| Dimensions | 10.03 x 10.03 x 14.56 inches |
| Weight | 13.42 pounds |
| Size | 6.9 Quarts/ 6.5 Liters |
| Wattage | 1700 Watts |
| Price | Check at Amazon |
What Were my First Impressions?
At first I felt disappointed when I saw that this air fryer comes in a brown box instead of a glossy one. But when I saw that they have still printed some nice box art on there, I think it's actually a good thing after all. I am sure it is also way better for the environment!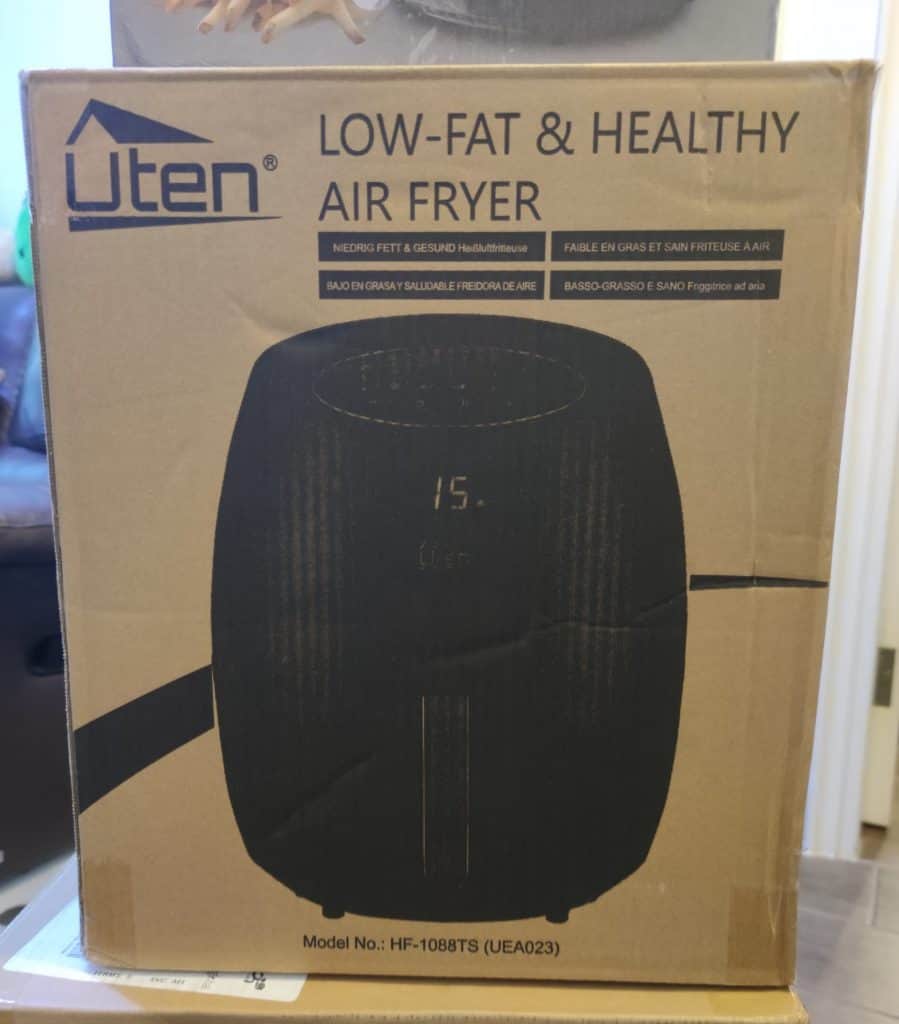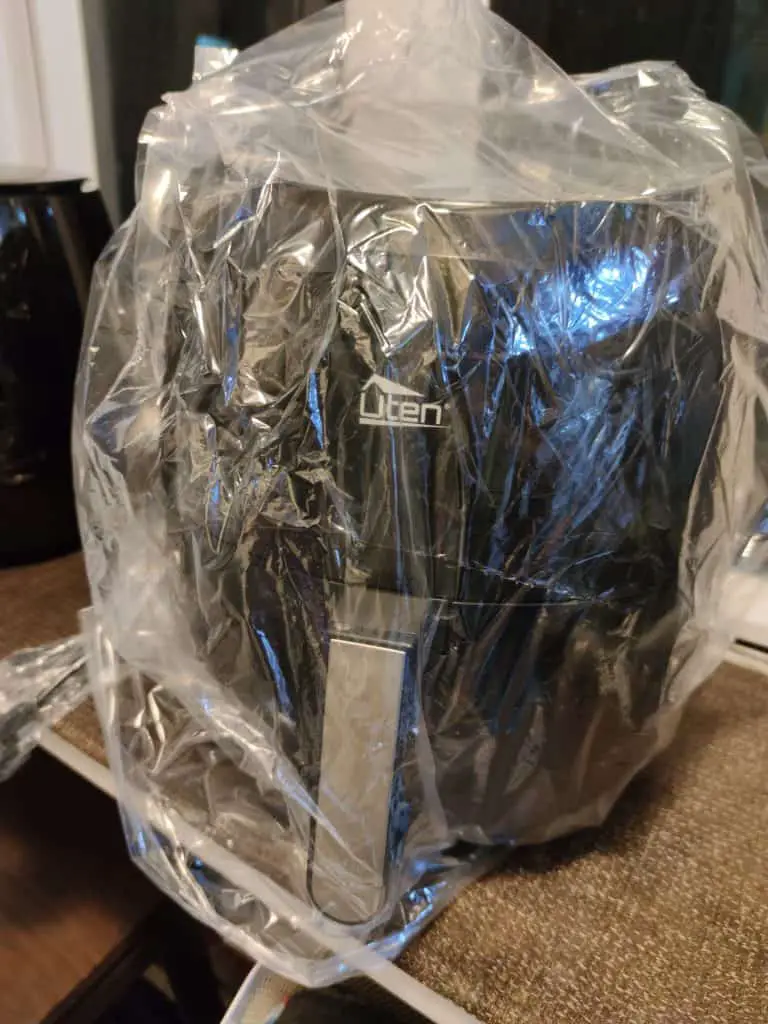 The unboxing experience is pretty basic other than this, though. There is a small air fryer manual, but no recipe book in sight. The only vaguely exciting part is the fact that Uten have included a free wire rack with this unit.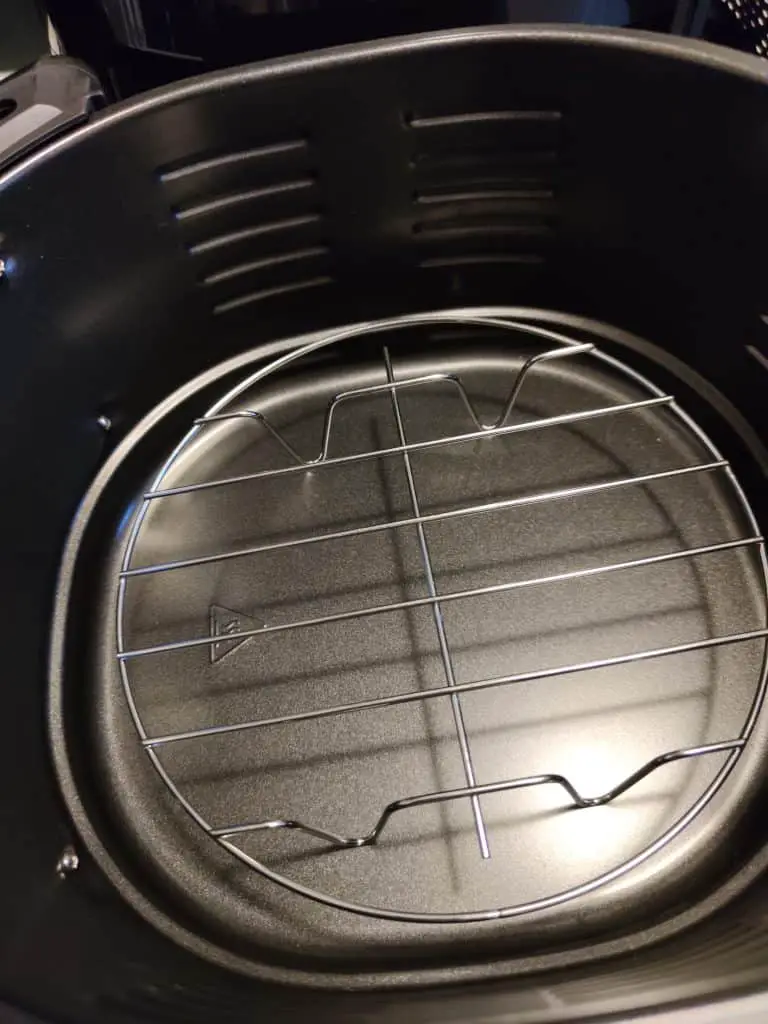 There was a slight plastic smell during the unboxing, but it didn't seem so strong with this air fryer. It got me wondering whether the material used to pack the appliance influences this. If plastic smells are something you hate with air fryers, this unit might be for you 🙂
This Uten air fryer has a typical setup for this style of air fryer, meaning it has a removable cooking compartment and air fryer basket with one heating element coil inside at the top.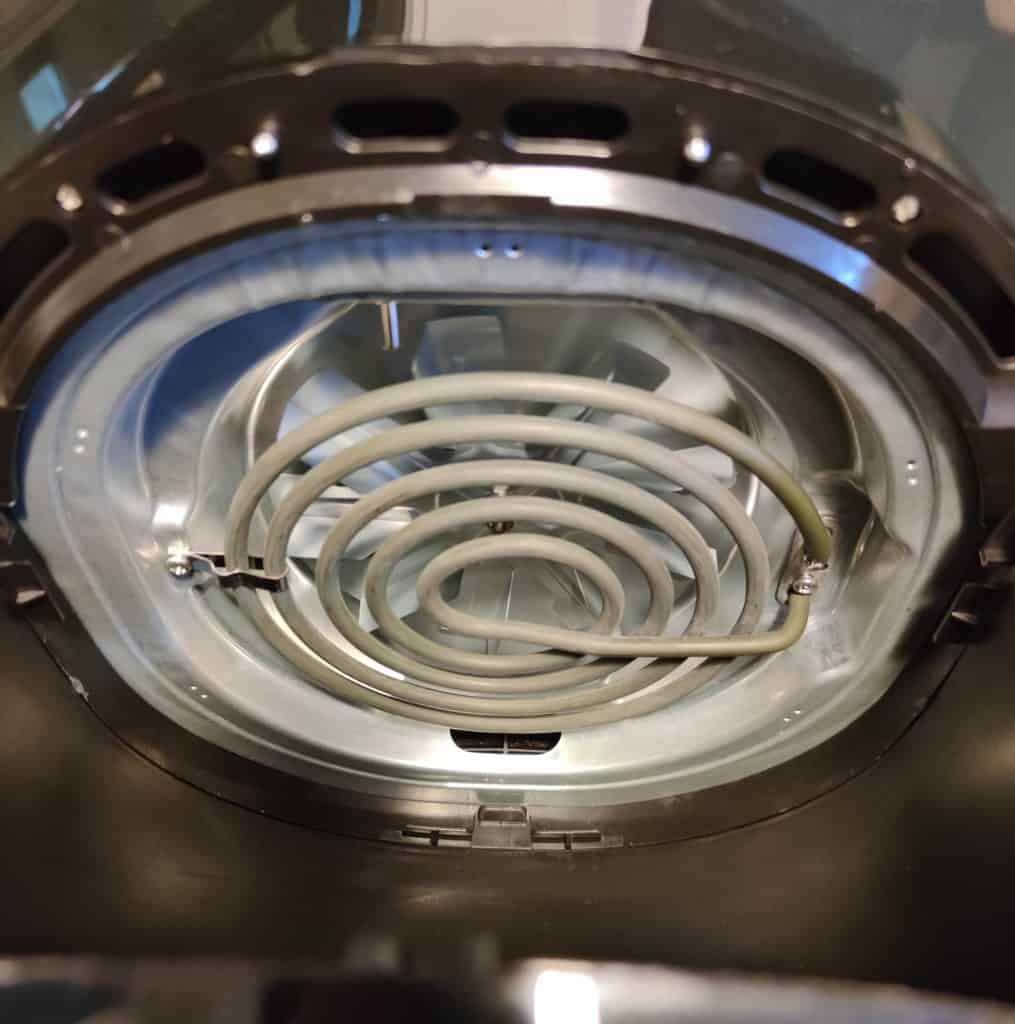 What I like about the Uten Air Fryer?
Price
This Uten air fryer is available for easily under the $100 mark at the time of writing. This is a lot of air fryer for your money. This is the benefit of buying a generic Chinese brand, as you don't have to pay for brand prestige. My Philips air fryer is smaller than this and cost pretty much three times the price!
Design
For an air fryer under $100 the design is pretty solid. Don't get me wrong, its not going to win any design awards, but at least Uten have come up with their own design with some more unique touches. Sometimes you get tired of seeing the same old designs, especially when buying a budget air fryer.
I like the fact that the control panel is positioned on the top of the unit and is surrounded by a round grill. It makes this air fryer stand out from the others in this price range.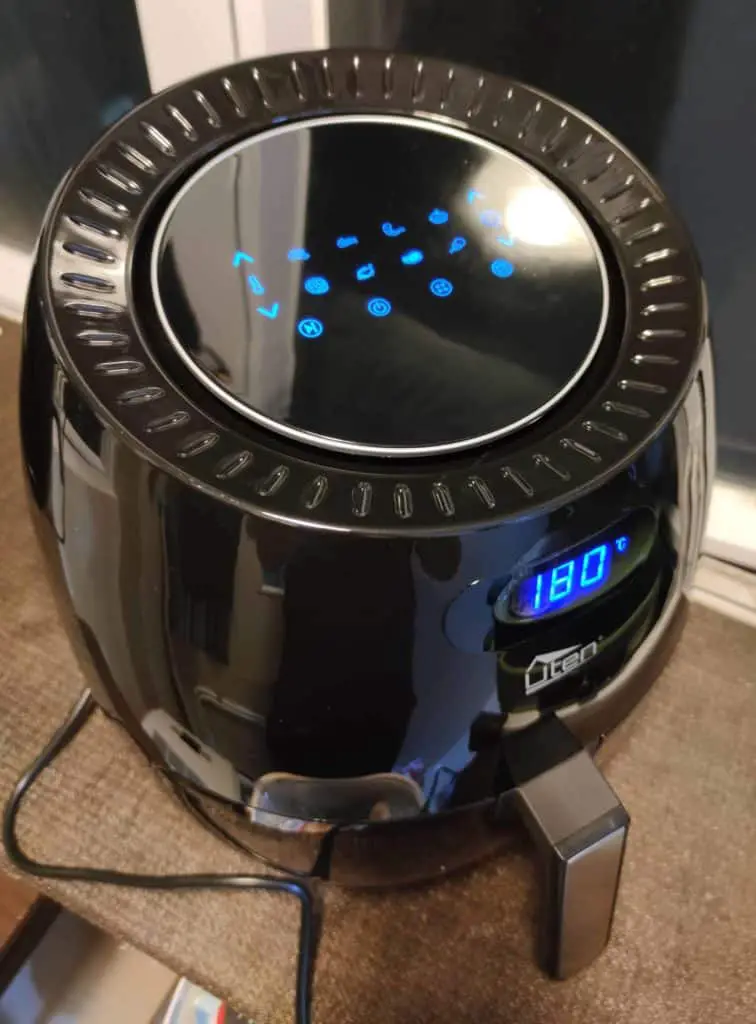 Size
I recently reviewed a VPCok budget air fryer, and that model is about half the size of this one and a similar price. I also think this model looks better than the VPCok, so Uten are giving us a pretty good package, all things considered.
At 6.9 quarts, you have ample space in your air fryer basket for a decently full sized chicken. You could probably use this air fryer for anything up to a medium-sized family, its that big. Impressive for a traditional bucket style air fryer at this price.
Quiet
I think Air Fryer technology is getting better, as this appliance is on the quiet side even with its budget price and huge size. The decibel meter rated it at a mere 57 decibels, one of the quietest air fryers I have ever tested.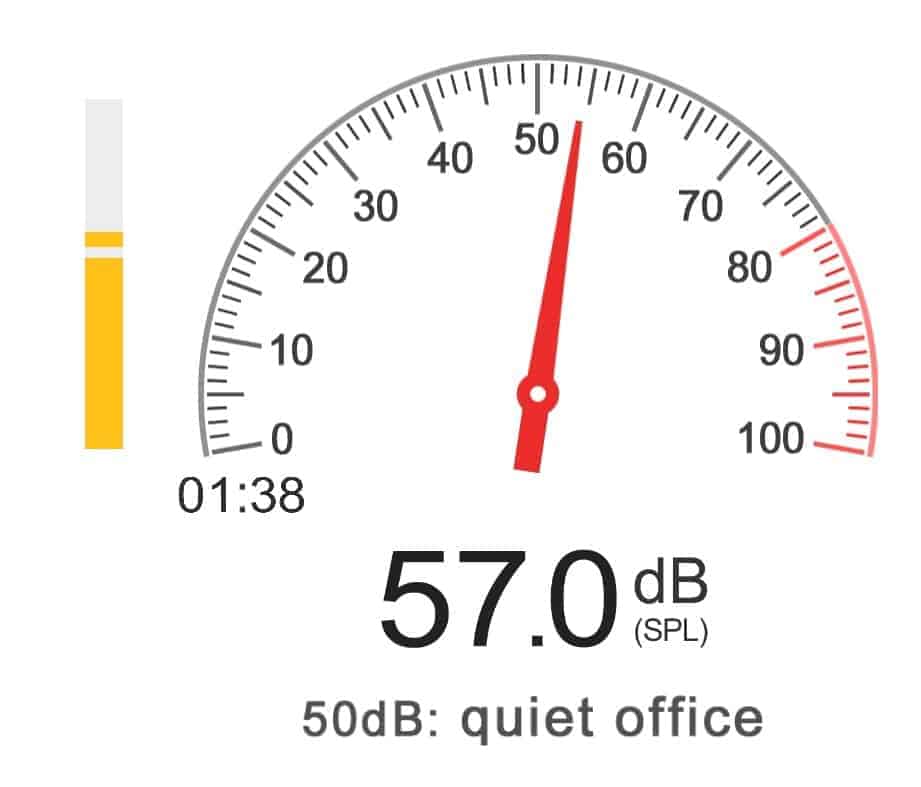 What I Don't like about the Uten Air Fryer?
Cooking Performance
I like to do a simple test when reviewing air fryers, by making a batch of my home french fries to see how powerful the air frying is. Today I used my Philips air fryer as the benchmark, an air fryer that cost considerably more than this one.
So I coated my cut up potatoes with olive oil, salt and pepper and threw in the two hot air fryers for 15 minutes at 175 Celsius or 350 degrees Fahrenheit. The results can be found below: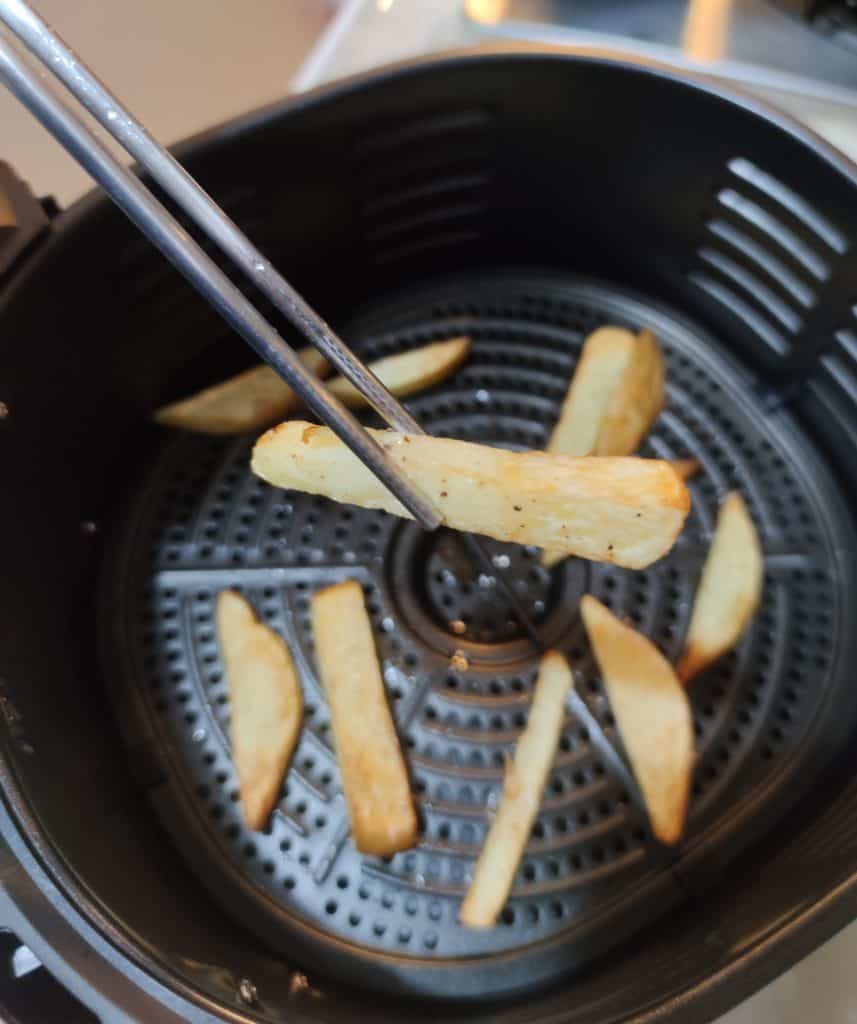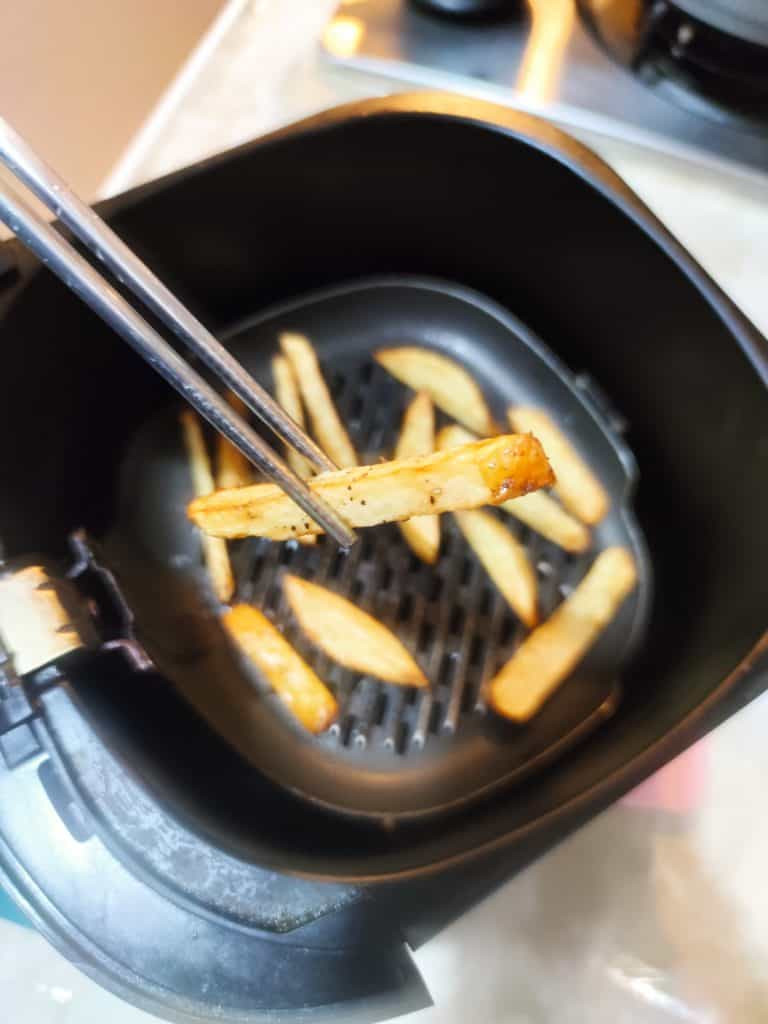 Unfortunately, I think it is pretty obvious to me that some of that air frying intensity has been lost by the Uten air fryer, probably related to buying a budget air fryer of this size. The french fries were barely cooked and not as golden brown as the Philips version.
This may not be a big deal for you, but it is a big deal for me. I want crispy air fried food in the shortest time possible.
The bad cooking performance of this Uten makes me wonder about its energy efficiency, as it is a 1700 watt unit. With this rating, I would have expected it to be able to maintain a good cooking result.
And if you think I am being unfair comparing an expensive air fryer to this budget one, the recently reviewed VPCok budget air fryer had a cooking performance on par with the Philips, so it is possible at this price bracket!
Quality
The quality of this unit doesn't quite feel up to that of other similarly priced air fryers I have tried. The quality is not awful, but there are some key sticking points, literally. The way the cooking compartment slides in and out of the unit feels really rough and almost as if you are going to rub or even break the compartment over time. This really makes the appliance feel cheap for me.
The more I use this air fryer, the more I hate the sticking cooking compartment. The first time I used it, I didn't even realize that the compartment wasn't sitting totally flush whilst cooking. Not only is this dangerous, but annoying that you have to literally push it in with two hands to make sure it is fully inserted!
Rubber Pads inside Air Fryer
I like the fact that you have a removable metal bottom grill in the air fryer basket. The problem is that there are rubber pads on this so that it can sit inside the air fryer basket and not scratch it.
I don't know about you, but I feel weird having rubber in my air fryer exposed to such high heat. If it was an air fryer by a big name brand, I would trust them to use rubber that could withstand this high heat without leeching chemicals, but not so much with an unknown Chinese brand. Maybe I worry too much!!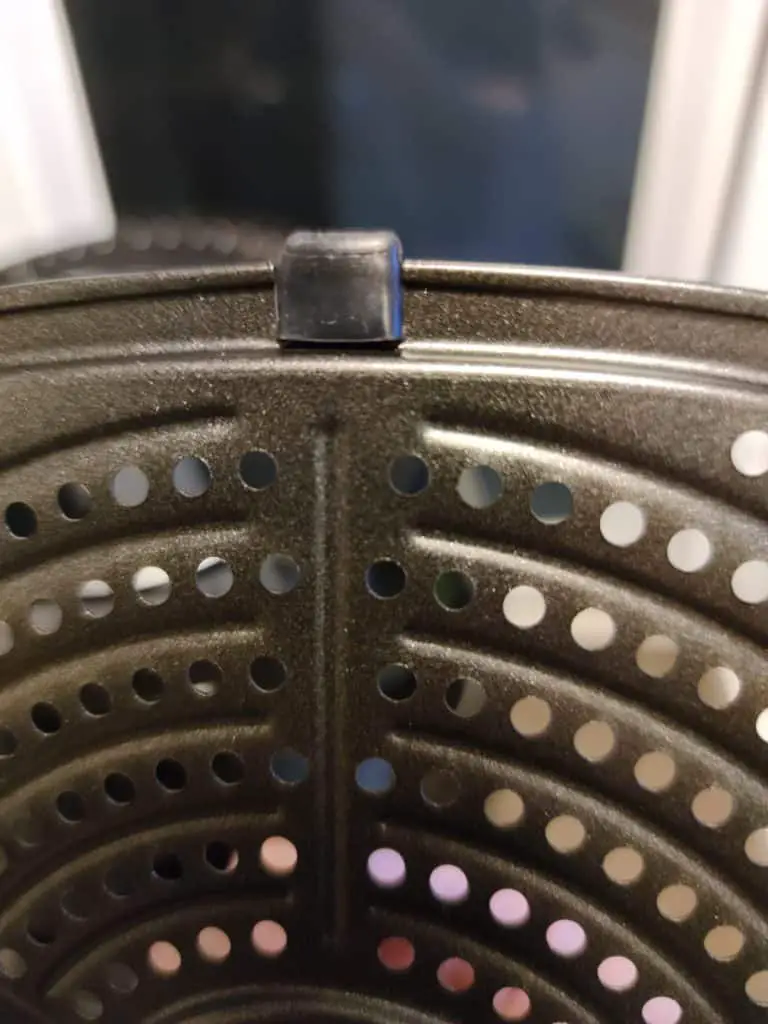 Insulation
When running this air fryer alongside my Philips air fryer, I noticed that the outside of the Philips model will only get ever so slightly hot to the touch during cooking. The Uten, on the other hand, gets pretty hot to the touch. Not enough to burn yourself, but considerably hotter than the Philips. This tells me the insulation (and possibly energy efficiency) of this unit is not good.
To be honest, this seems to be a common problem with budget air fryers that I have had experience with.
Before we wrap up, I want to say that I will keep using this air fryer and will update with a more long-term review….so come back in a few months to find out how long lasting this air fryer is!!
Should You Buy an Uten Air Fryer?
At first I was quite excited to see such a large and solidly designed air fryer for easily under $100, but this joy quickly evaporated when actually using the appliance. The less intense air frying capabilities are a minor annoyance that I might be able to live with. However, the sticking and hard to place cooking compartment is unforgivable in my opinion.
After only a handful of uses, the lips of the air fryer in contact with the compartment are starting to get all scraped up. I feel it's only a matter of time before it looks ugly and worn (maybe even broken). I cannot use the air fryer one handed, it really is that bad.
So until Uten do a major redesign here, I wouldn't recommend this digital air fryer if you are in the market for a budget one. It's a shame really, because it totally ruins an otherwise pretty decent package.
If you have any experience with an Uten air fryer, we would love to hear all about it in the comments section below.
Check out the air fryer yourself over at Amazon to check the latest price and read more user reviews.
Uten Digital Air Fryer 3 Month Update
Below is a video of me talking about what I have liked and disliked in this air fryer after 3 months of heavy usage. The short version is it held up well other than a sticky basket draw 🙂